Last Updated on April 11, 2023 by Jeremy
Disclaimers: This review uses WSET Diploma terminology and our own rating scale. Read more here. We use demographic data, email opt-ins, display advertising, and affiliate links to operate this site. Please review our Terms and Conditions for more information. This website is intended for those of legal drinking age in your jurisdiction.
The Douro Valley in Portugal is known for creating sweet, fortified wines loved the world over. But in recent decades, producers are also using the native grapes of Portugal into creating some intense, full bodied wines.
Quinta do Tedo is one such winery that makes still wines from their grapes, and the Reserva bottle from the Savedra plot is a field blend of roughly two dozen native grapes thrown into one compelling mix.
If you like full-bodied red wines, this one is for you.
An Intense Red Wine from Quinta do Tedo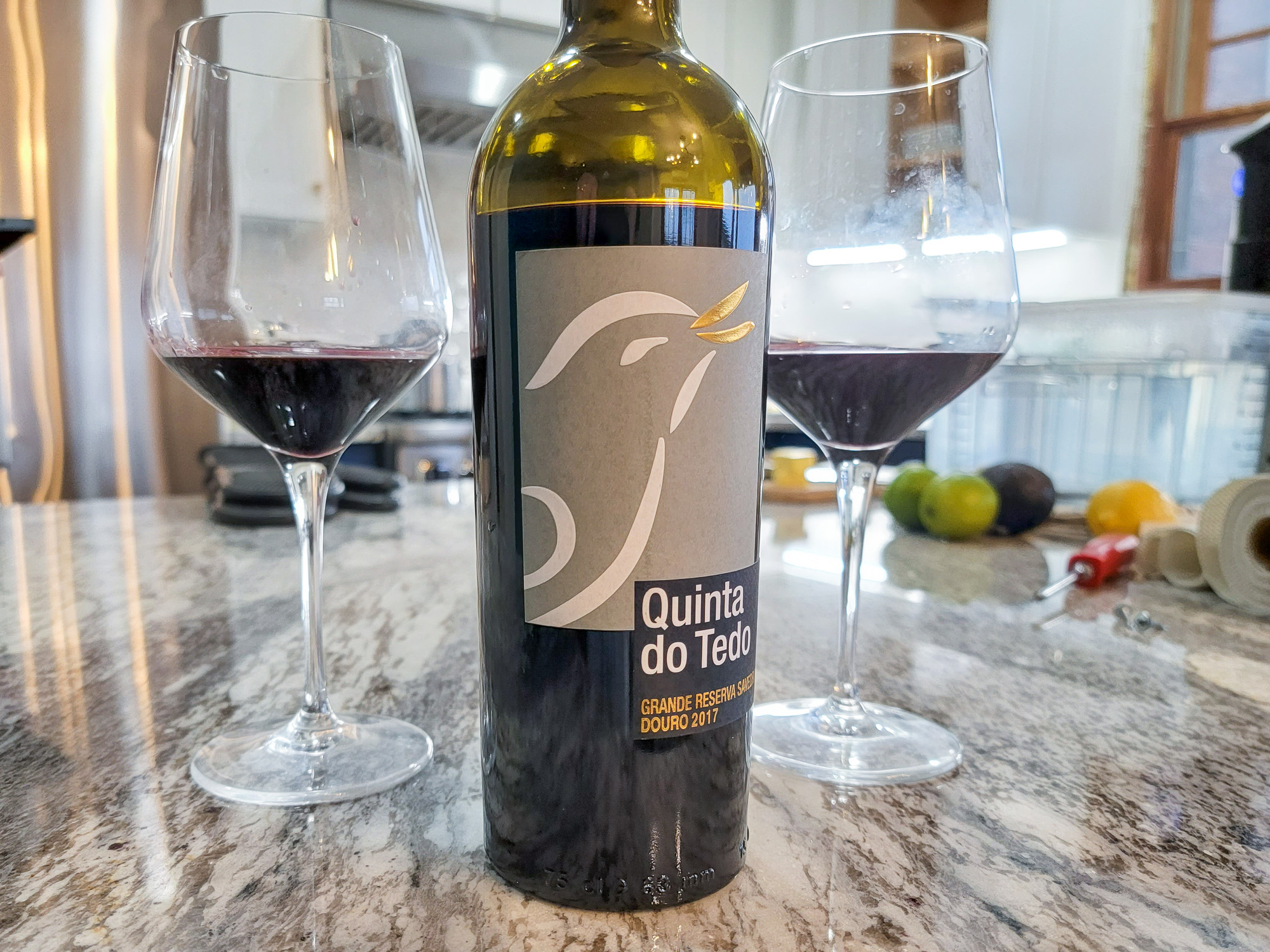 This red blend was deep purple in color (trending ruby) with medium(+) aromas of black cherry, blackberry, blueberry, black currant, black pepper, violet, cedar, nutmeg, vanilla, and forest floor.
On the palate it was dry with high acidity, alcohol, and chalky tannin, medium(+) body and flavor intensity, and a long finish. We had notes of blackberry, black cherry, blueberry, dried red cherry, cedar, clove, vanilla, smoke, and black pepper.
While this one was likely predominantly indigenous grapes like Touriga Nacional, Touriga Franca, and Sousao (we're assuming here), the flavor profile of this one felt like a blend you would expect of Cabernet Sauvignon, Syrah, and Merlot with a strong, fruit-forward dominance. Even at being six years old, this one still showed some incredibly pronounced tannin structure suggesting that this one could age for years if not decades in a cellar, too.
Portuguese Red Food Pairing – Steak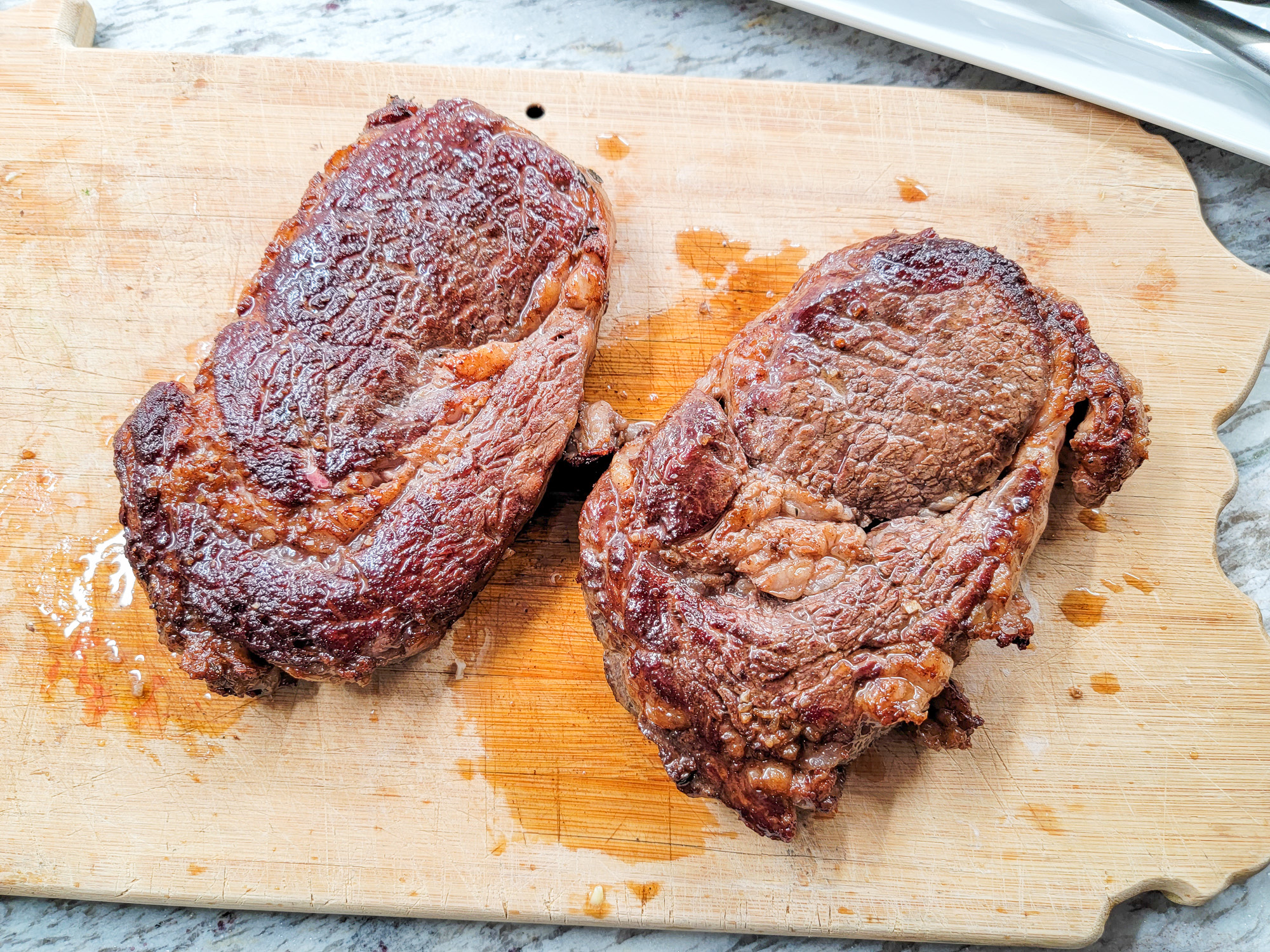 We paired this one with a sous vide Delmonico steak served medium rare. As a fatty steak is one of our favorite pairings with a tannic wine, it should be no surprise that the tannins were cut considerably here and that more red fruit notes came out with each bite.
Interestingly enough, stronger earthy character like forest floor came out with this pairing too, possibly due to the fact that we topped our steak with sauteed mushrooms. These characters are also something we expect with age in a bottle, so perhaps it was masking a few flavor notes and tannin helped bring this subtle character to the forefront, too.
As always, steak and tannic reds is a winner for us!
Score: 4 / 5
We want another bottle of this one.
Quinta do Tedo has a winner with this red Reserva from the Douro Valley, and we would be pleased to have another bottle in our cellar- particularly to age for another decade or two and see what happens with time!
Quinta do Tedo is located at N-222, EM512, 5110-204 in the Douro Valley, Portugal. We purchased this bottle from the winery and enjoyed it in 2023.