Last Updated on August 4, 2023 by Jeremy
Disclaimers: This review uses WSET Diploma terminology and our own rating scale. Read more here. We use demographic data, email opt-ins, display advertising, and affiliate links to operate this site. Please review our Terms and Conditions for more information. This website is intended for those of legal drinking age in your jurisdiction.
When you think of port, odds are good your mind goes to that high-alcohol, intensely sweet, red wine from the Douro Valley.
But the Douro Valley makes more than fortified red wine, and also makes some stellar white ports with the same age indications you would expect from a tawny port (10, 20, 30, and 40 year).
During our visit to the Douro Valley, we were fortunate enough to try several white ports from producers and one, Quinta do Portal, had a truly exceptional 10 year white that we had to bring home with us. After a few years in our cellar, we opened it up to celebrate a birthday!
A Lovely White Port from Quinta do Portal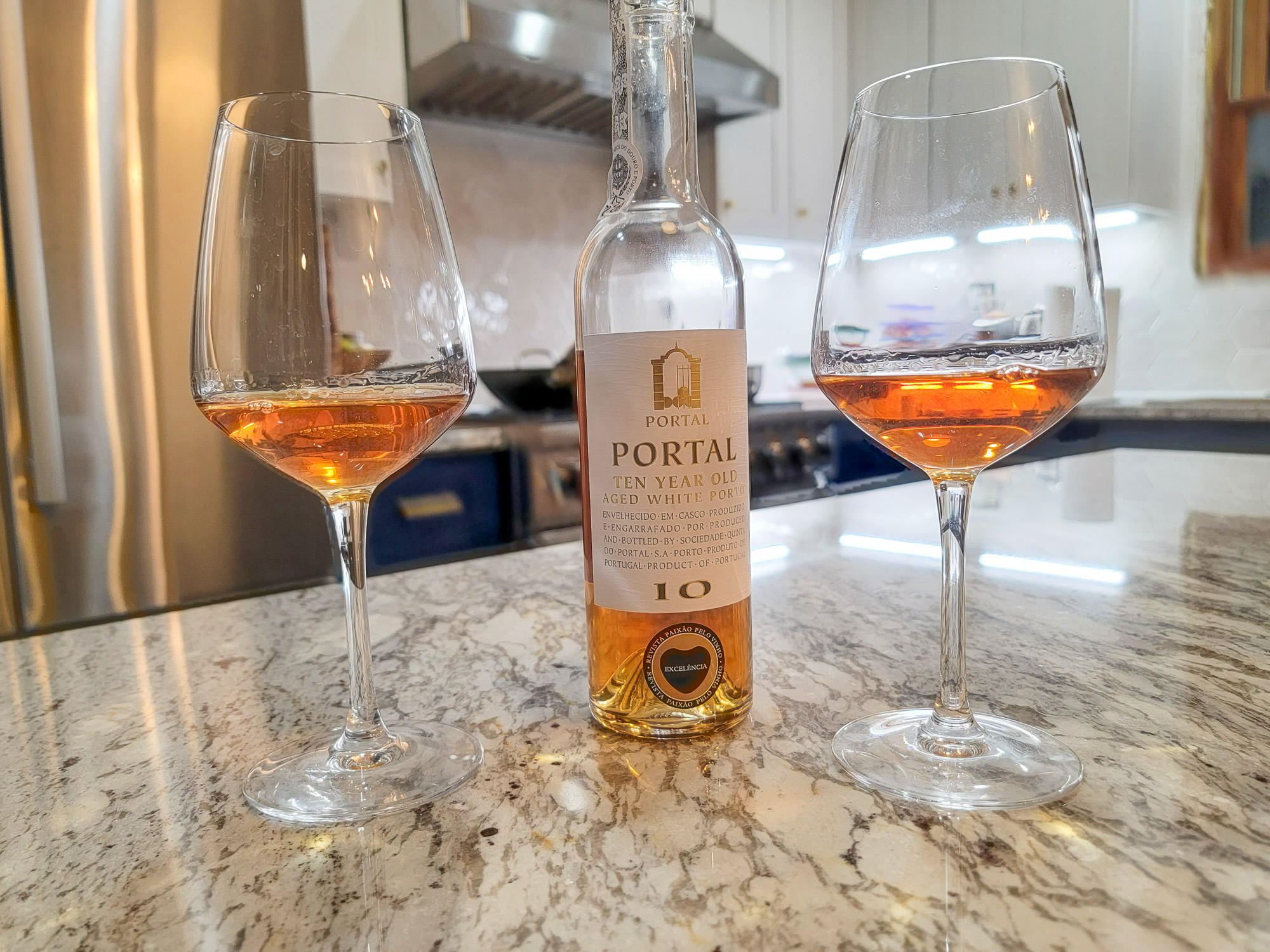 This white port was medium amber in color with medium(+) aromas of orange marmalade, golden raisin, caramel, toffee, vanilla, dried white fig, honey, dried apricot, almond, and a slight eucalyptus note that was pleasant.
On the palate it was sweet with high acidity and alcohol, full body, pronounced flavor intensity, and a long finish. We had notes similar to the nose except with more intense notes of caramel, cacao, nutmeg, and vanilla that balanced the fruit nicely. This one tasted like dessert in a glass for sure!
White Port Food Pairing – Banana Bourbon Ice Cream Sandwich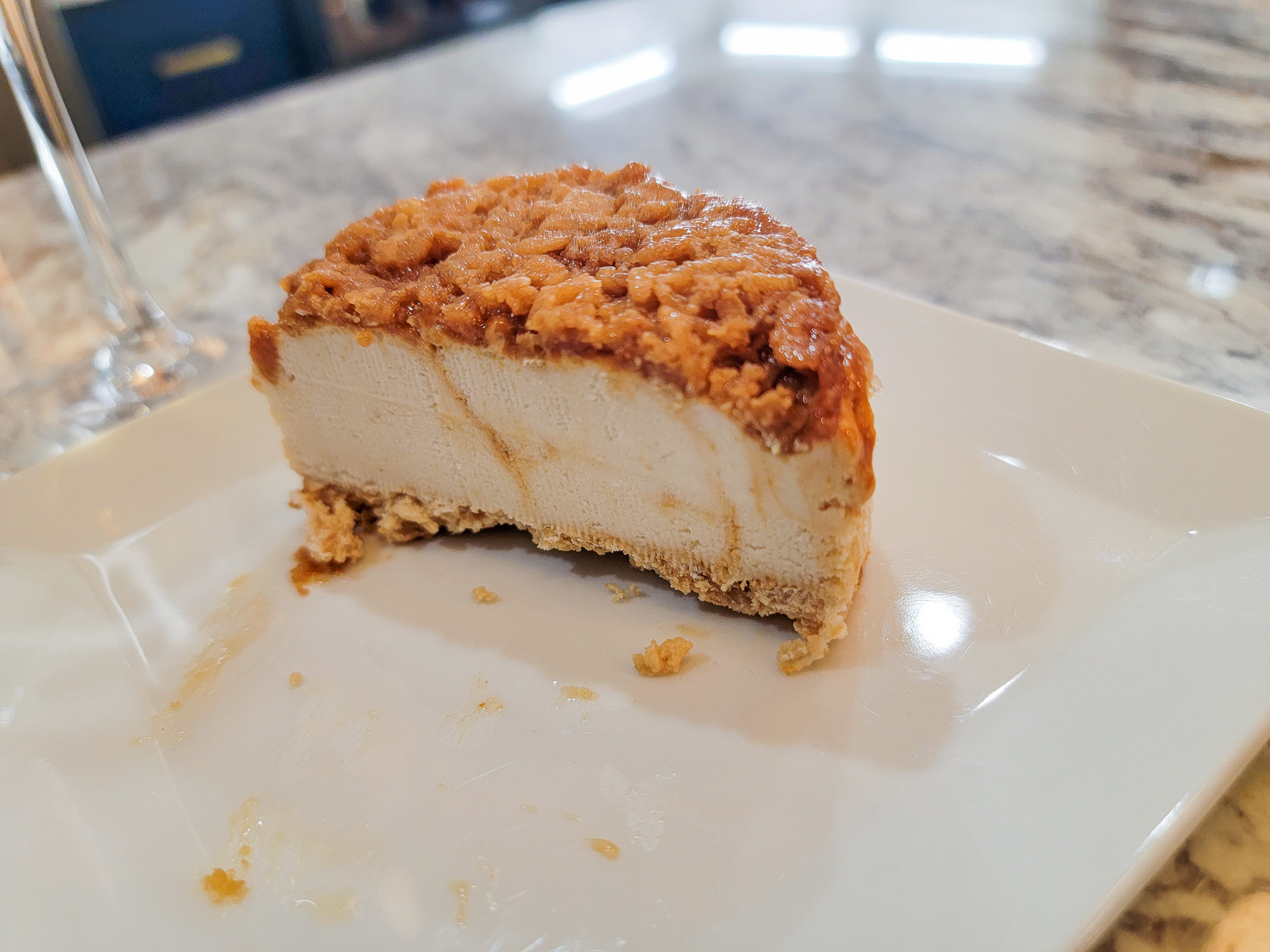 We paired this white port with one of our favorite desserts, a banana bourbon ice cream sandwich on an oatmeal lace cookie covered in caramel from a local producer.
Interestingly enough, the ice cream in this one offset a good bit of heft in the body of this wine so much so that the feeling was almost light on the palate. It accentuated more of the dried fruit notes like fig and apricot with a finish that was decidedly vanilla with a marked cut of the sense of sugar on the tongue.
While this one was an interesting flavor change, the change in perceived body of this one was not the best of pairings. As such, we may opt to try this one with another dessert that did not have any cream component (such as a cake or sweet bread) to see how the balance worked overall.
Score: 4.5 / 5
We want several bottles of this one.
Overall, despite the possibly less-than-stellar pairing, we really love this white port. It was showing nice signs of age at 10 years while still having a moderate amount of vibrant fruit flavors we like. While this one was high in ABV, it was not out of balance and everything just worked. A real winner in our book!
Quinta do Portal is located at EN 323, 5060-909 in the Douro Valley, Portugal We purchased this bottle from the winery and enjoyed it in 2023. This bottle of wine was available on Wine.com as of publication.