Last Updated on August 4, 2023 by Jeremy
Disclaimers: This review uses WSET Diploma terminology and our own rating scale. Read more here. We use demographic data, email opt-ins, display advertising, and affiliate links to operate this site. Please review our Terms and Conditions for more information. This website is intended for those of legal drinking age in your jurisdiction.
During our travels around Portugal, we had two kinds of red wines. The first was intense, hot climate reds that were loaded with tannin and out of balance with the other flavor characteristics. The second had the same intensity but managed to find the perfect balance to make them enjoyable.
Quinta do Portal's Grande Reserva was most certainly the latter. This wine sings.
Portal's Grande Reserva is What Portuguese Reds Should Be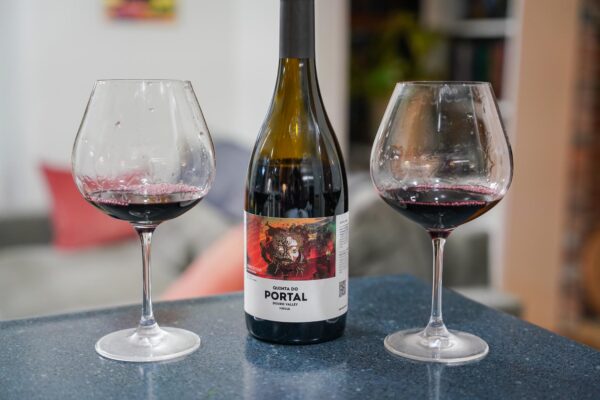 This red blend from Portugal was deep ruby in color with medium+ aromas of black cherry, blackberry jam, black currant, violet, clove, vanilla, black pepper, forest floor, and sandalwood that was developing.
On the palate, it was dry with medium+ acidity, body, and flavor intensity, high chalky tannin and alcohol, and a medium finish. We got flavors more or less on par with the nose but a bit more muted black fruit (a tish less jammy, too) with the addition of dried red fruits. Complex and delicious but could also age for years if not decades!
Quinta do Portal Grande Reserva Food Pairing – Lamb Chops
As Portuguese reds are always quite intense, we paired this one with sous vide lamb chops so that the richness of the meat can pair the intensity of the wine. We found that the meat itself helped highlight more red fruit notes like cherry, but shockingly our mint yogurt sauce we served on top helped bring out earthy notes plus cocoa and caramel which really helped this wine sing.
So while we probably could've aged this one for another decade or more to mellow it out, the lamb did wonders in the short term.
Score: 4 / 5
We'd buy another bottle of this one.
When it comes down to it, Portuguese reds are known for being intense- often so intense that you notice it because they quickly become out of balance. This is not one of those wines. Quinta do Portal's Grande Reserva is as balanced as it is complex, and for that we would be more than happy to have another bottle on hand.
Quinta do Portal is located at EN323 5060-909 Celeirós, Portugal in the Douro Valley. We visited this Douro Valley winery in 2021 where we purchased the bottle and enjoyed it quickly thereafter. A different vintage of this bottle was available on Wine.com as of publication.