Published Jeremy. Last Updated on December 16, 2021.
Disclaimers: This wine or experience was provided complementary for this review. We use demographic data, email opt-ins, display advertising, and affiliate links to operate this site. Please review our Terms and Conditions for more information. This website is intended for those of legal drinking age in your jurisdiction.
As far as Portuguese grapes are concerned, Avesso is a bit of an unsung hero. Part of it is simply because it is delicious (routinely one of my favorite whites from the country) but also that the production is quite limited- just a few vineyards even grow this grape at all!
So when we say it was quite rare to find a sparkling Avesso, made in the traditional method, from Quinta do Ferro, we really mean it.
We were fortunate enough to meet up with one of the owners from Quinta do Ferro when in Portugal thanks to an introduction by our local wine school, and we were able to bring a bottle of the Ferro Sparkling home with us courtesy of the winery. Naturally, it lasted about a month in our house before we had to open it because, you know, we love Avesso (and also had reasons to celebrate with family- so double win).
All the Great Things About Sparkling Wine, From Portugal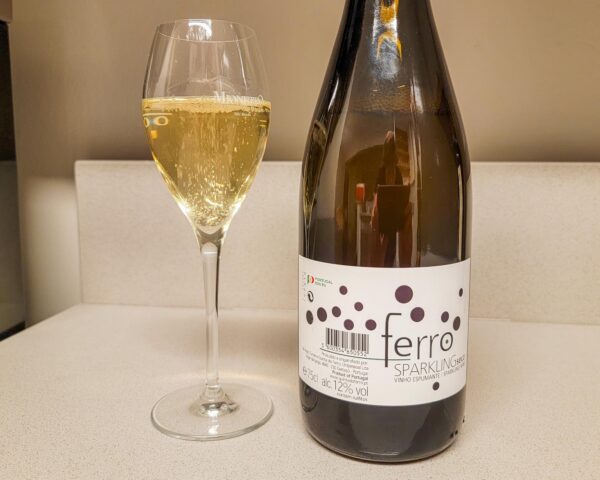 This sparkling wine was medium lemon in color with medium+ aromas of lemon, pear, peach, brioche, yellow apple, cream, and was youthful.
On the palate it was dry with high acidity, medium alcohol, medium+ body, flavor intensity, and finish, plus a creamy mousse. We had notes of grapefruit, pear, guava, yellow apple, lime, and just a hint of cream (more on the mouthfeel than the actual flavor but it was resent).
Overall, this was a delicious bottle of sparkling wine and a surprise find in Portugal. The flavors had the intense fruity flavors we look for in all sparkling wine made in the traditional method, but had a bit more tropical notes thanks to the grapes being grown in warmer Portugal and only slight lees notes from the bottle aging. It reminded us of all the things we love about Avesso as a grape but with a unique twist in being fermented in the traditional method for sparkling wine.
Unfortunately, we did not pair this one with food (celebratory wines for personal reasons tend to be solo). But like most sparkling wines it could've gone with just about anything. We think it would work great with a lighter white fish to let those strong fruit flavors and acid shine through but could also hold up to dishes with slight cream notes to play off the lighter lees flavors too.
Score: 4 / 5
We'd buy another bottle of this one.
Quinta do Ferro does some pretty awesome things with sparkling wines, which is a bit of a rarity in Portugal. While that should be enough to pique the interest of most consumers, the fact that they also produce Avesso is a second win through and through. So not only do we want another bottle of this one, we're eager to try more from the vineyard at large.
Quinta do Ferro is located at Lugar da Igreja, nº 271, Gestaçô in Vinho Verde. We received this bottle complimentary from the winery for this review and enjoyed it in 2021. As always, all opinions are our own.