Last Updated on March 7, 2022 by Jeremy
Disclaimers: This review uses WSET Diploma terminology and our own rating scale. Read more here. We use demographic data, email opt-ins, display advertising, and affiliate links to operate this site. Please review our Terms and Conditions for more information. This website is intended for those of legal drinking age in your jurisdiction.
When it comes to Portuguese whites, you really can be all over the place in terms of what you get. But for us, one of our favorite white grapes is Arinto thanks to its high acidity, rich flavor profile, and salinity/minerality that really works with seafood dishes.
Ramilo's Arinto was no different, and this one worked beautifully with sous vide octopus!
Acidity, Salinity, and More in This Arinto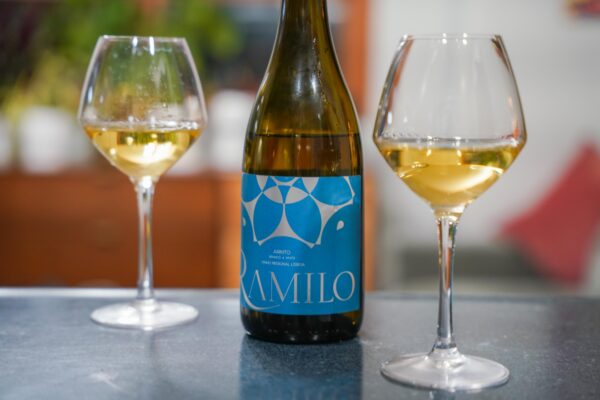 This Arinto was medium gold in color with medium- aromas of grapefruit, nectarine, peach, lemon, lime, elderflower, wet stone, and petrol that was developing.
On the palate, it was dry with high acid, medium alcohol, and medium+ body, flavor intensity, and finish. It had notes of pear, grapefruit, lychee, yellow apple, candied lemon peel, a bit of salinity, and wet stone.
Perhaps the best part of this one was that while the salinity and wet stone characteristics were there, they weren't too overpowering. So they worked on their own just as much as with food!
Arinto Food Pairing – Sous Vide Octopus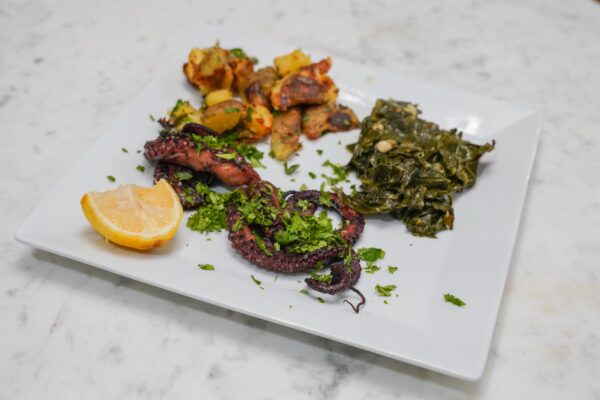 We paired this one with a Portuguese classic dish- octopus prepared sous vide style with citrus and herbs.
We selected Arinto for our pairing primarily due to its high acidity and salinity/mineral notes to go with the rich and intense dish. The salinity and minerality wasn't too terribly strong in this wine, but paired with the octopus well such that the fruit notes came out stronger with every bite.
Our side of collards was just as interesting with the octopus on this one as it really helped accentuate the salinity and minerality in the wine, so it was a fun combination to jump back and forth between the two (admittedly, the octopus pairing was by far more enjoyable).
Score: 4 / 5
Wed' buy another bottle of this one.
Overall, this bottle was a surprising find that had us talking throughout most of the evening. It works great on its own. It works great with seafood. It even worked pretty well with our collar greens too (a surprisingly hard food to pair with thanks to its bitterness). Call us impressed.
Ramilo Wines is located in Alqueidao, Portugal. We purchased this wine locally in 2020 and enjoyed it in 2021.