Last Updated on January 13, 2022 by Jeremy
Disclaimers: This review uses WSET Diploma terminology and our own rating scale. Read more here. We use demographic data, email opt-ins, display advertising, and affiliate links to operate this site. Please review our Terms and Conditions for more information. This website is intended for those of legal drinking age in your jurisdiction.
Quinta do Tedo is a stellar winery in the Douro Valley that we were fortunate enough to visit in 2021. While this one is among the younger producers out there (by Douro standards at least), they do have a healthy mix of still and port wines, with their tawny line starting to creep into the 20+ year mark.
Naturally, we sampled a 20 year tawny here and quite enjoyed it such that we brought a bottle back with us to share with friends. It didn't last long.
All the Flavors in This Quinta do Tedo 20-Year Tawny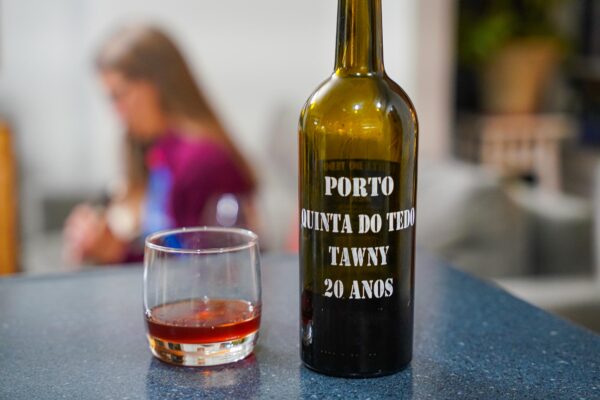 This 20-year Tawny was medium amber in color (plus a slight haze) with medium+ aromas of caramel, cocoa, milk chocolate, dried red cherries, chocolate-covered cherries, and macadamia nuts. There were some oxidized alcohol notes in this one that made the aroma almost oloroso sherry-like in nature too which was pushing it just a bit for us.
On the palate, this one was medium sweet with medium acidity, high alcohol, full-body, and medium+ flavor intensity and finish. We got notes a lot like the nose with milk chocolate, red cherry, clove, vanilla, caramel, black pepper, macadamia, almonds, and citrus fruits being prominent.
20-Year Tawny Food Pairing – Chocolate and Ice Cream
We paired this port with chocolates and chocolate-forward ice creams and really liked how the fruit and nuts came out with the pairing here.
Really, you couldn't go wrong with pairing this port with chocolate, fruit, or nuts as the remaining flavors would likely sing no matter what you added with it.
Personally, we enjoyed this bottle on its own just as much as with food, and it really helped remind us why 20-year tawny is our sweet spot.
Score: 3 / 5
We'd buy a glass of this one.
Quinta do Tedo really shines in their 20-year tawny with the wide array of flavors you get out of the bottle. As such, we wouldn't be upset if a glass appeared at our table at the end of any meal.
Quinta do Tedo is located at N-222, EM512, 5110-204 in the Douro Valley, Portugal. We purchased this bottle directly at the winery and enjoyed it in 2021.