Published Jeremy. Last Updated on August 16, 2022.
Disclaimers: We use demographic data, email opt-ins, display advertising, and affiliate links to operate this site. Please review our Terms and Conditions for more information. This website is intended for those of legal drinking age in your jurisdiction.
Over the years, we've visited dozens upon dozens of wineries, tasting rooms, and specialty wine stores around the world and have found we have one consistent pattern- we almost always leave with bottles. It doesn't matter if the winery is epic or borderline terrible, we leave with a bottle from virtually every place we visit.
While someone should probably organize an intervention about that, there is also a method to our madness.
To put it simply, we've found that the best approach to shopping for wine is to only buy single bottles when visiting wineries- never cases and very rarely multiple of the same bottle. Why? We simply don't trust our palate after a day of tasting!
To us, the true test of a winery is not how their individual tastings stack up, but rather what we think of a bottle on its own without any other wine along with it. That requires buying what we perceive to be our favorites from each and every tasting, taking them home, and enjoying them one by one over time.
In this one, we thought we'd take a step back and discuss our logic behind this a bit more. It may sound a bit confusing, but we promise it will make sense by the end.
Why We Never Buy Cases at Wine Tastings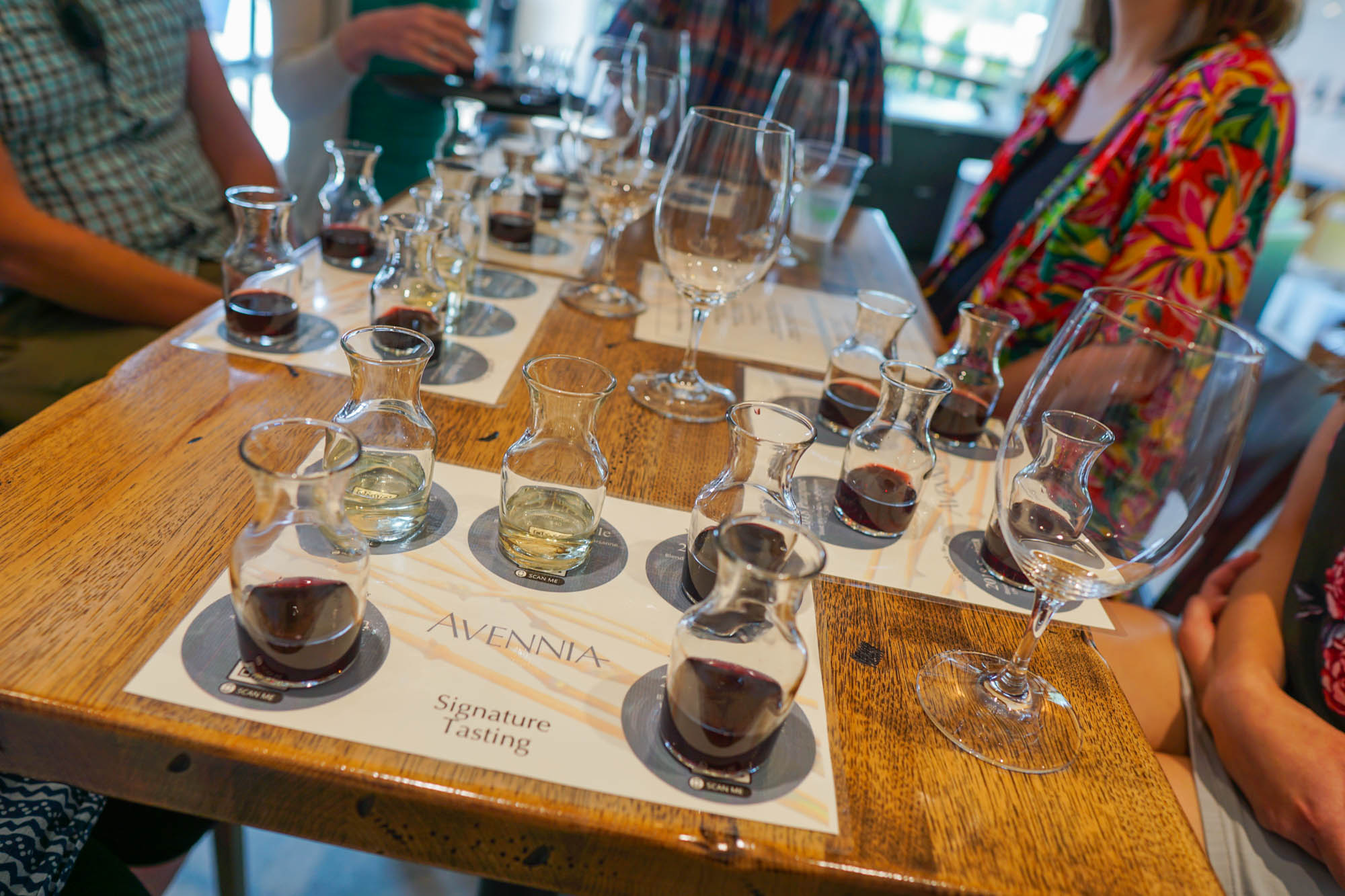 Generally, when we hit tasting rooms in various wine regions around the world, we go big. Part of this is because we have limited time available in these places, but also because many wine regions are also remote even from their closest city- so you really have to pack it all in when you can.
As such, we often find ourselves hitting up three, four, or even five wineries in a single day.
You don't have to be a wine expert to do the math on how many samples we end up consuming over the course of a day (a few dozen), and this presents a well-known problem that plagues even the most skilled tasters- palate fatigue. 
By the end of any given wine tasting day, our tongues are just shot. While we can be quite discerning on wines we enjoy at the beginning of the day, we start getting false perceptions about wines consumed as the day goes on as our taste buds are simply overwhelmed. This tilts in the favor of wineries as palate fatigue generally helps make wine taste better (perceptively, at least) with each passing glass.
What happens when we return home is that we open a bottle and then wonder why it doesn't taste the same as we remember. Many times the light bulb goes off and we remember that said winery was the last one we visited that day, palate fatigue most certainly set in at that point, and in the case of Angie perhaps some light inebriation was involved as well (don't worry, she doesn't drive).
This is one of the reasons why many of our bottle reviews may get downgraded to "we'll buy a glass" territory as opposed to "we'll buy another bottle" when we clearly already bought a bottle after a tasting outright. To put it simply, our fresh palates do not sync up with our fatigued ones, and this is where we really notice it. The skill involved with tasting is recognizing palate fatigue as it occurs and still being able to walk away with generally good bottles either way.
As such, we've developed a rough process to lean into the inevitable palate fatigue, still buy bottles during our trips, but protect ourselves from buying too many bottles in the event that we are mistaken on the wine outright.
How We Approach Buying Wines at Wineries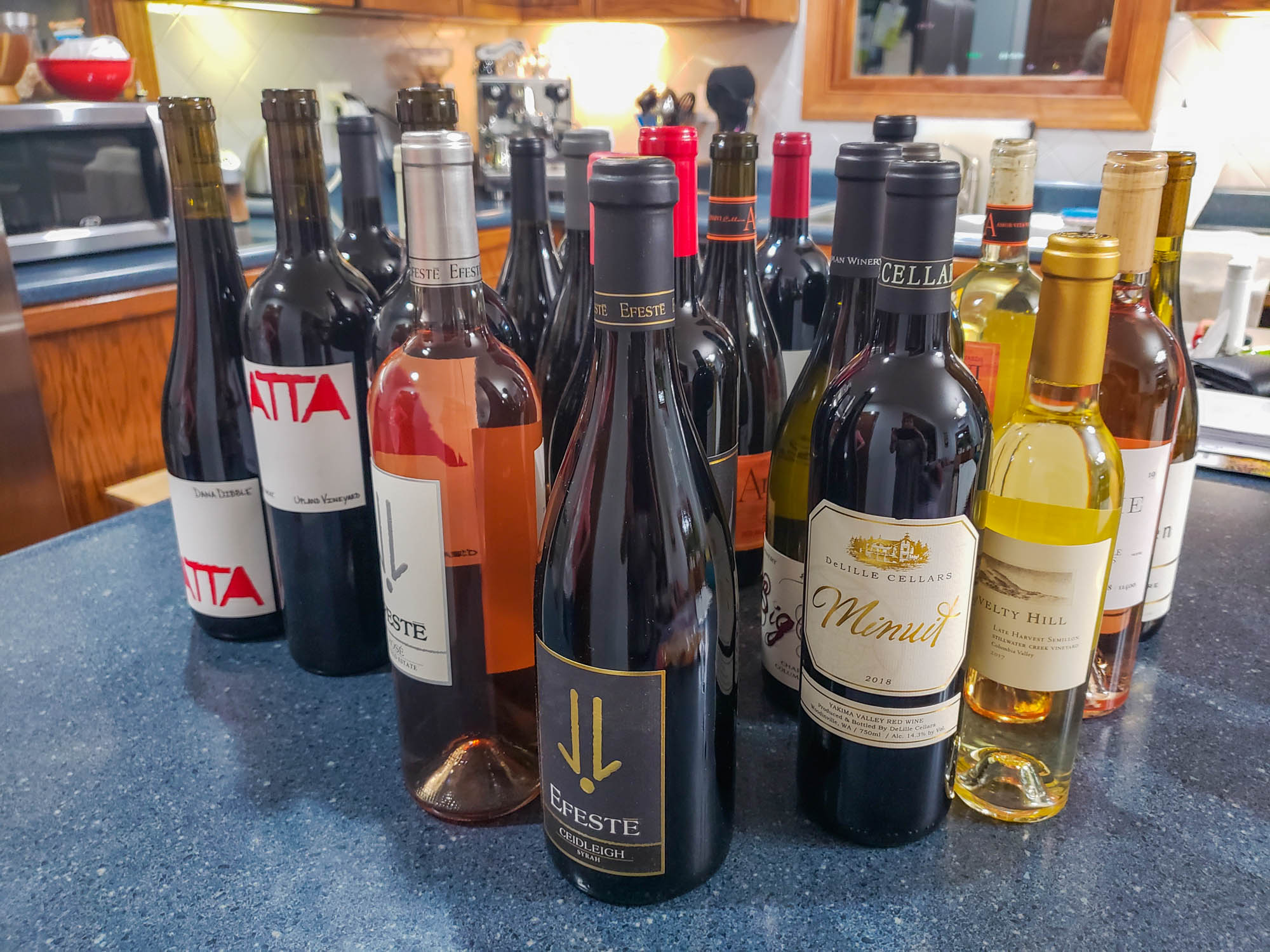 Our approach to buying bottles of wine at wineries is simply the following:
Try as many wines as possible at every vineyard (typically buying one or two flights and taking extra splashes of anything else that is offered).
Buy a few unique bottles at each spot based on what we like the most (generally one to four unique bottles in most cases- sometimes two of a single bottle if we really liked it).

We generally hit 10+ vineyards in a single trip, so just two bottles per place is already pushing two cases.

Pack wine in checked luggage to bring home and try those bottles over the next three to six months.

We do age some bottles at this step, but most are consumed immediately. Generally, these are the wines we buy two bottles of- one for now, one for later.

Find one or two wineries that we like the best and order more (e.g. a case of a specific wine, join their wine clubs for variety if all wines were great, etc.).
This process solves a few problems- some discussed above and others we've yet to mention outright.
The first, and perhaps biggest, is that we are shielded from ourselves when buying bottles. The last thing we would want to happen is to buy a case of wine that we end up not liking as much thanks to palate fatigue. Buying just one or two bottles of the ones we like most lets us reassess once more when our palate is fresh.
Second, many bottles we buy are young wines not meant for aging. By buying a variety of single bottles, we always have a constant supply of what we like to call "drink now" wines to enjoy while waiting for our next wine trip. This is, naturally, not an awful problem to have. If we intend to age any at this step, having two on hand lets us try one now to decide if we need more to age while still letting one get some age on it. Waiting years just to find out we should've bought more would be an awful feeling!
Third, many wineries are able to ship both domestically and internationally (if they don't this logic clearly doesn't apply- go nuts if you have to). Some have flat rate shipping, others may only ship with a minimum order quantity, and some even offer "free" shipping where the cost is factored into the bottle price outright. But to help average out the shipping cost, a general rule of thumb is the more bottles you buy, the cheaper shipping will be on a per bottle basis (no one wants to spend $20 to ship a $20 bottle of wine, but spending $20 to ship six $20 bottles can become an acceptable expense). So if we're going to buy a larger quantity of bottles, we want them to be our favorites.
Finally, by reassessing the wines once more, we start to hone in on just one or two wineries, or even specific bottles at said wineries, that we think are the best of the best from any given wine trip. While we would love to have a huge volume of wines from many wineries, our wine cellar at home simply doesn't have the capacity for it. As such, when it comes to accumulating and aging wine, we have to be very particular about what we choose.
What ends up happening from this process is that we often settle on just one or two wineries that we like the best from the ten or so we visit in any given trip. In some cases, it could even be one specific bottle from a winery that we peg as the one we absolutely adore. All of the other wines can still be great, but only one or two seem to rise above the rest and become the very favorites that we would want to have regularly.
These are the instances where we'll join a wine club. These are also the wineries we'll go back to if we ever re-visit the wine region in the future. The individual bottles will likely rate a 4.5 or 5 in our reviews and we'll likely buy many bottles throughout the vintages in order to age them in our cellar- if they're worth aging, at least. We also have bottles we collect just to enjoy regularly while they're still young and there's nothing wrong with that either.
By the very nature of cases of wine being expensive, it is worth the added step to ensure the winery and any specific wine is the right one that we want to have a decent volume of in our collection. If we walk away with just one that fits this category from any given wine trip, we will call that a win. Any more is a bonus. But because of our cellar's limited capacity, we can't go too crazy, either- so only the best of the best will do.
When it comes down to it, we view tasting at wineries to simply be a fun experience in any given wine region. We take a broad approach to buying wines during these visits because palate fatigue is a real issue that pops up every single time. Only when re-evaluating wines at home with a fresh palate do we begin to get a full appreciation of the bottles, and these added steps let us really take a good look at the wines to find which ones we want to fill our cellar with for the long-term.
Will we buy one-off bottles from many of the wineries that don't make the cut? Certainly- we do this regularly with many great wineries we've been to (especially if they're available on Wine.com since we pay an annual fee for free shipping and we can mix and match our orders from many producers). But when it comes to buying more than a bottle or two directly from a winery, the extra due diligence will pay off in the long run.
How do you approach trying and buying wines for your cellar? Comment below to share!