Published Jeremy. Last Updated on January 1, 2021.
Disclaimers: We use demographic data, email opt-ins, display advertising, and affiliate links to operate this site. Please review our Terms and Conditions for more information. This website is intended for those of legal drinking age in your jurisdiction.
It took us a while to try our first Albarino, and it only took a few sips of the Bodegas del Palacio Albarino de Fefinanes 2018 to understand what we were missing. A strong citrus kick and a finish of salinity has us wanting to try more of this varietal very, very soon.
Poignant Acidity and Lemon Flavors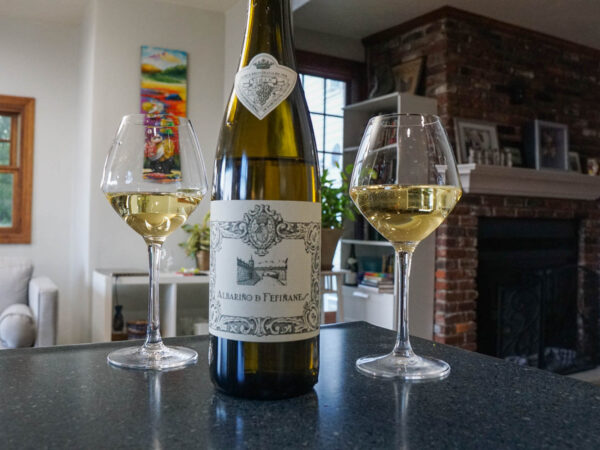 In the glass you'll note a deep straw color in this wine, and a quick sniff will give aromas of lemon, grapefruit, and peach that were present but mellow overall. As you enjoy the aroma a bit longer, a hint of salinity can be picked up as well.
Medium acidity with a lingering poignancy that can be traced to specific sites on the tongue. A strong candied lemon flavor gives way to a bitter pith as you'd get from grapefruit and a bit of salinity on the finish. A fairly simple flavor profile but the nice, bright acidity really makes this one shine.
Bodegas del Palacio Albarino Food Pairing – Oil Based Pasta with Herbs and Fresh Tomato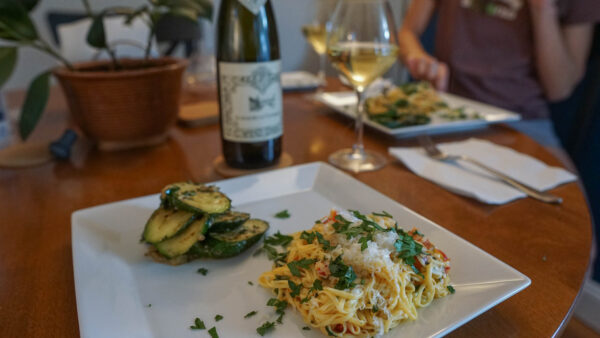 One of our favorite summer pasta dishes is a simple herb and tomato pasta. Homemade angel hair noodles tossed with oil, herbs, and tomato is all it takes for a great, fresh dish.
We really appreciated the bright acidity with this one and the oils and herbs helped bring out a sweetness in the wine with additional notes of peach. We really could catch the salinity notes of the wine here and it made us want to add some shellfish (specifically, langoustine) to the pasta to really hit that note hard- next time!
Score: 3 / 5
We'd buy a glass of this one.
Overall, we really enjoyed the flavor profile of the Alvarinho grape here, but have to admit that this specific bottle had a fairly straight forward flavor profile without being terribly complex. As such, we could consider buying a glass if we saw this one available, but may go for a different bottle the next time we try this varietal.
The Bodegas del Palacio Albarinho de Fefinanes is grown in the Rias Baixas region of Spain. We purchased this off Wine.com and enjoyed it in 2020.