Published Jeremy. Last Updated on January 1, 2021.
Disclaimers: We use demographic data, email opt-ins, display advertising, and affiliate links to operate this site. Please review our Terms and Conditions for more information. This website is intended for those of legal drinking age in your jurisdiction.
The Vins Contes Poivre et Sel hails from the Loire Valley of France and features a grape varietal that was completely new to us when we received the bottle- Pineau d'Aunis (90%, rounded out with Gamay). This one ended up being fairly low tannins, low ABV, and offered a nice berry blend flavor overall.
Berries and a Hint of Caramel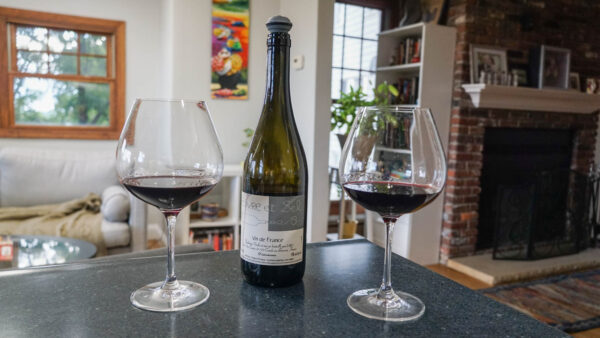 This French wine poured with a rather beautiful medium purple hue and had an aroma of blueberry, cranberry, and just a hint of vanilla.
When sipping, you'll likely notice a very bright acidity and that the wine is fairly dry. This one is rather low on tannins with only a faint drying sensation on the gums, so those who are not into overly tannic wines may be a fan of this one. We also noticed a light effervescence when sipping which we also appreciated.
Flavor-wise, the Poivre et Sel featured a red berry blend on the palate and finished with a light caramel note. On its own, we would quite enjoy this bottle if it was, say, $15, but north of $20 may be a bit much for our liking.
Vins Contes Poivre et Sel Food Pairing – Pork Chops with Mushroom Sauce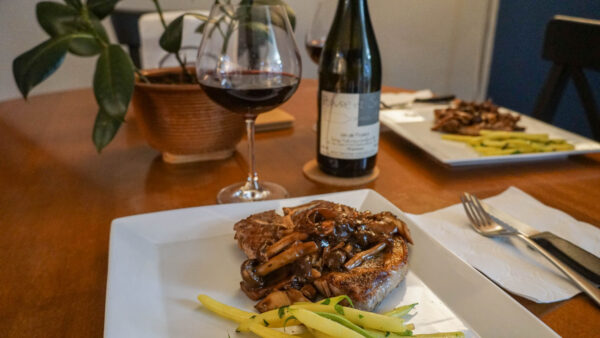 We paired this one with pork chops and a housemade mushroom sauce with pan deglaze using the wine itself.
I have to admit that the wine didn't do much to accentuate the rather earthy flavors of the meal, but the wine did pair beautifully with a tomato salad we served on the side thanks to the rather high acidity which allowed some of the fruity notes to shine. As such, if you are looking to pair this one with food, we would recommend something a bit more vibrant perhaps with tomato as a focal ingredient (although we'd just as happily drink this one on its own without food too).
Score: 3.5 / 5
We'd buy a glass of this and could be persuaded on a bottle in the right circumstance.
On its own we would quite enjoy this bottle if it was, say, $15, but north of $20 may be a bit much for our liking.
Les Vins Contes is located in Candé-sur-Beuvron, France. We purchased this bottle locally and enjoyed it in 2020.