Last Updated on January 1, 2021 by Jeremy
Disclaimers: We use demographic data, email opt-ins, display advertising, and affiliate links to operate this site. Please review our Terms and Conditions for more information. This website is intended for those of legal drinking age in your jurisdiction.
Every once in a while we come upon a great wine deal and pick up a bottle purely because it is an attractive price compared to national averages.
Costa Di Bussia's Barbera d'Alba 2017 was one such bottle. While the flavor notes felt a bit one dimensional to us, it did pair quite well with a mushroom and truffle polenta with tallegio. A true Northern Italian pairing if there ever was one!
An Acidic Table Red Wine from Northern Italy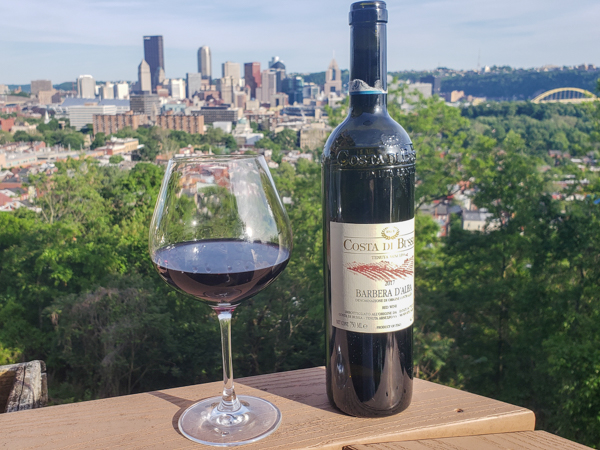 As one of the most widely cultivated grapes in Italy, Barbera is often a mass-consumed table wine. After just a few sips of the Costa di Bussia Barbera d'Alba, we can see why that is.
This medium purple wine had a strong aroma of cherries, raspberry, and cranberry plus notes of dried herbs and anise. There were some hints of leather and smoke, but it was not terribly strong and did not take away from the fruit notes.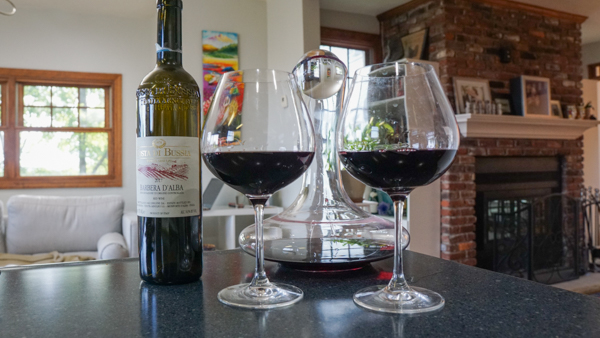 When taking a sip, you'll notice that this wine is vibrant with fairly high acidity. Some tannins are present that hit the gum line, but it is very minimal plus a small hit of alcohol on the tongue. The predominant flavor notes are cherry, cranberry, and plum and are somewhat one dimensional without much depth beyond this- a perfect table wine to us!
Costa di Bussia Barbera d'Alba Food Pairing – Mushroom and Truffle Polenta with Tallegio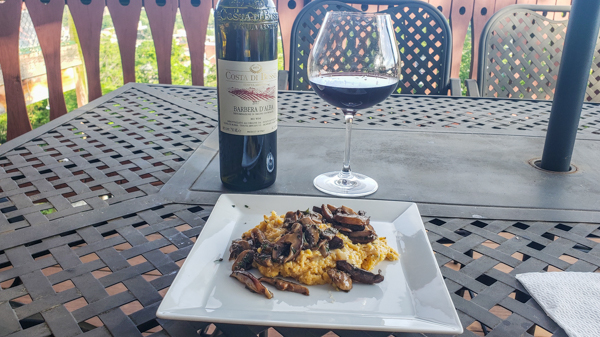 We paired this one with a mushroom and truffle polenta made with a heaping amount of tallegio thrown in for good measure. The cheese was greatly appreciated with this wine as the creamy, fatty nature of the cheese cut through the acidity a good amount and brought out even more red fruit flavors like cherry and raspberry.
By having some fairly heavy herbs in the mushrooms on top of the polenta, we were able to bring out some subtle herbal notes more in the wine but were admittedly still quite minimal and hard to distinguish.
Still, this bottle went down fast and we have no problem by that at all!
Score: 2/5
I'm good with having tried this, but may not need more.
Overall, the table wine assertion for this wine rings true for us here. While we did quite enjoy the strong fruit flavors and how the tallegio cut through the acidity, I am not sure we necessarily need another bottle of this specific one (although we could be persuaded if the price is right- which admittedly is one of the reasons why we picked this bottle up in the first place).
Costa di Bussia is located at Località Bussia, 26, 12065 Monforte D'alba. We purchased this bottle from a local store and enjoyed it in 2020.