Published Jeremy. Last Updated on January 1, 2021.
Disclaimers: We use demographic data, email opt-ins, display advertising, and affiliate links to operate this site. Please review our Terms and Conditions for more information. This website is intended for those of legal drinking age in your jurisdiction.
One of our goals in starting The Grape Pursuit was to try and find new varietals of wine we've never had with hopes that some would quickly become new favorites.
It only took a few sips into the Oro de Castilla Verdejo 2018 to know that this is a grape varietal we want to experience many more bottles of in the future.
This is simply a delicious wine!
Intense Flavor in This Spanish Verdejo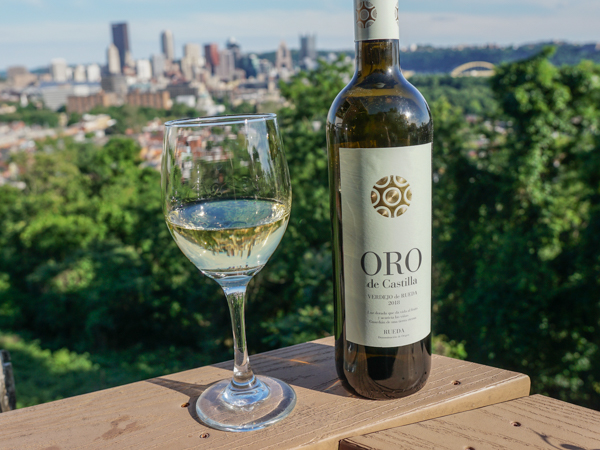 Oro de Castilla is located in Rueda, Spain, and is one of the first bottles of wine we've had from this part of the country.
You do not need to have the glass close to your nose to pick up the aromas of this one. It is quite intense from a few feet away. On the nose we got strong notes of lime which was rounded out with less intense apricot, peach, and a bit of slate as well.
The first sip of this pale gold wine hit us the same way that the bouquet did. There was a strong burst of flavor in the form of lime and bitter citrus fruit. A few sips in we got notes of perhaps candied lemon and honeydew. As the wine lingered on the tongue, the flavor changed to fresh vegetal notes that remained alongside the bitter citrus flavors.
What was interesting in this bottle beyond the flavors was the acidity. We'd call this one fairly high in acid, but instead of causing us to salivate it seemed like the acid notes danced around our tongues. Every so often a different taste bud would light up and feel like it was popping right off our tongue (Angie called it a prickly sensation as well). I am not sure we've ever had that sensation with a wine before, and it was quite the experience.
Oro de Castilla Verdejo Food Pairing – Lemon Ricotta Pasta with Salad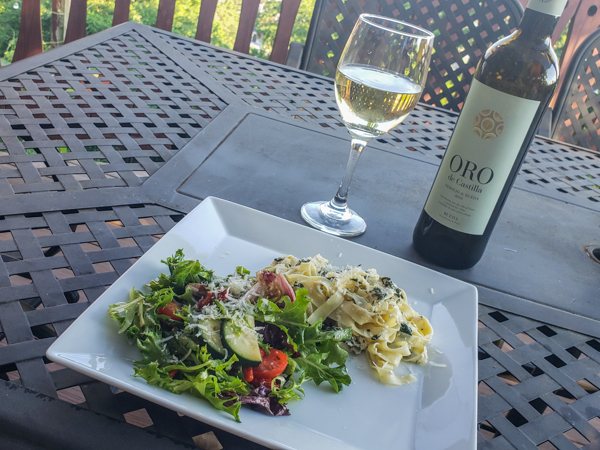 As this wine was bright and vibrant, we paired it with homemade pasta with a lemon, ricotta, and spinach sauce as well as a salad tossed in a light vinaigrette on the side.
While I would say that the overall high acidity and lemon in the wine accentuated the lemon-forward pasta quite well, the wine itself actually meshed even better with the salad. The leafy greens we used had a subtle bitterness to them that helped mask the residual bitter notes in the wine and allowed more of the fruit notes to come through.
When thinking of it this way, it is actually not surprising that the vineyard and most wine experts would recommend pairing a Verdejo with a salad, it really was a great pairing!
Score: 4.5 / 5
I want a bottle of this and could be persuaded to have a few bottles on hand at any given time.
Overall, for our first Verdejo we were quite pleased. Both the aromas and the flavor profile were quite powerful and the acid profile in the wine was simply intriguing. The residual bitter notes may be a bit too much for some palates, but if you like a good IPA or dark coffee and want an easy-sipping, intense white wine then this is the one you should be on the lookout for.
Oro de Castilla is located in Rueda, Spain. We purchased this bottle on Wine.com and enjoyed it in mid-2020.