Last Updated on January 1, 2021 by Jeremy
Disclaimers: We use demographic data, email opt-ins, display advertising, and affiliate links to operate this site. Please review our Terms and Conditions for more information. This website is intended for those of legal drinking age in your jurisdiction.
We have a soft spot for Gewurztraminer as this grape can offer some wonderful flavors with interesting floral notes that you do not get with many other varietals.
It only took a couple of sniffs and sips of the Pierre Sparr Gewurztraminer 2017 for us to realize that this bottle had all that (and then some) and was among the most intense Gewurztraminers we've had to date!
A Wonderfully Intense Gewurztraminer from Alsace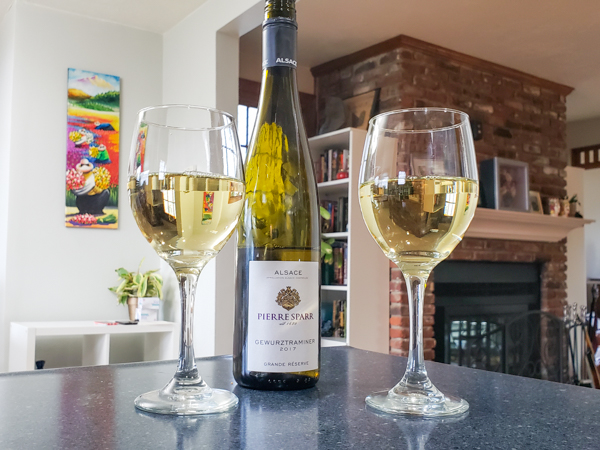 When you think of Gewurztraminers, you think of strong wines with floral aromas to match the fruitness. Even with this expectation, the Pierre Sparr 2017 is, to put it bluntly, intense. On the nose you get a wonderful array of ripe white peach, lychee, nectarine, roses, and a touch of lemon.
When taking a sip of this wine, you will first notice a full, well-rounded mouthfeel and sweetness on your tongue that gives way to notes of peach, elderflower, and a subtle minerality. This flavor will last on your tongue for quite some time and then end with a slight residual bitterness like you get when eating a grapefruit.
What we love most about this wine is how approachable it is. Whether you're looking for a sweet wine or something with a fair bit of depth, odds are good this one will have what you're looking for.
No Food Pairing Here – Can Enjoy on Its Own!
We originally intended to pair this one with a meal that was spice-forward, like a Thai curry; however, we enjoyed this bottle so much on its own we decided to just keep drinking it without a food pairing (which is quite a rarity for us).
That being said, while we could see an incredibly spicy dish working with the sweetness of this one, we would probably be a bit careful with secondary flavors as the fruit and floral notes in this particular bottle are quite intense compared to other Gewurztraminers we've had and may even be too strong for conventional pairings.
Score: 4/5
We'd buy another bottle of this one.
Overall, the Pierre Sparr Gewurztraminer is probably one of the most fragrant wines we've ever had (Gewurztraminer or otherwise). The intensity of the peach, lychee, and floral notes like elderflower pack a punch and make this one a great sipping wine on a hot summer day. Likewise, its semi-sweet characteristics would also make this one a good wine for those who typically prefer fruit-forward sweeter wines but want to broaden their horizons more.
Pierre Sparr is located in Alsace, France. We purchased this bottle via Wine.com and enjoyed it in 2020.