Last Updated on January 1, 2021 by Jeremy
Disclaimers: We use demographic data, email opt-ins, display advertising, and affiliate links to operate this site. Please review our Terms and Conditions for more information. This website is intended for those of legal drinking age in your jurisdiction.
We're diving into the world of Chardonnay thanks to a modest collection in our cellar, and recently cracked open a bottle of Chamisal Vineyard's Stainless Steel Chardonnay 2018.
While we wish this one would've had a bit more going on when sipping, we have to admit it went down fast all the same.
A Fairly One Dimensional Chardonnay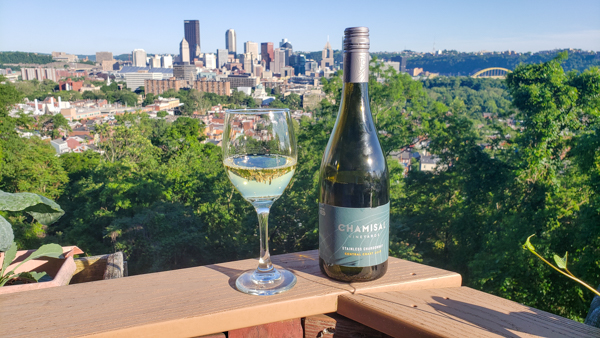 This Chardonnay was unoaked and is a pale yellow in the glass. On the nose you get a wealth of tropical fruit like pineapple, kiwi, and lime zest.
When you take a tip, you get a bright, medium acidity that lingers ever-so-slightly. The flavors that pop out include lime, melon, and a little bit of apricot, but overall feels a bit one dimensional as nothing else seemed to develop on our tongues before the flavors dispersed. Still, it is a fairly easy drinking Chardonnay all the same and could be a good option for those who don't like its often over-oaked counterparts, but we were hoping for something just a bit more intense.
Chamisal Vineyards Chardonnay Food Pairing – Pan Roasted Chicken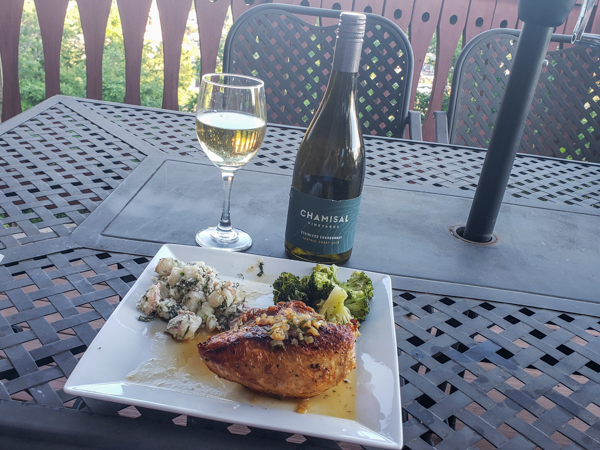 We paired this Chardonnay with a pan-roasted with a classic pan sauce made with stock and a wine deglaze. On the side we had potato salad and broccoli as well.
Although the flavors of the food didn't do much to help compliment the wine in any noticeable capacity, this wine was a great choice to use a bit of for a deglaze and added a nice complexity to the flavor of our sauce. Still, since we're more focused on how the wine tastes in our glass as opposed to in our food as an ingredient, we can't say much about this bottle beyond this one.
Score: 2/5
We're fine having tried it but do not need anymore.
Overall, we don't have much positive or negative to say about this specific bottle one way or another. It is a fairly straight forward Chardonnay with a melon and lime flavor profile. If you want an easy-drinking wine that goes down quickly, this is for you (especially if you can find it at a fairly attractive price point). If you want something a bit more complex to go with a meal, you may want to try another option.
Chamisal Vineyards is located at 7525 Orcutt Road in San Luis Obispo, California. We tried this bottle in 2020 and purchased it on Wine.com.