Last Updated on January 1, 2021 by Jeremy
Disclaimers: We use demographic data, email opt-ins, display advertising, and affiliate links to operate this site. Please review our Terms and Conditions for more information. This website is intended for those of legal drinking age in your jurisdiction.
If we were told to randomly pick a favorite French white, odds are good it would be Vouvray. This wine (comprised of Chenin Blanc grape) is often loaded with intense flavors that run the gamut from dry and acidic to sweet and mellow.
One bottle we absolutely fell in love with was the Chateau de Montfort Vouvray. We had first had a 2017 vintage of this one and immediately rushed out to purchase the 2018 vintage to enjoy shortly thereafter. In this review, we're going to be speaking on the 2018 vintage which we paired with a seafood feast.
A Complex Vouvray With a Hint of Sweetness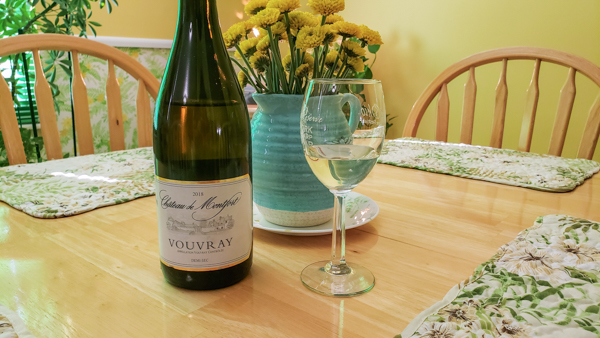 When you pour this Vouvray, the first thing you'll notice is it is practically translucent- a pale, pale straw color. But its lack of color isn't a negative as this one packs a punch. The aroma of this Vouvray has many tropical notes as well as overly ripe peach, nectarines, and melon.
When you take a sip, you'll notice an upfront sweetness (not quite medium sweet per its labeling, but noticeable) that turns to a mild tart finish. The acidity is quite low but still present enough to help express flavors of lemon, honey, and passionfruit.
We were sharing this bottle with my mom for her birthday as we were fans of the 2017 vintage and noted that we thought the 2018 vintage had a bit more sweetness expressed than we remember from 2017 (it had a bolder tart kick). Without having them side-by-side it is hard to say whether our memory is faulty or this is true, but we both thought the same thing and brought it up at the same moment.
In either case, both bothers were pleasing and we'll happily buy more of this one.
Chateau de Montfort Vouvray Food Pairing – Seared Scallops and Black Cod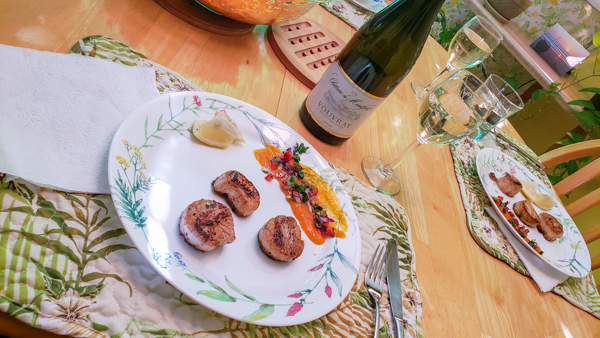 As mentioned above, we were celebrating my mom's birthday and paired this wine with a special meal. We started with seared scallops served with a mango habanero chutney and had sous vide black cod (with pan-seared skin) as our entree.
Despite being a bit sweet, the meaty scallops and black cod held up well to this wine. The real gem of the plate was the mango habanero sauce for the scallops which was sweet and spicy which helped highlight the acidity in the wine while mellowing out some of the fruit. This pairing was indeed a perfect sip and makes us want to pair this one with dishes containing sweet and spicy sauces in the future.
Score: 4/5
We'd buy another bottle of this one.
Overall, our second bottle of Chateau de Montfort's Vouvray was just as pleasing as the first, and we'd always love to have one of these on hand. While we do think the 2018 vintage expressed a bit more sweetness than the 2017, the fact that this is supposed to be a demi-sec (medium sweet) makes us think that 2017 was perhaps more the outlier. All that being said, we're big fans of this bottle.
Chateau de Montfort is located in the Loire Valley. We enjoyed this bottle in 2020 and purchased it on Wine.com.