Published Jeremy. Last Updated on March 2, 2021.
Disclaimers: We use demographic data, email opt-ins, display advertising, and affiliate links to operate this site. Please review our Terms and Conditions for more information. This website is intended for those of legal drinking age in your jurisdiction.
If you are a fan of wine with intense herb and spice notes, Gratavinum's 2πr from Priorat, Spain is for you. This one is a blend of Grenache, Carignan, Cabernet Sauvignon, and Syrah and is taglined "the well rounded wine" to play off of its name.
While we thought the 2016 vintage could do with more aging beyond the 4-year age we enjoyed it at, this one was simply intriguing.
Herbs, Spice, and More in This Spanish Blend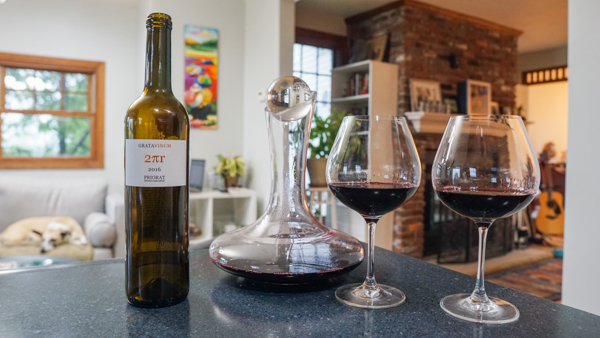 We always love a deep purple wine when it comes out of the bottle, and while this one maybe was medium-to-deep in color we were excited with the pour all the same. The bouquet was predominantly herbs and spices, with notes of eucalyptus and licorice being present. Other notes of cloves, dried herbs, and light barrel notes of vanilla, tobacco, and leather came about but were more subdued.
When sipping, this one offered a short but intense flavor. Red fruits like strawberry and raspberry were present but were somewhat faint as many herbs and earthy notes took over. Baking spices lingered toward the finish giving way to tannins drying out the gums. The flavors in this one were hard to pinpoint as all of these notes changed within each sip, in a good way, but we walked away discussing the herbal notes most of all.
It is worth noting that this bottle had loads of sedimentation as the wine is not filtered off before bottling, so decanting is highly recommended. Likewise, the wine's moderately high tannins when enjoyed young could benefit from a bit of time in the decanter as well.
Gratavinum 2πr Food Pairing – Various Empanadas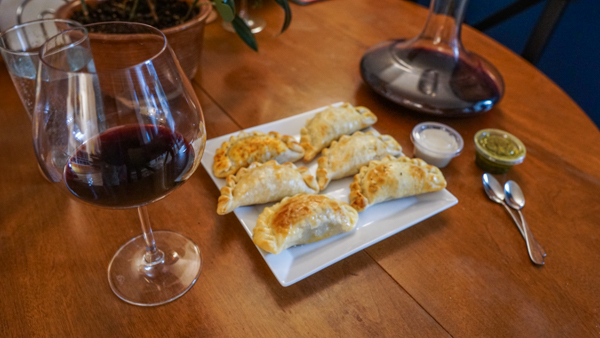 We decided to pair this one with a spread of empanadas we picked up from a local producer as a means to put the wine to the test with various flavor combinations. The empanadas we tried included traditional Argentinian beef, tandoori chicken, barbecue brisket, caramelized onions, and elote (corn).
While we would not say that this wine went that well with a few of the empanadas (the basic onions and elote did little to bring out any notes in the wine), we were quite pleased with how it paired with the spice-forward Argentinian beef and brisket empanadas. The herb and spice heavy wine seemed to be balanced very well by these equally spice-heavy dishes.
As such, we could see this wine being a perfect match for a holiday meal or other rich and savory meat dishes. Pairing it with anything less may be doing an incredible disservice to this wine.
Score: 4/5
I would buy a bottle of this wine and age it for several years.
Angie and I diverged on this bottle ever-so-slightly as I was more in the I'd buy a glass of this camp due to the strong herbal notes not being my favorites whereas she was firmly on wanting to buy another bottle. Ultimately she won me over on the idea in discussing the potential for how this one would develop with aging in our cellar more, and I have to agree with the potential here. As such, we may want to recommend letting this one go in the cellar a bit longer before drinking, but even if you crack it open you'll still have a really nice glass all the same.
Gratavinum is located in Priorat, Spain. We purchased our bottle locally and enjoyed it in 2020. Wines from this producer may be available on Wine.com but were out of stock at the time of publication.