Last Updated on January 1, 2021 by Jeremy
Disclaimers: We use demographic data, email opt-ins, display advertising, and affiliate links to operate this site. Please review our Terms and Conditions for more information. This website is intended for those of legal drinking age in your jurisdiction.
Normally when we try a Shiraz, we expect a full-body, fairly tannic wine. But the Torbreck Woodcutter's Shiraz 2018 from Australia was actually a bit less intense in both of those categories and actually caught us by surprise!
A Medium Body Shiraz Full of Dried Fruit Flavor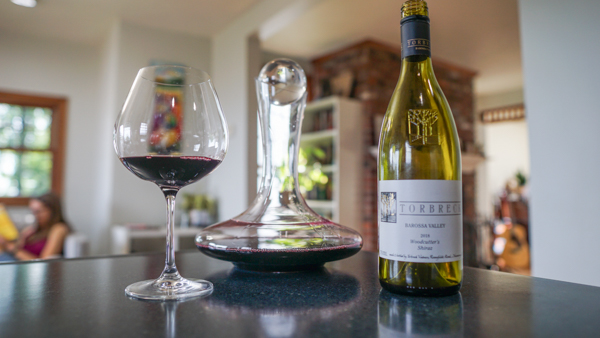 When poured, the wine had a medium to deep purple color and a decent aroma of leather, pepper, tobacco, dried cherry, raisin, and a vegetal note.
The wine had a medium acidity with low tannins that lingered a bit on the gum line. It offered a medium body with upfront fruit notes of cherry, dried cranberry, raisin, and had a milk chocolate mouthfeel with vanilla on the finish. After a long decant (2 hours) more of the fruit notes came out with a strong blueberry and vanilla combo.
The dried fruit and creamy mouthfeel on this one really made for an interesting flavor that we quite enjoyed; however, the body could've been a bit more intense.
Torbreck Woodcutter's Shiraz Food Pairing – Pork Roast Sous Vide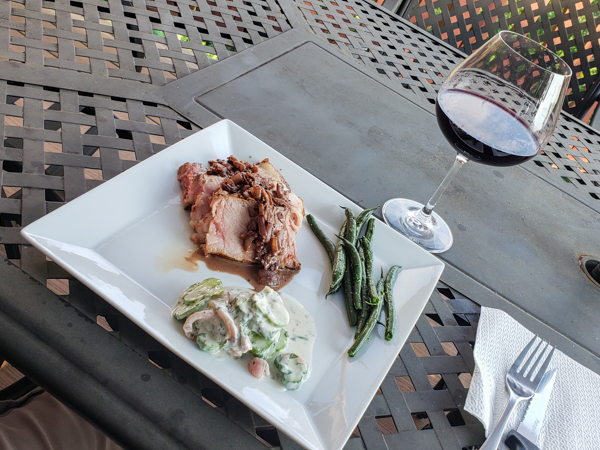 We paired the Torbreck Woodcutter's Shiraz with a pork loin that we cooked sous vide and seared. We used the wine to deglaze the pan with herbs and onions which really added a nice complexity to the sauce.
This cut of meat was especially fatty and the medium body of the wine and fairly low tannins did not hold up to it very well. Despite stronger blueberry and vanilla notes after a decant, we'd probably not recommend decanting this one if you were pairing it with a strong meat dish like this one. To put it simply, the flavor notes that came out after decanting were far too delicate and we'd honestly be happy just drinking this one on its own.
That being said, I would imagine this one would have paired a bit better straight from the bottle!
Score: 3.5/5
We'd buy a glass of this, but could be persuaded for a bottle in the right scenario.
For a Shiraz, the body was lighter than we anticipated. On its own that made for an interesting glass that we'd happily enjoy again. As a bottle for a meal, well, that one would depend on the meal!
Torbreck Vitners is located at 348 Roennfeldt Rd, Marananga SA 5355, Australia. We purchased this bottle on Wine.com and enjoyed it in 2020.