Published Jeremy. Last Updated on January 1, 2021.
Disclaimers: We use demographic data, email opt-ins, display advertising, and affiliate links to operate this site. Please review our Terms and Conditions for more information. This website is intended for those of legal drinking age in your jurisdiction.
Any time we try a new grape for The Grape Pursuit project is a day worth celebrating, and cracking open the Planeta Frappato 2018 marked one such day.
This Sicilian red is known for being fairly light in body and packing full of delightful red fruit. In this case, we got a wealth of strawberry!
Strawberry, Balsamic, and a Hint of Jam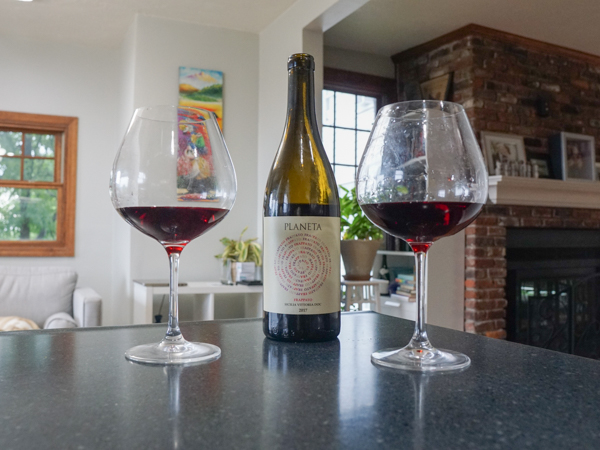 This Sicilian Frappato poured with a pale garnet color and had a strong scent of vegetal notes as well as barrel characteristics like tobacco, leather, vanilla, and pepper.
The first sip we took of this one we got a distinct hint of strawberry jam, which quickly turned into fresh strawberries and notes of balsamic coming out with the acidity. As we sipped more, undertones of pepper and a smoky, earthy musk appeared that lingered. As the wine breathed longer, the strawberry notes got more intense as well.
Beyond the flavor, the wine itself had medium acidity, fairly mild body, and low tannins- although we did notice them on the tongue and gum line all the same. Paired with the fruit flavors, this made for an easy-drinking wine all the same.
Planeta Frappato Food Pairing – Seared Tuna and Red Pepper Chicken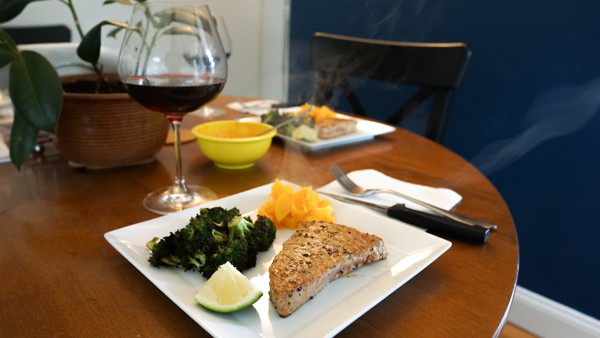 Due to the fairly strong strawberry notes we noted in this wine, we decided to split the bottle up over two meals to see how the flavors would work with different dishes.
Frappatos are often highly recommended for meaty fish so we decided to pair this with a seared tuna steak in the first meal. For being a lighter-bodied red, it really held its own to the tuna while letting the fruit flavors shine. We'd go as far as saying we'd probably try and even meatier fish like swordfish in the future to see what happens.
Our second dish was a red pepper chicken dish with pan-seared chicken thigh topped with a blended red pepper sauce. I really can't say that this one did much to accentuate the wine. The acidity in the sauce matched the wine quite well and highlighted the fruit notes, but was to a lesser degree than the tuna steak mentioned above.
Score: 3/5
We'd buy a glass of this.
Overall, I'm very intrigued by Frappato as a varietal and would categorize this as the kind of grape I'd like to try more of. The strawberry-forward nature of this wine made it relatively easy drinking and I'd definitely enjoy a glass of it if it was ever on a menu and paired with a dish I wanted to order (or on its own prior to a meal).
Planeta is located in Sicily. We purchased this bottle on Wine.com and enjoyed it in 2020.