Published Jeremy. Last Updated on January 1, 2021.
Disclaimers: We use demographic data, email opt-ins, display advertising, and affiliate links to operate this site. Please review our Terms and Conditions for more information. This website is intended for those of legal drinking age in your jurisdiction.
Our first rose from Provence was the Mathilde Chapoutier Grand Ferrage 2018 which was a blend of many grapes including Grenache, Cinsaut, Syrah, and Vermentino (listed as Rolle).
While this one had a relatively light flavor profile, we enjoyed the bottle of this all the same- especially with a heaping plate of homemade paella!
A Mellow Rose Blend from Provence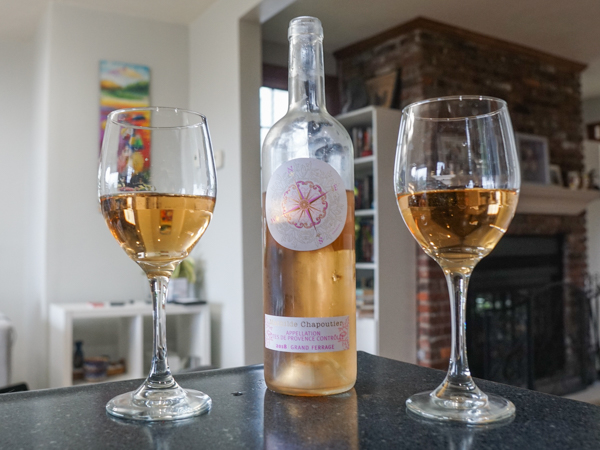 This rose blend is a pale salmon color in the glass and shortly after pouring you'll also notice a light effervescence. This one had lovely aromas of peach and ripe stone fruit, but beyond only had very subtle floral notes and a slight savoriness in the glass.
When you take a sip, you'll be greeted with an upfront, bright acidity and a relatively light body overall. The main flavor notes we got here were pomelo and grapefruit and, like the aroma, little characteristics beyond this.
Do we like a bit more going on in our glass, even with a rose? Sure. Did we also still enjoy this bottle? Definitely. As such, we think this wine would be great for those who don't like overpowering wines and want subtle, nuanced flavors in their glass.
Mathilde Chapoutier Grand Ferrage Food Pairing – Paella with Chicken, Pork, and Shrimp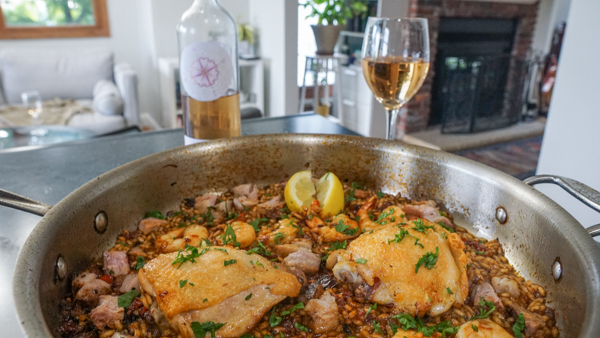 Paella and rose is always a match made in heaven, and we paired this one with housemade paella with shrimp, chicken, pork, and more.
They say rose is the kind of wine that can pair with anything, and this was most certainly the case here as the delicate fruit flavors held their own against our fairly-intense paella. While the flavors did not bring out much worth discussing in either the wine or the paella, what really enjoyed here was the light effervescence in the wine itself. That helped make the flavors pop ever-so-slightly!
Score: 3.5 /5
I'd be more than happy to have a glass of this and could be persuaded on a bottle if the price was right.
Overall, the Mathilde Chapoutier Grand Ferrage is a lovely rose with a subtle flavor profile and effervescence that will hold up for many dishes. While we often like a bit more body in our wines, I'd never say no to a glass of this one if it was on a menu.
Mathilde Chapoutier is located in Provence, France. We purchased this bottle on Wine.com and enjoyed it in 2020.