Published Jeremy. Last Updated on January 1, 2021.
Disclaimers: We use demographic data, email opt-ins, display advertising, and affiliate links to operate this site. Please review our Terms and Conditions for more information. This website is intended for those of legal drinking age in your jurisdiction.
We had received a bottle of the Terra dei Re Claris Rosso from a friend and didn't think much of it as we assumed it'd be a fairly straight forward table red from Italy.
What we did not realize when we opened it, however, was that table wine in Italy can vary dramatically by region. In this particular case, our bottle featured a table grape from southern Italy, Aglianico (a new variety for us), and had a vastly different flavor profile from what we expected.
It certainly made for an interesting food pairing.
Strong Pepper with Dark Fruit Notes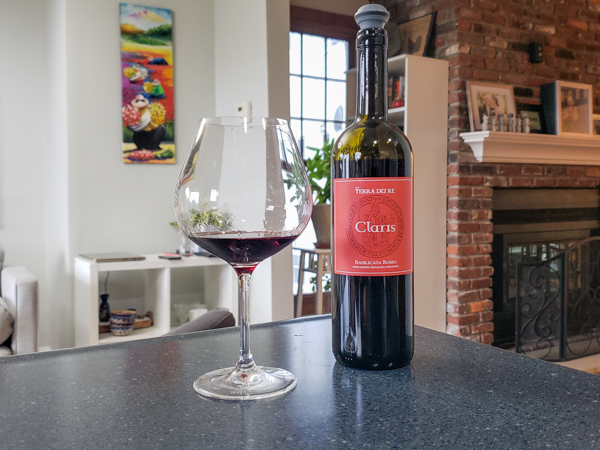 We realized this bottle was not what we expected as soon as we popped the cork and poured it. The wine had a medium garnet color that was a fair bit deeper than we anticipated. Upfront we got a waft of barrel notes of leather and mushroom and that gave way to fruit, specifically plum, filling the void.
The first thing we noticed when sipping is this one is intensely peppery. Much like the aroma, this one later opened up with flavors of blueberry, plum, and smoke lingering on the palate. The tannins were medium and stuck around in the mouth, and the wine overall was quite low in both acidity and alcohol which was another interesting surprise.
Terra dei Re Claris Food Pairing – Pasta with Red Sauce With Pork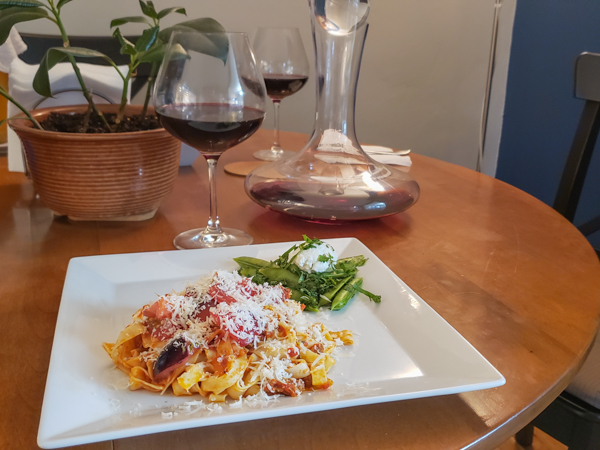 When we originally thought this would be a brighter table red with higher acidity, we planned to make it with a homemade pasta with ground pork and tomato sauce. Although we had a feeling this wine would not go with the dish, we stuck out with it anyway.
The tannins in the wine highlighted the spicy notes of our sauce which we quite enjoyed, and the fattiness of the ground pork paired the tannins in the wine favorably. That being said, this wine had a bit of a stronger kick than we originally anticipated, and as such would probably go with a more meat-centric dish when enjoying this wine again.
Score: 2.5 / 5
I'm glad we tried this but do not need more- Although if the price was right we could be persuaded on a glass.
Overall, this wine drinks like an approachable table wine, but due to being Aglianico you should be expecting stronger pepper notes and tannins than you may otherwise anticipate. As such, it would match with a more robust meat dish more than anything.
Terra dei Re is located in Basilicata, Italy. We received this wine bottle from a friend and enjoyed it in 2020.