Last Updated on February 7, 2023 by Jeremy
Disclaimers: This review uses WSET Diploma terminology and our own rating scale. Read more here. We use demographic data, email opt-ins, display advertising, and affiliate links to operate this site. Please review our Terms and Conditions for more information. This website is intended for those of legal drinking age in your jurisdiction.
We love a good Gruner Veltliner, especially when strong terroir-driven minerality becomes the star of the show. Not only are the flavors often incredible when the minerality is present, it also makes for a perfect pairing with Austrian cuisine all around.
Lauren V. Charming Gruner Veltliner from Kamptal may have been the best we've had to date, and so far has been one of our absolute favorite wines received from our Picked by Wine.com subscription.
If the intensity of a Gruner Veltliner is what you seek, this is the bottle to try. That is, if we don't beat you to buying it, first.
A Perfect Gruner from Kamptal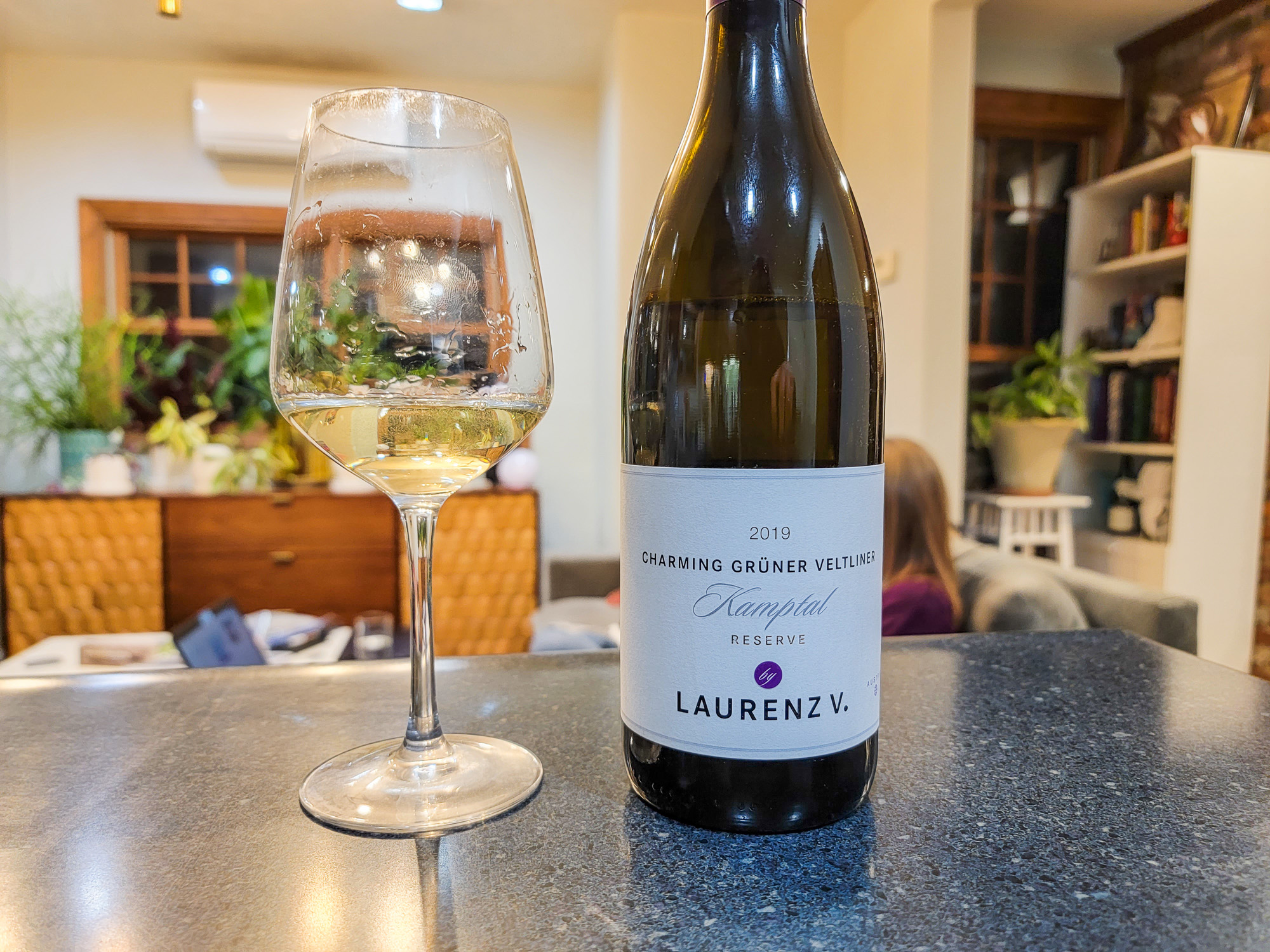 This Gruner Veltliner was medium lemon in color with medium(+) aromas of yellow apple, pear, peach, wet stone, salinity, geranium, fruit skins, slate, honeysuckle, and light vanilla, cream, and toast.
On the palate it was dry with medium(+) acidity, medium alcohol, body, and flavor intensity, and a long finish. We had notes of lemon, lime, pear, yellow apple, saline, wet stone, flint, slate, and toast to name a few.
From our structured tasting notes, it is hard to get an appreciation for this particular bottle because it reads a lot like what you'd expect for most Gruner Veltliners from Austria. But this one's minerality had quite the intensity overall where other bottles we've had may have been minor contributors, and all around it worked out for a refreshing bottle we were still talking about the next day.
Gruner Veltliner Food Pairing – Sous Vide Pork Loin Austrian Style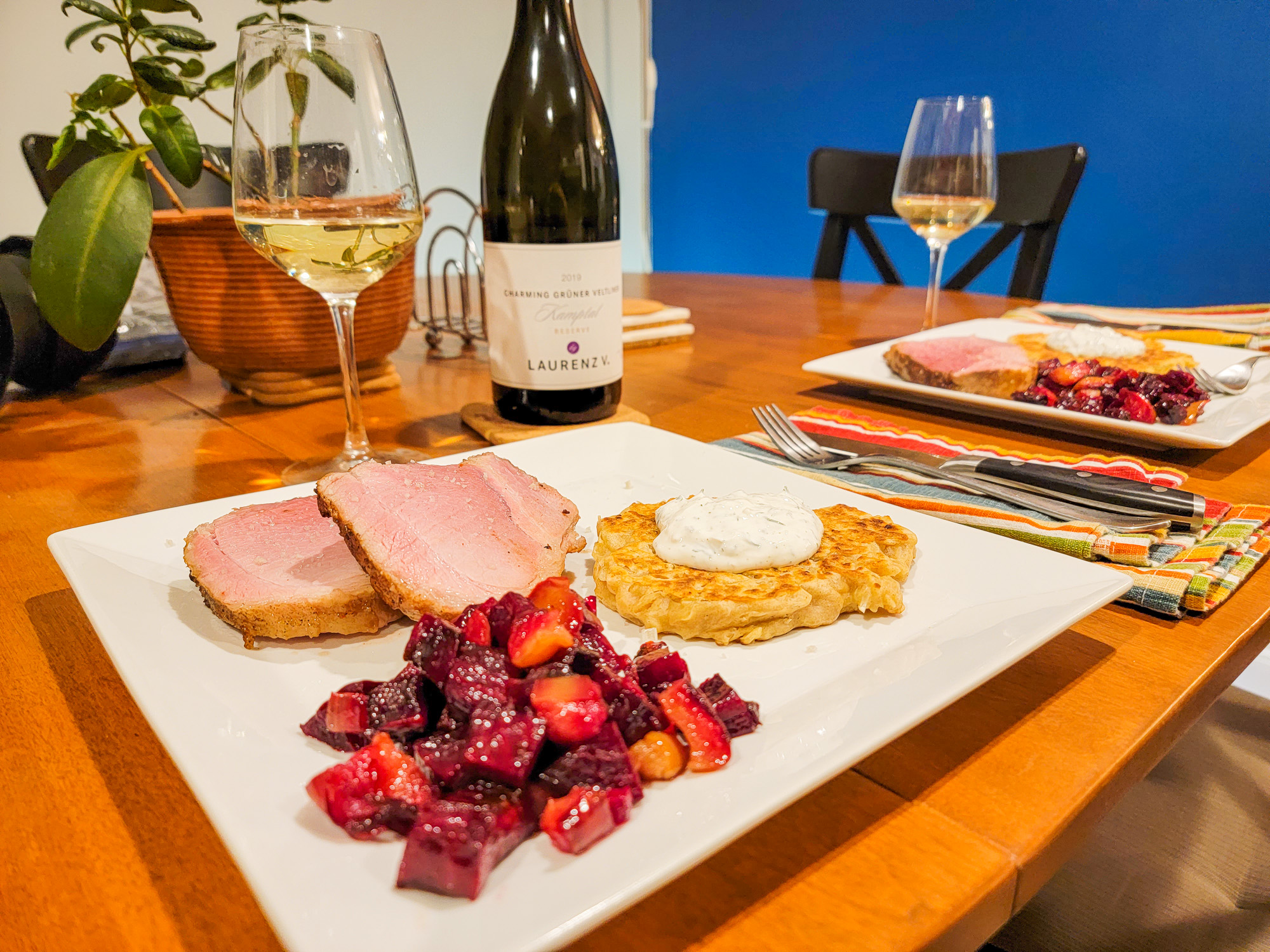 We paired this Gruner Veltliner with sous vide pork loin with sauerkraut pancakes and roasted beets in vinegar for an Austrian-inspired pairing.
The richness of this one helped cut through some of the minerality in the wine while highlighting pear and peach characteristics. Notably we also saw an increase in the flavor of what we'd call fruit skins as well for a burst of refreshing flavor all around. Call us happy with this one, although we wouldn't shy away from even richer and more minerally driven foods, too!
Score: 4.5 / 5
We want several bottles of this one.
We really were blown away by this bottle and consider it to be one of the finest Gruner Veltliners we've had in recent memory (possibly if all time thus far). If we had three or five bottles resting in our cellar, you'd hear no complaints from us- we'd paid this with a ton of dishes and be happy every single time.
Laurenz V is located in Austria, and this bottle's grapes were grown in Kamptal. We received this bottle as part of Picked by Wine.com; however, it went out of stock after we received it and we hope it will return soon.