Last Updated on February 7, 2023 by Jeremy
Disclaimers: This review uses WSET Diploma terminology and our own rating scale. Read more here. We use demographic data, email opt-ins, display advertising, and affiliate links to operate this site. Please review our Terms and Conditions for more information. This website is intended for those of legal drinking age in your jurisdiction.
Normally when we open a bottle of Txakoli from northern Spain, we expect an exceptionally high acid, low ABV, light and fruity wine that goes down quickly on a hot summer day.
Txakoli Primo Zarautz was not this bottle. Instead, this one felt like it had warmer characteristics all around- namely riper fruit flavors, higher ABV, and lower acidity than Txakoli we were used to.
We are here for it, because this wine was quite delicious despite catching us by surprise!
Please note: We did not include a vintage label on this one because we could not find any listed on the bottle. There was what appeared to be a label stamp showing 2021, but that does not say whether the vintage was 2020 or 2021. Unfortunately, this is the best we can guess in terms of vintage.
A Warmer Txakoli from Spain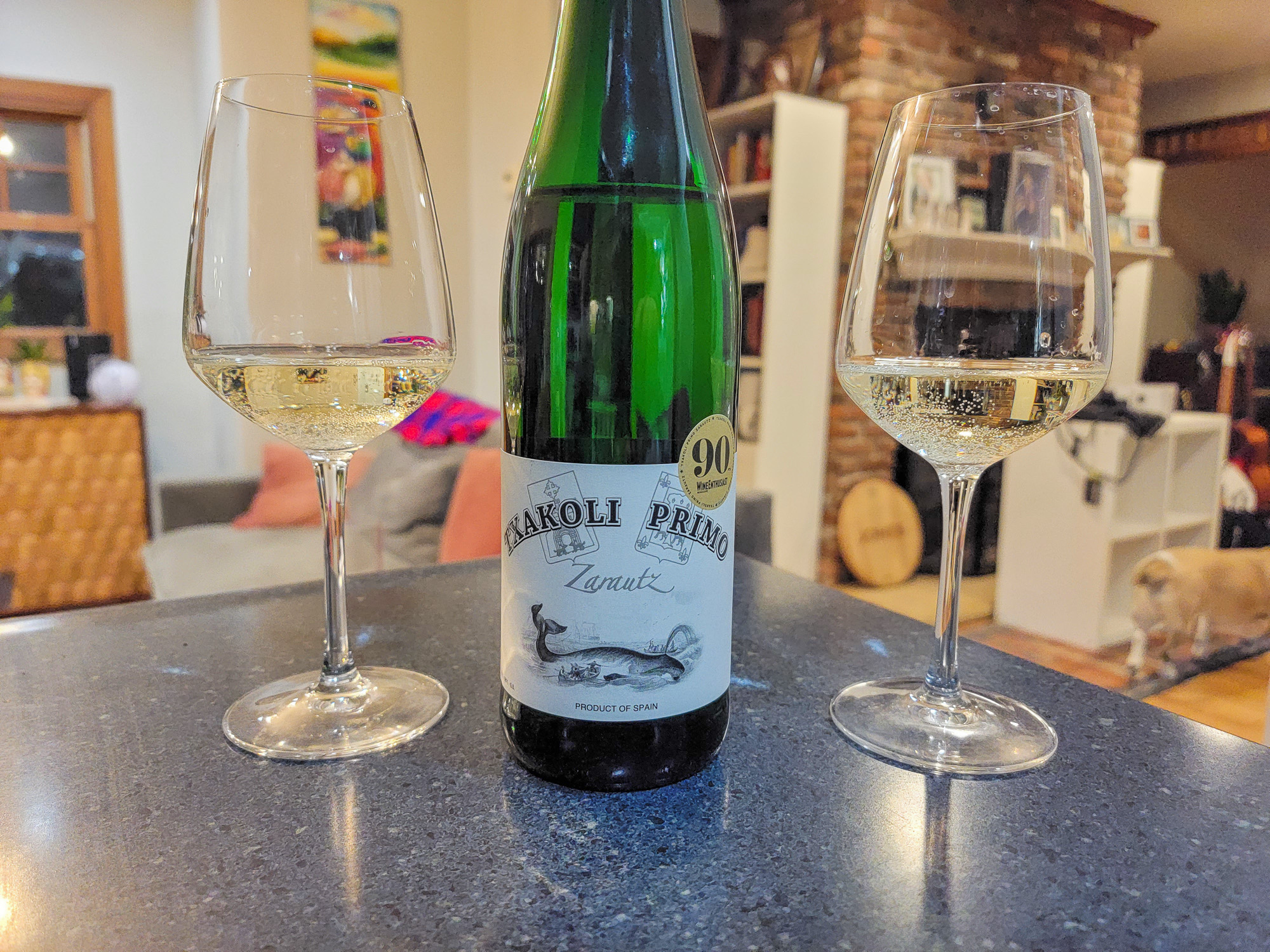 This Txakoli was pale lemon in color with light effervescence noted. It had a medium(+) aroma of pear, peach, lemon, lime, elderflower, grass, grapefruit, honeysuckle, wet stone, and salinity.
On the palate, it was dry with medium(+) acidity and finish plus medium alcohol, body, and flavor intensity. We had notes a lot like the nose but perhaps a bit less ripe- lemon, lime, pear, yellow apple, white flower, wet stone, and salinity most notably. The finish on this one also had a slightly waxy texture as well which we quite enjoyed.
This was an interesting Txakoli as the flavor intensity and alcohol was on the riper side from what we would typically expect for the grape. Likewise, the acidity also wasn't blazing high (which we expected) which made for a different take on this classic style.
Txakoli Food Pairing – Fish Tacos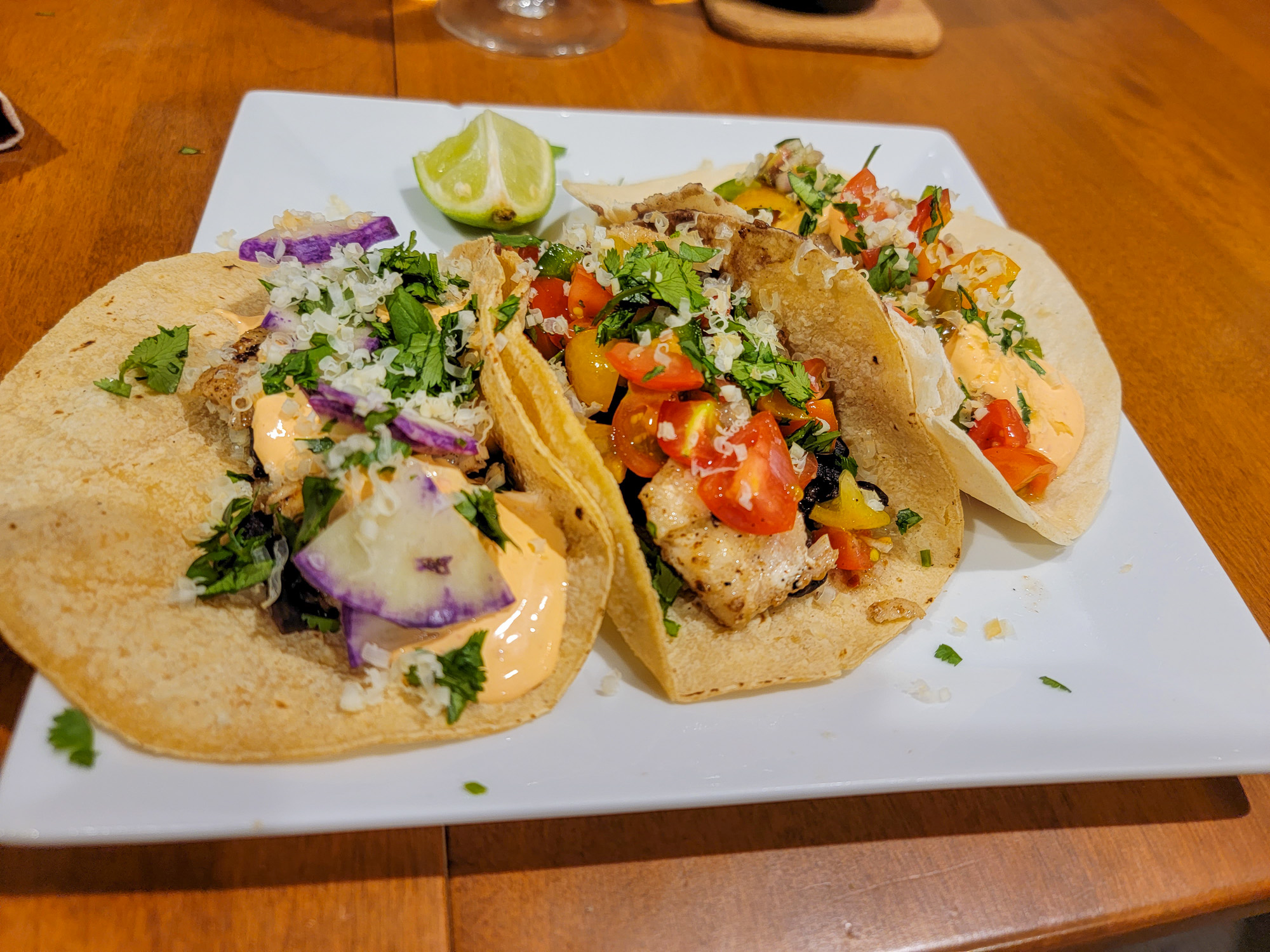 We paired this dish with fish tacos made with seared rockfish (a light and neutral white fish) and an array of toppings ranging from salsas to cheese, sour cream, lime, cilantro, and more.
The predominant change in the wine we noted here was that the peach and wet stone characteristics came out in full force with the tacos and admittedly made for a great pairing all around.
Score: 3.5 / 5
We'd buy a glass of this one and a bottle with the right pairing like this one.
Overall, this was a lovely Txakoli and may catch you by surprise by just how ripe it is compared to other bottles. Go in expecting this, and you will definitely get more out of a pairing all around. We'd never say no to a glass of this one, and could go for a bottle in the right circumstance/pairing; however, we also could go for a bit higher acid for the style, too.
Txakoli Primo is located at Abendaño Kalea, 14, 20800 Zarautz in Gipuzkoa, Spain. We purchased this bottle locally and enjoyed it in 2023.