Last Updated on September 6, 2023 by Jeremy
Disclaimers: This review uses WSET Diploma terminology and our own rating scale. Read more here. We use demographic data, email opt-ins, display advertising, and affiliate links to operate this site. Please review our Terms and Conditions for more information. This website is intended for those of legal drinking age in your jurisdiction.
Whenever we drink Champagne, we often go for the more common blanc de blanc or blanc de noir bottles over rose and other styles. But when we found Moet & Chandon Rose Imperial NV at a duty free store at an approachable price point, we knew we had to give it a try.
If you are looking for a sparkling wine with some intense red fruits and, admittedly, more mellow lees character, this one may need to be on your radar!
Mote & Chandon Rose Imperial is Red Fruit Overload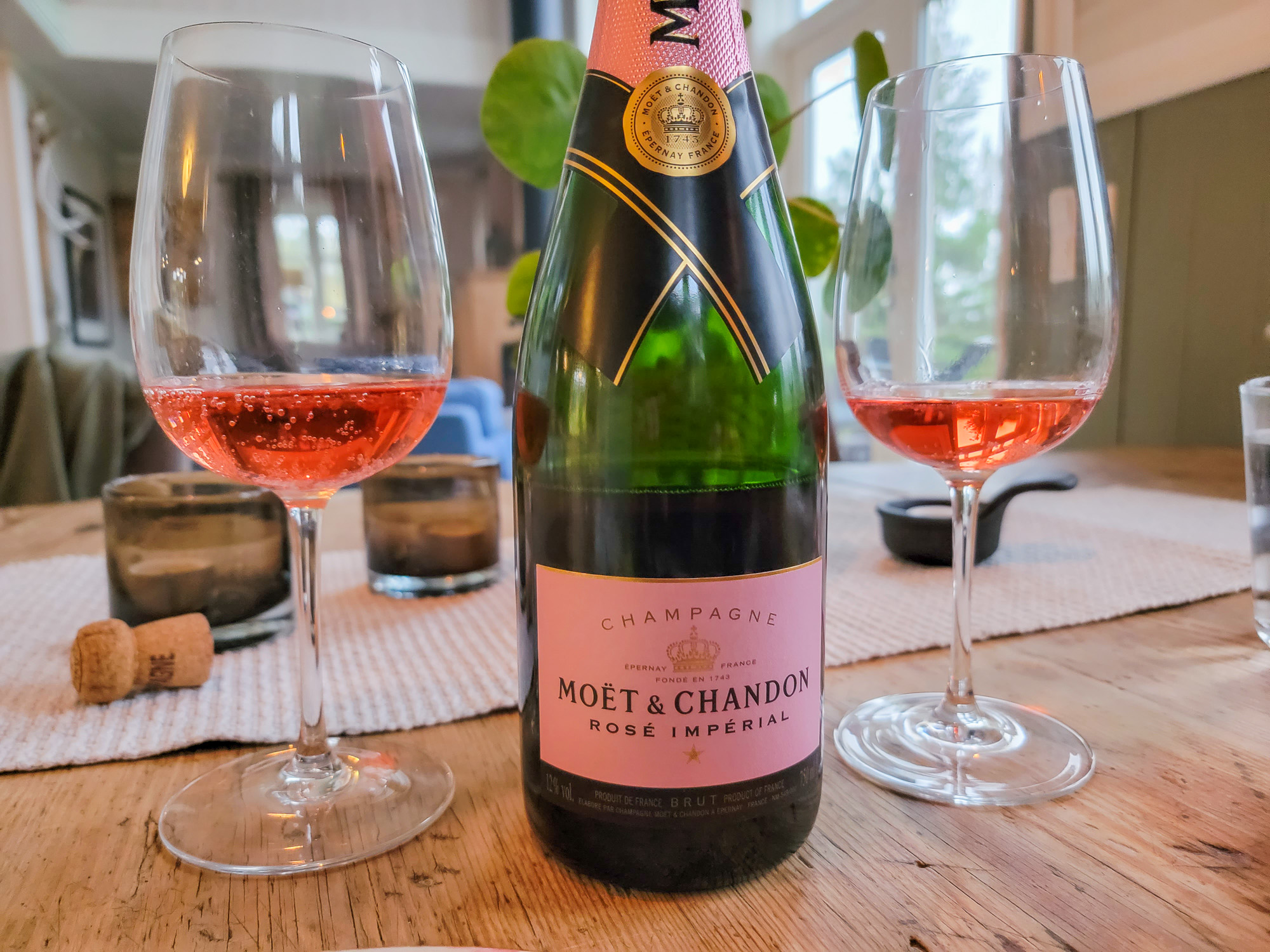 Moet & Chandon's Rose Imperial is medium pink in color with medium aromas of red cherry, cranberry, orange peel, watermelon, saline, toast, yogurt, and a light cream.
On the palate it is dry with high acidity, medium alcohol and flavor intensity, medium(+) body, long finish, and a smooth mousse. We had flavors of red cherry, raspberry, cranberry, strawberry, toast, biscuit, watermelon, and watermelon rind to name a few.
Although we detected some lees notes in both the aroma and the palate, they were quite minimal in this wine to the point where we wished we had more. That said, the strong red flavor and saline notes in the wine made for a nice sparkling wine all the same.
Moet & Chandon Rose Champagne Food Pairing – Lamb Chop with Lingonberry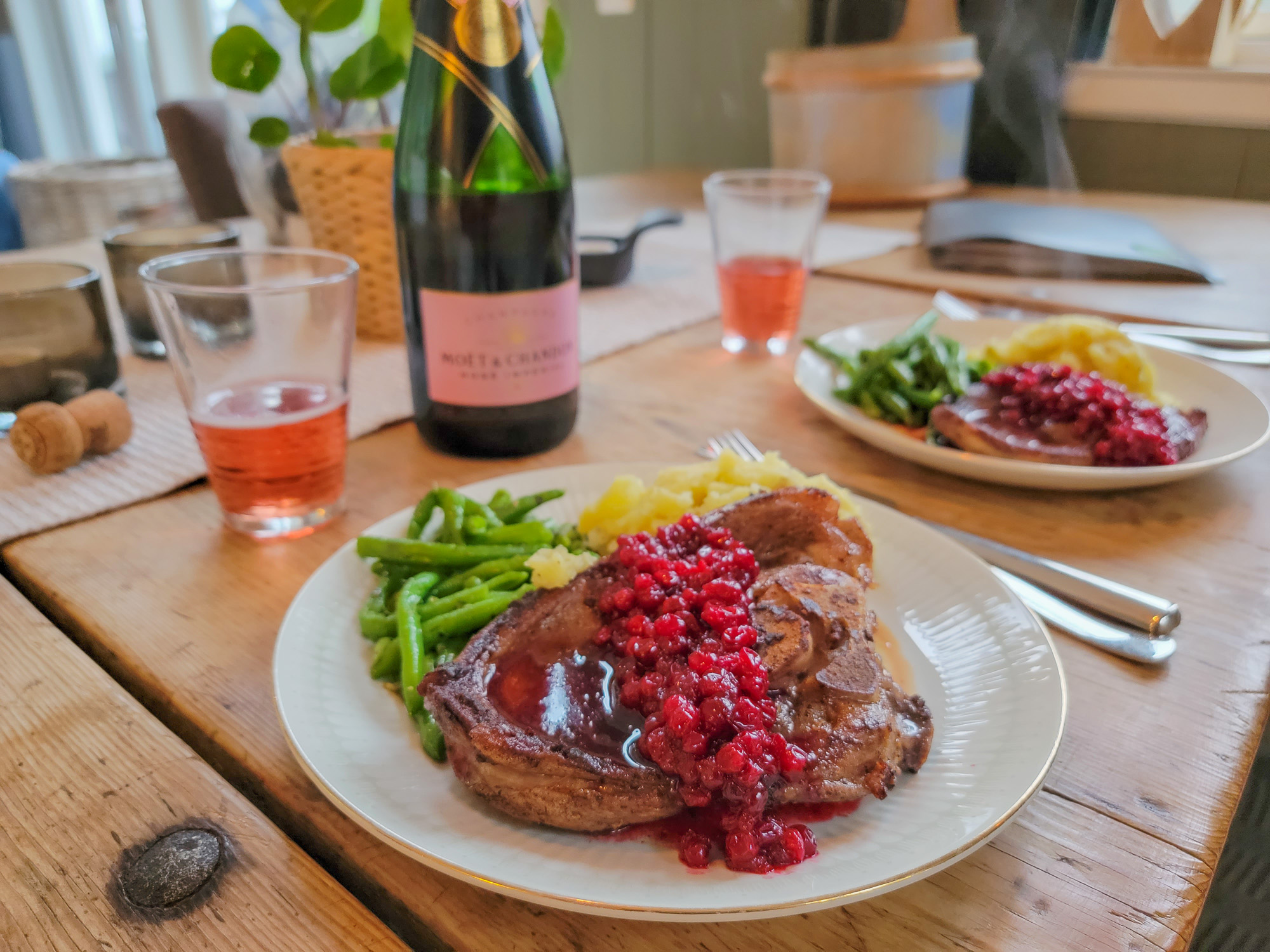 As we were traveling in Norway when we enjoyed this bottle, we paired it with a homemade lamb chop topped with a lingonberry sauce as we thought the tart red fruit flavors in the wine would pair nicely with the sweet and acidic sauce.
As lingonberry itself is reminiscent of a cranberry and raspberry, it was not much of a surprise that some of the red fruit notes were balanced with more prominent notes of citrus here. Likewise, we were pretty pleased with the fact that the lees character became more prominent, likely due to the lingonberries, as well. As we thought the wine was lacking this when enjoying on its own, this was a pleasant surprise.
Score 3 / 5
We'd buy a glass of this one.
Overall, we have to admit that rose Champagne is not our go-to when enjoying sparkling wine, but Moet & Chandon's Rose hit nicely with rather intense red fruit flavors and mellow lees characteristics. While we would like more lees notes to buy more bottles of this one, we could always see a glass of this one when priced nicely.
Moet & Chandon is located at 20 avenue de Champagne, 51200 in Epernay, France. We purchased this bottle at duty free in Norway and enjoyed it in 2023.