Last Updated on September 6, 2023 by Jeremy
Disclaimers: This review uses WSET Diploma terminology and our own rating scale. Read more here. We use demographic data, email opt-ins, display advertising, and affiliate links to operate this site. Please review our Terms and Conditions for more information. This website is intended for those of legal drinking age in your jurisdiction.
Whenever we travel, especially to regions that are not known for wine production, we often pick up a bottle or two of sparkling wine at duty free to enjoy somewhere beautiful.
Whenever our duty free shopping happens in Europe, odds are good we are picking up a bottle of Veuve Clicquot Champagne to enjoy if only because it is at a vastly lower price point than we are able to find at home.
For a bottle that you are paying for the name recognition as much as you are what is inside, a lower price point is always welcomed!
Veuve Clicquot Champagne is Tasty… and Expensive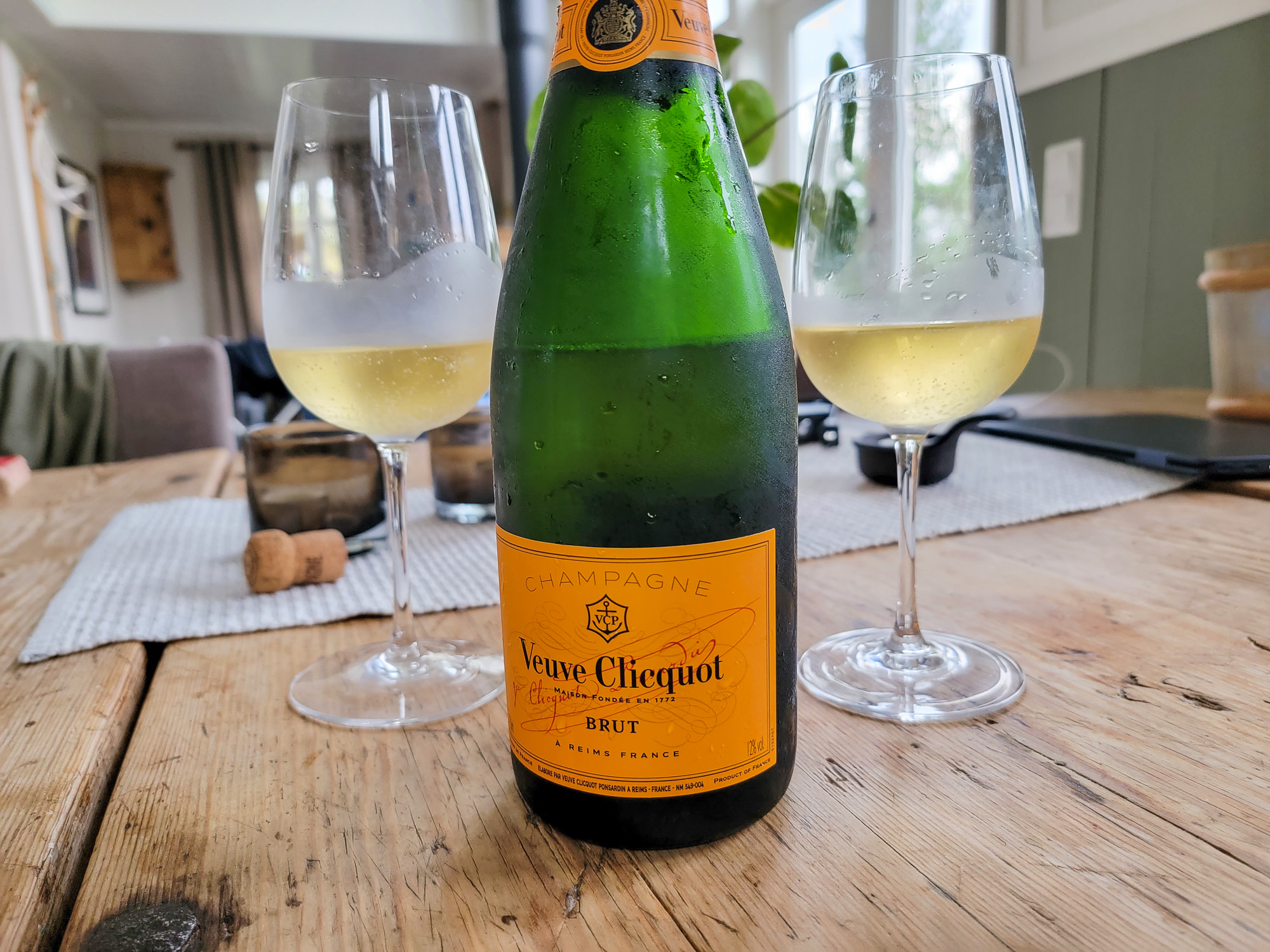 Veuve Clicquot Champagne is medium lemon in color with medium aromas of lemon, lime, pear, peach, cream, nectarine, toast, pineapple, biscuit, and bread dough.
On the palate it was dry with high acidity, medium alcohol, medium(+) body, flavor intensity, and finish, and a creamy mouse. Flavors were quite similar to the nose with lemon, lime, pear, nectarine, toast, cream, grapefruit, and honeysuckle being present. The lees character on the palate was admittedly a bit lighter than on the aroma, but was still noticeable all the same.
On the whole, Veuve Clicquot is a solid Champagne and a decent entry into all things non-vintage wine. Lees notes are present, but perhaps a bit on the lighter side than we otherwise prefer, but made for a well-rounded wine all the same.
Veuve Clicquot Food Pairing – Salmon and Mushroom Toast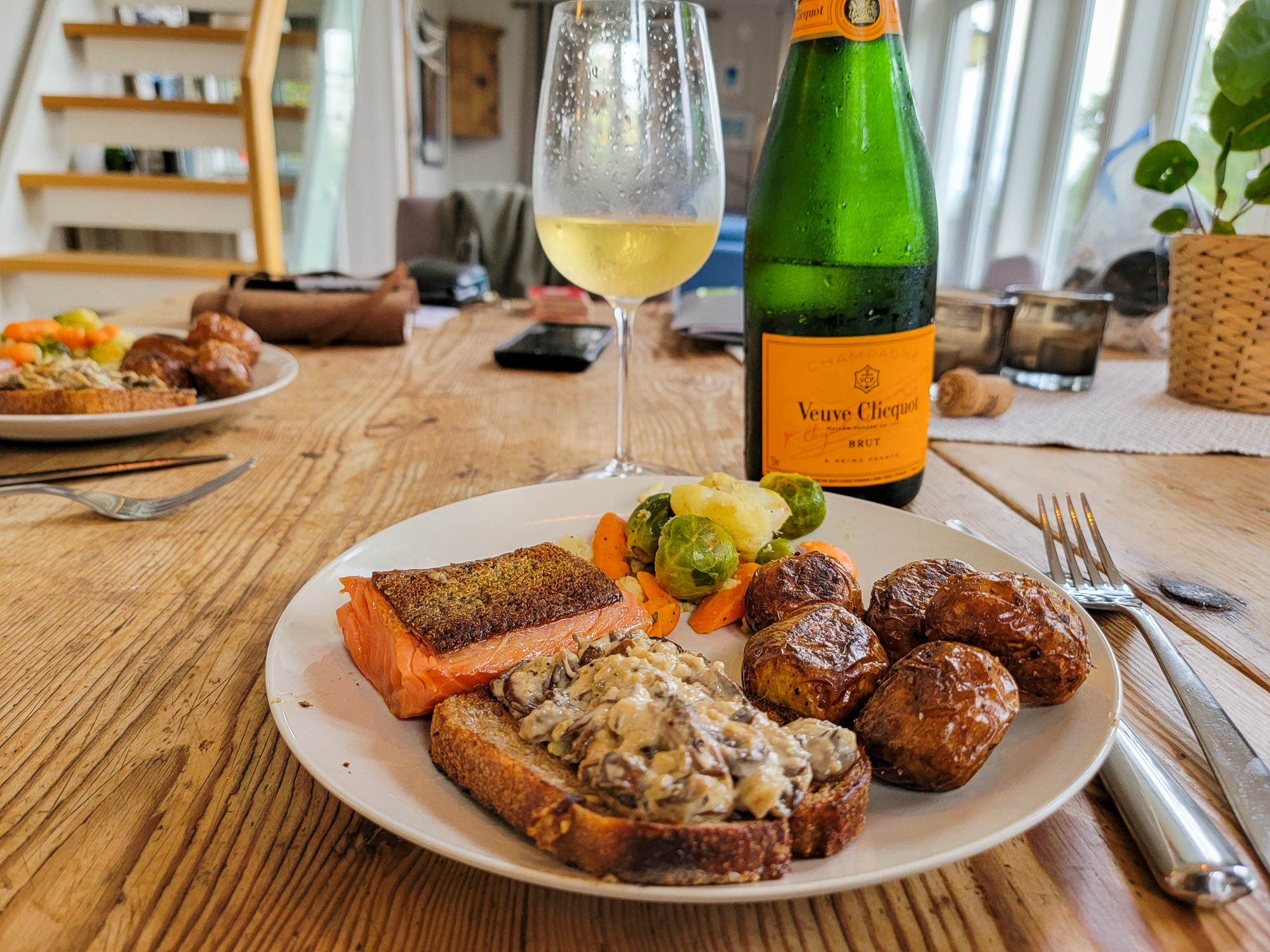 We paired our bottle of Veuve Clicquot with smoked salmon and mushroom gravy on toast, alongside steamed vegetables and potatoes.
The salmon itself did little to change the perceived character of the wine, albeit some of the nuanced fruit flavors were muted slightly due to the light smoke. The toast, on the other hand, was a much better pairing because, although the bread helped mask some of the lees character, the earthiness of the mushrooms and richness of the cream helped highlight more tropical notes than we got in the sparkling on its own.
Score: 3.5 / 5
We'd buy a glass of this one and a bottle in the right context.
Overall, Veuve Clicquot has made a reputation for itself as being a prestige winemaker with a devout following for its non-vintage production. While good, we can't help shake the fact that the bottle itself is often higher than we would prefer when at home- particularly as its name recognition is often used as a status symbol amongst consumers.
As such, we would likely stick to a glass of this one and buy bottles when the price point is a bit lower as it is in duty-free stores we visit when traveling.
Veuve Clicquot is located at 1 Rue Albert Thomas, 51100 in Reims, France. We purchased this bottle from a duty free store in Norway and enjoyed it in 2023.