Published Jeremy. Last Updated on January 15, 2021.
Disclaimers: This review uses WSET Level 2 terminology and our own rating scale. Read more here. We use demographic data, email opt-ins, display advertising, and affiliate links to operate this site. Please review our Terms and Conditions for more information. This website is intended for those of legal drinking age in your jurisdiction.
Salcheto Winery takes an interesting approach to their Sangiovese. The bottle of Obvius is made naturally with (as we understand it, at least) indigenous yeasts, no sulfites, and was not aged in barrels. As such, it was meant to be enjoyed with a bit of reduction going on as well.
But for us, the reduction notes were too intense for our liking.
Takes A While for the Reduction to Pass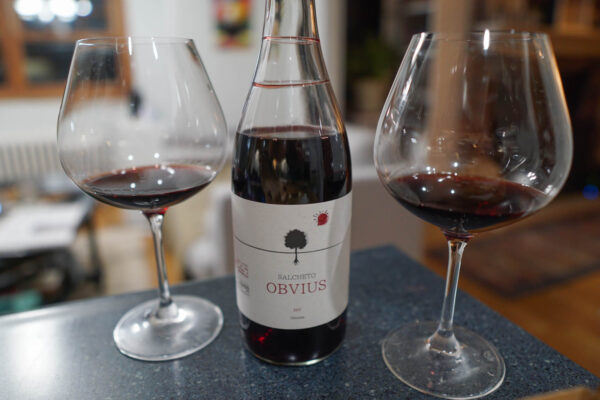 This Sangiovese was pale ruby in color with medium aromas of sulfur, camphor, sage, and only a nominal amount of red fruit that came out as this one opened up (over an hour+). To say that we found the aroma off-putting was an understatement as it took a long time for some pleasant notes to appear- the sulfur and camphor really hit us hard upfront.
The wine itself was dry with medium characteristics across the board and a very earth-forward flavor profile with subtle red cherry and cedar coming out the more you drank it.
I would say that, as far as flavor profiles go, it was nice to have a powerful earthy red from this varietal and the cherry and cedar notes balanced things out quite well despite the fruit being lighter. That being said, because it took a while for some of the unpleasant notes of this one to fade away, it made enjoying the flavors a bit hard.
Our bottle could've done with a fair amount of time exposed to oxygen.
Salcheto Obvius Sangiovese Food Pairing – Pizza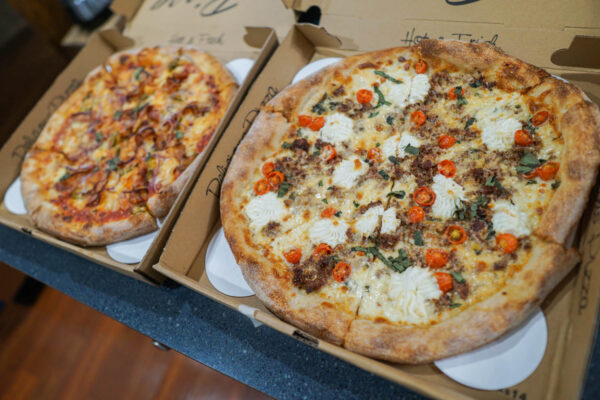 Our original idea for this pairing was to have a decently acidic, fruity red that would hold up to pizzas with tomatoes and red sauce. We, obviously, did not get that.
I would go as far as saying the rich, earthiness in the wine did play off some of the herbs with this one quite well. Had we looked this element up in advance we would've leaned into it harder with, say, mushrooms or other umami toppings. Still, not a bad combo all the same despite the reduction notes on the nose which detracted from our experience significantly.
Score: 1.5 / 5
There may be something wrong here.
Overall, we recognize that reduction is a stylistic choice in winemaking, and some of these aroma and flavor notes were likely intentional based on our understanding of how this one was produced. Generally, we would give a wine that is not for us a score of 2 and reserve a score of 1 when something is objectively wrong with the wine.
As such, we found it a bit hard to tell whether or not the wine was too reduced (possibly this bottle only) or if we simply do not like this style as a preference (if our bottle was indicative of others at large). So we're giving it a 1.5 to split the difference as we really were not fans- although the pizza and time outside the bottle did help.
Salchetto Winery is located at Via di Villa Bianca, 15 53045 in Montepulciano, Italy. We received this bottle as part of an order from Plonk Wine Club and tried it in 2021.