Last Updated on January 15, 2021 by Jeremy
Disclaimers: This review uses WSET Level 2 terminology and our own rating scale. Read more here. We use demographic data, email opt-ins, display advertising, and affiliate links to operate this site. Please review our Terms and Conditions for more information. This website is intended for those of legal drinking age in your jurisdiction.
Rakete from Jutta Ambrositsch has an interesting backstory. First, the grapes are grown inside the city limits of Vienna (we've walked near some vineyards here before- it is very surreal). Second, it is a natural wine. Finally, and perhaps most importantly, is that this particular bottle is a field blend!
Whereas being a field blend on its own is maybe not as exciting, the grapes that go into Rakete (Zweigelt, St. Laurent, Blauburger, Merlot, and "some white grapes") are all grown side by side in just five rows.
Grapes that are grown, picked, and fermented, quite literally, together? Sign us up.
A Crisp and Fruity Field Blend from Vienna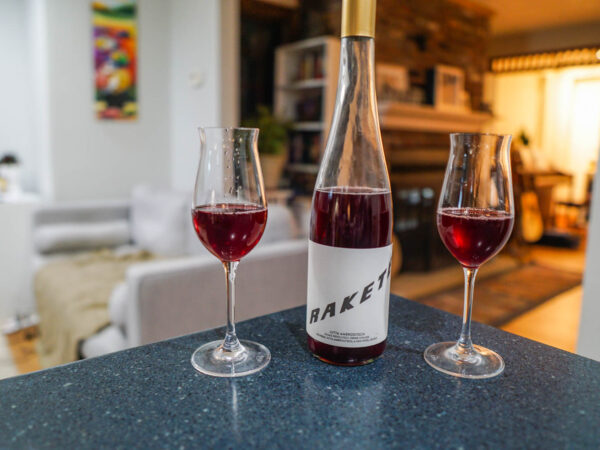 This blend was light purple in color and we would also say had some pink hues mixed in. We questioned whether or not this was a rose, and found it had a shorter maceration time (~4 days) that would likely put it firmly in red territory. That being said, the fact that some white grapes were mixed in probably didn't hurt in making this gorgeous color all the same- so we could be persuaded either way.
The nose on this one was light with predominant notes of strawberry, cranberry, and perhaps dried raspberry even. As it opened up we also picked up aromas of cheesecake and violets. Angie noted more violet while Jeremy picked up the cheesecake. (In case you're wondering regarding cheesecake, some lees were left in the bottle and they recommend shaking vigorously before opening.)
On the tongue, this one was dry, with medium acidity, low tannin (almost to the point of not being able to detect them), medium- alcohol, a light body, and medium flavor intensity. We detected notes of cranberry and dried strawberry here mostly and they lingered a medium amount on our tongue.
The flavor was perhaps not the most complex out there, but it really worked out nicely in our glass.
Rakete Food Pairing – Veggie Bowls on Quinoa with Yogurt Sauce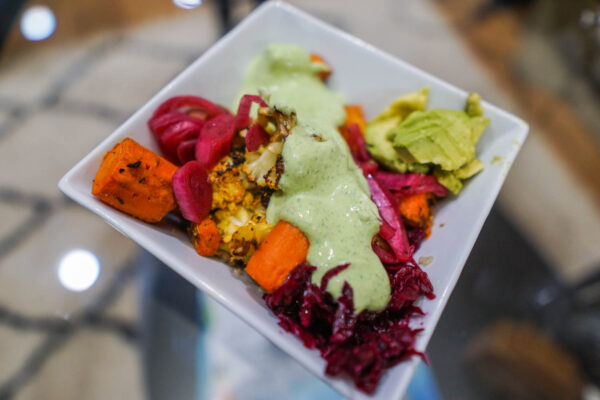 We selected this wine because we thought it'd be trending towards a crisp rose despite being a firm red in production style, and the flavor profile was exactly that. This worked well with a complex bowl full of quinoa, various roasted vegetables, and covered in an herb-based yogurt sauce.
This was pairing was one of those instances where the food had too much going on such that no individual bottle of wine would offset just one single flavor. As such, going for a high acidity, tart rose-esque wine really checked all the boxes here be it with the creamy yogurt, intense herbs, or array of pickled and non-pickled vegetables a like.
It really is hard to say no to a rose!
Score: 3.5 / 5
We'd buy a glass of this and a bottle in the right context.
Overall, this was a delightful red wine that, thanks to its short maceration time and inclusion of some white grapes, gave it a very rose-like quality. We'd definitely enjoy a glass of this one if it was found on the menu and could be persuaded on a bottle with the right pairing.
Jutta Ambrositsch's Rakete is made with grapes grown inside the city limits of Vienna, Austria. At this time we could not find a listed address for a winery. We purchased this bottle from a local shop and enjoyed it in 2021.