Last Updated on November 11, 2022 by Jeremy
Disclaimers: We use demographic data, email opt-ins, display advertising, and affiliate links to operate this site. Please review our Terms and Conditions for more information. This website is intended for those of legal drinking age in your jurisdiction.
Wine.com is said to be the largest retailer of wine in the world by selection volume. This online, US-based retailer carries just under 20,000 unique bottles of wine and is said to ship several million bottles around the world each and every year.
Naturally, it is one of our go-to places to find wines that are not carried in our local state store (which, for anyone who knows Pennsylvania's system, you can imagine that we have to buy a lot from third parties).
When we saw Wine.com's StewardShip program offered free shipping to the continental USA, we knew we had to sign up immediately. But beyond free shipping, the program also offers special deals, exclusive products, events, and more that may also be attractive for less frequent shoppers in the company.
So in this one, we thought we'd take a look at the value proposition of the StewardShip program, and discuss whether any of the other amenities are worth it, too!
How Often Do You Need to Shop to Justify the Cost?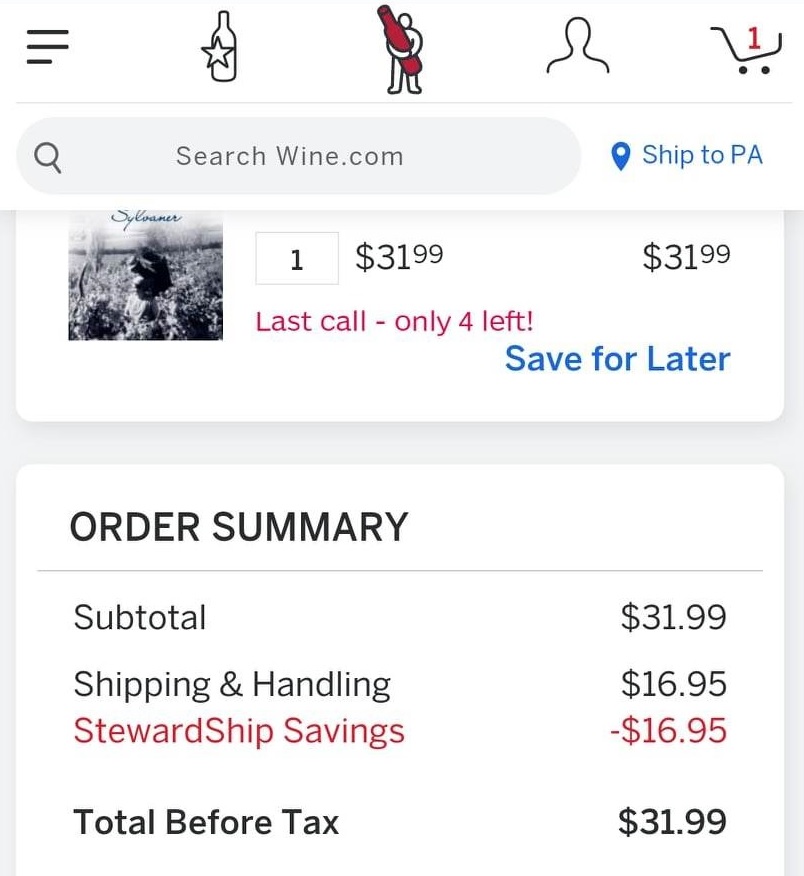 So, let's start with the big question- is the StewardShip program worth the price?
This, of course, really depends on where you are located, how much wine you order on Wine.com every year, and how often you order wine as well. So let's address all of these!
At the time of publication, a StewardShip program membership was $59/year. When looking at Wine.com not logged into my account (particularly with a bottle of wine in my cart), I was offered a discounted rate of $49/year for membership. So the real question here is can you order enough to offset $50-$60/year on shipping?
When I picked a single bottle at random, and selected shipping to our home in Pennsylvania, the estimated shipping and handling charges were $16.95. Yes, the price to ship one bottle is often as much as a single low-to-mid-range bottle in the store outright. When I switched this to a half case, the rate was $28.45- or $4.74 per bottle. When I switched it to a full case, shipping was $42.25- or $3.52/bottle. Graphically, the price points looked like the following: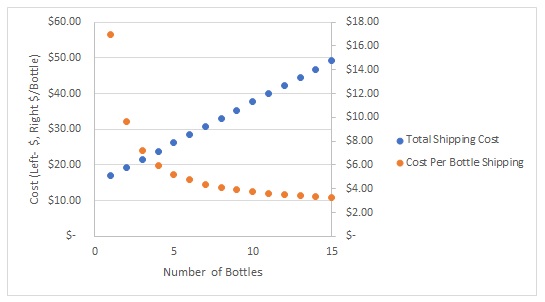 When plotting these out, you can see the increase in total shipping costs is linear per bottle. The math worked itself out to be every bottle beyond the first added an extra $2.30 for shipping. So when you look at shipping on a per-bottle basis, you have some serious incentive to buy more on Wine.com as the per-bottle average for six is much, much lower than buying just one or two at a time.
Conversely, when I switched my shipping state to California, where most of Wine.com's shipments tend to originate, the rates were the same. While we didn't check every state in Wine.com's shipping list, we can assume that rates for the continental USA are likely the same for conventional, 750 mL wine bottles. (Those outside the continental USA are not covered in this assessment, sorry!)
With this data, we can look at payoff periods based on order frequency and size. Please note that the lower shipping frequency below assumes you had access to a discounted membership ($50) whereas the higher frequency is based on the list price ($60):
One to two bottles per order – three to four shipments per year
Three to four bottles per order – three shipments per year
Five to six bottles per order – two to three shipments per year
Seven to fifteen bottles per order – two shipments per year
> 15 bottles per – joining StewardShip pays itself off on the same order
At this point, we cannot tell you definitively if the StewardShip program is worth the cost to you, if only because you know your ordering frequency on Wine.com already.
If you are a regular customer, like we are, and tend to order a quarter or half case per more on somewhat regular intervals, odds are good you'll hit a threshold outlined above easily. If you are a casual buyer, you may have reason to pause or perhaps justify buying more over the course of the year without that shipping fee as a mental burden.
In our own personal scenario, StewardShip has allowed us to buy more frequently- particularly for lower volume orders. Historically we would save up to buy six or more bottles per order, getting our payback period down to two or three shipments. Now if we see a bottle we like in stock we may order it as a one-off (typically throwing in another bottle or two because we can), and not worry about high shipping costs holding us back.
But either way, the program allows for this option when you otherwise may avoid it due to cost!
Events, Discounts, and More With Wine.com StewardShip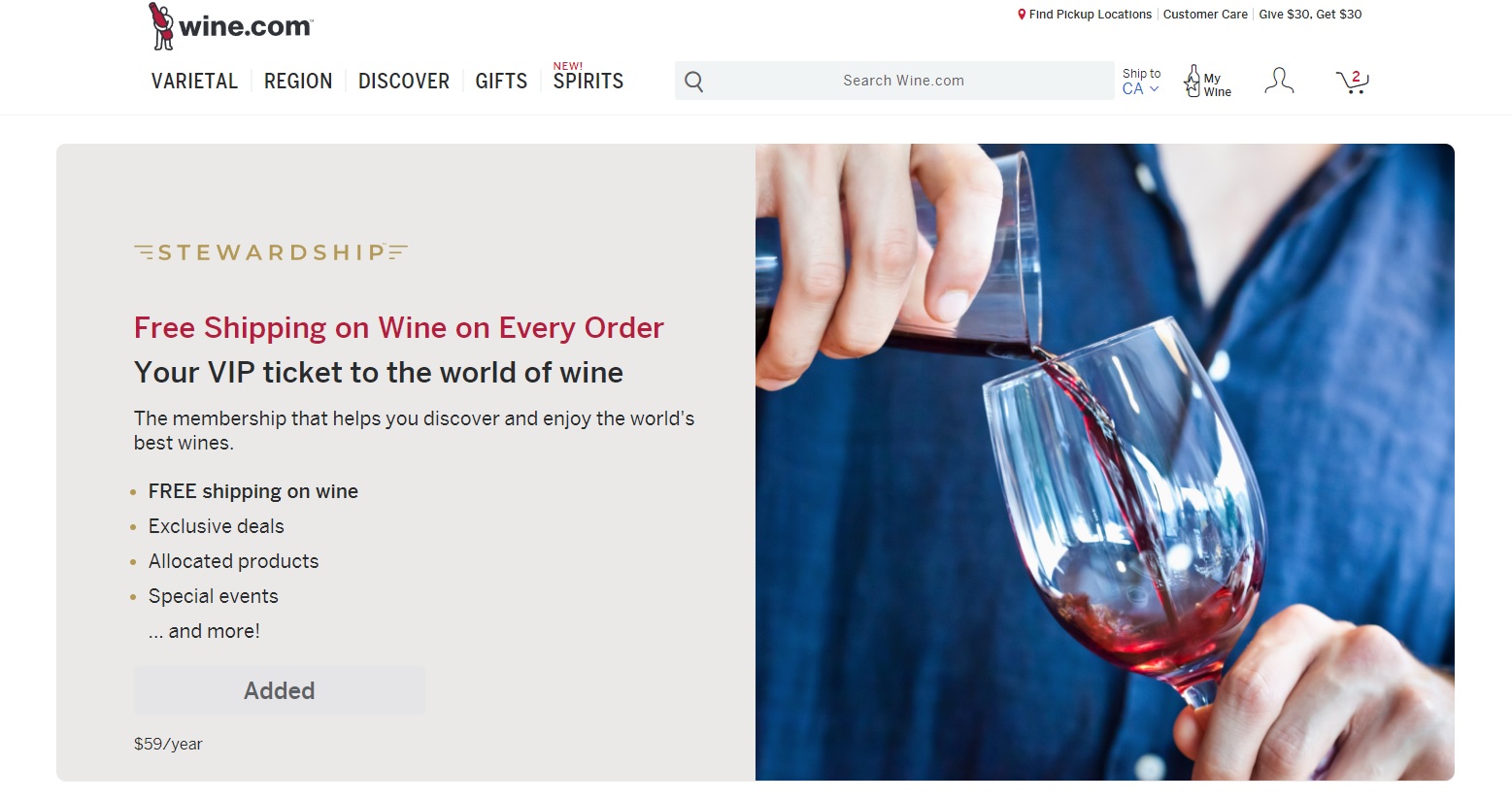 Beyond free shipping, the StewardShip program boasts having exclusive member events (like early access to Black Friday and Cyber Monday sales), frequent discount codes, and access to bottle releases not available to regular customers (anyone looking for a 2019 Mouton Rothschild for the scant price of $769.97?).
We have to admit, we hardly take advantage of these, particularly because most StewardShip exclusive bottles start north of $200 whenever we look, and sales often are not on the bottles we want to buy at any given time.
But in terms of features we do use, StewardShip member emails typically include a coupon, with some of the best for $50 off orders of $200-$300. Yes, Wine.com throws coupons out left and right to all users (both a purchase discount and a StewardShip discount were found while rummaging through the site when writing this review), so naturally more coupons come to premium members, too.
But in the grand scheme of things, the StewardShip coupons tend to be among the very best. Even just using one $50 off $300 coupon can help pay off the program fee quickly- insofar as you were going to spend $300 on Wine.com to begin with. Coupons here are designed to get you to shop more frequently and for more bottles, and they are quite effective in getting you to do that!
Finally, in case you are ever worried about if the StewardShip program is worth it long-term, member emails typically start with a summary of your lifetime shipping savings and your start date. This very prominent box showed that in the 2+ years we have been members of the StewardShip program, we've saved $220.30 in shipping costs. With just a few seconds of mental math we could say definitively that yes, we are coming out ahead being members.
We're not upset by this transparency at all!
We'll be the first to admit that our savings currently is on the low end (an average of about $30/year), but our purchase frequency is increasing dramatically moving forward as well. We just wanted to include this highlight for clarity.
The StewardShip Program is Simple But Effective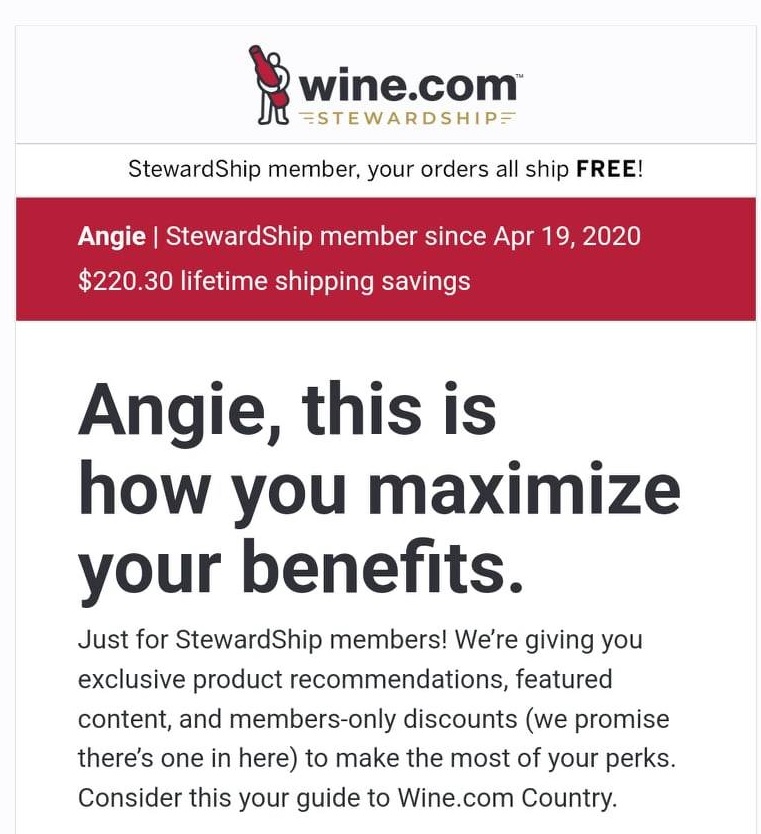 Overall, Wine.com's StewardShip program is a simple program that is worth it for us for its primary function of free shipping in the continental USA.
Have we used special deals of note from this program? Not many. Have we purchased exclusive products? Not at all. Are we regular shoppers at events/sales? Also no. Do you need to be a fairly large purchaser on Wine.com to get benefits from the program? We're going to go with a slight yes here, but with our math above you can see how savings can be achieved for all but the most casual customer.
Honestly, had I not even seen these in reading the StewardShip description before publishing this review, I would've completely forgotten about them. But at the end of the day, we joined Wine.com's StewardShip program for free shipping, and our lifetime savings clearly speaks for itself.
Are we ordering more wine on Wine.com simply because we don't have to worry about shipping? Yes, that is probably true. But if free shipping means I have peace of mind to buy wine whenever I want without wasting money on shipping, well, I'm quite fine with that upsell tactic, too.
Are you a member of Wine.com's StewardShip program? What do you think about it? Comment below to share!
To join StewardShip by Wine.com, click here!