Published Jeremy. Last Updated on August 12, 2022.
Disclaimers: This review uses WSET Diploma terminology and our own rating scale. Read more here. We use demographic data, email opt-ins, display advertising, and affiliate links to operate this site. Please review our Terms and Conditions for more information. This website is intended for those of legal drinking age in your jurisdiction.
Whenever we visit Boundary Breaks, one of our favorite Finger Lakes wineries, we always love to see what new bottle of Riesling they have available.
In a recent trip, we stumbled upon their #356 Dry Bubbly bottle which was made via CO2 injection of an otherwise still wine (so not via the Champagne method like we're used to drinking).
It was a hit for us, we bought a bottle to enjoy at home, and popped it open for this review!
A Pleasing Sparkling Riesling from the Finger Lakes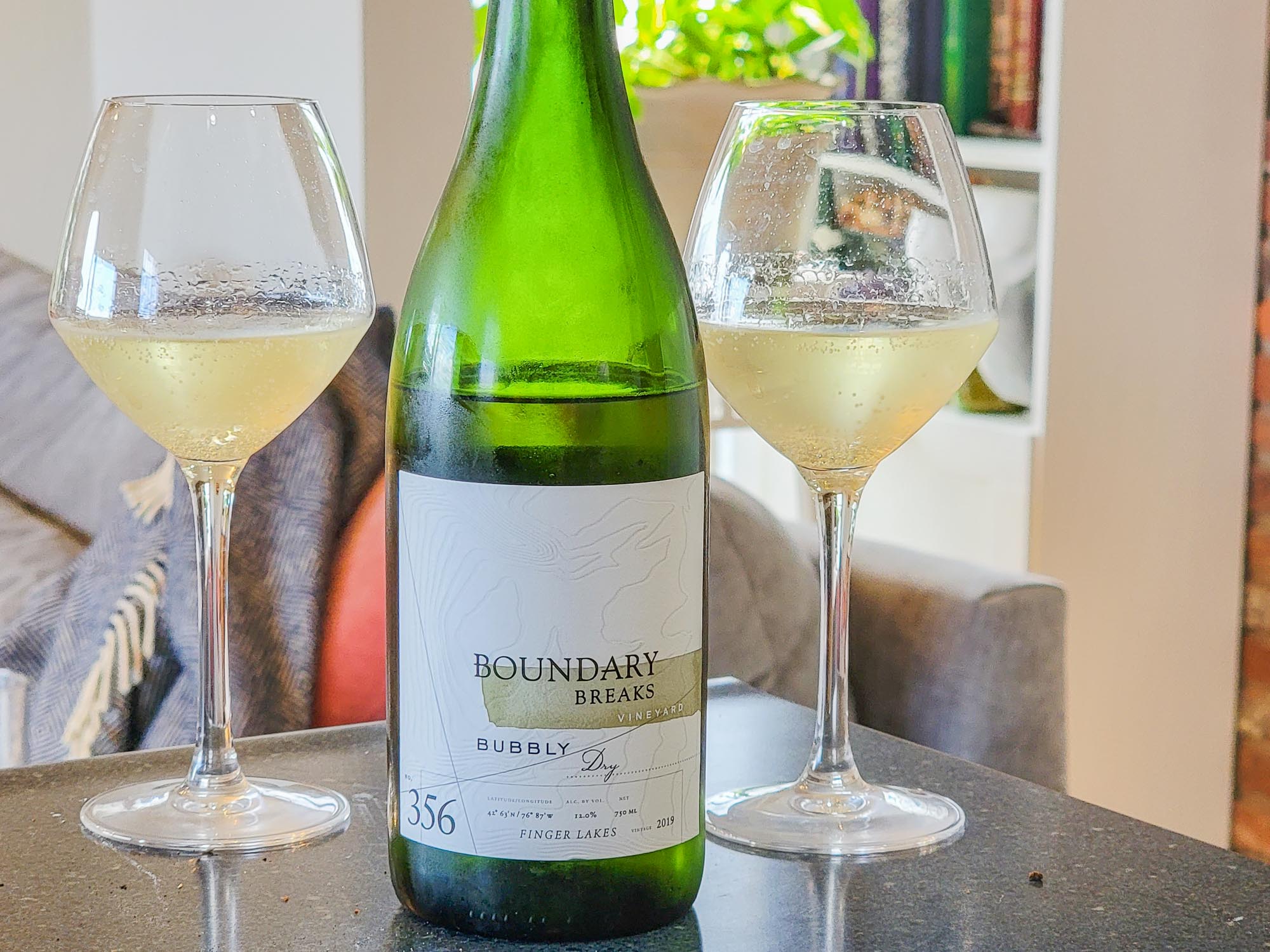 This sparkling Reisling was pale lemon in color with light bubbles that collected towards the center of the glass. It had medium(+) aromas of pear, peach, peach skin, yellow apple, geranium, and a wealth of petrol.
On the palate, it was dry with medium(+) acidity, body, and flavor intensity, medium alcohol and finish, and a delicate mousse. We got notes a lot like the nose thankfully minus the petrol plus green apple- exactly what a quality Riesling should have!
While the bubbles in this one were incredibly delicate (we may even add creamy into the mix, but only ever-so-slightly), they worked with the acidity and flavors in the bottle nicely to make this be a bottle of wine that could go with just about everything on a hot summer day.
Sparkling Riesling Food Pairing – Pasta with Spicy Tomato Sauce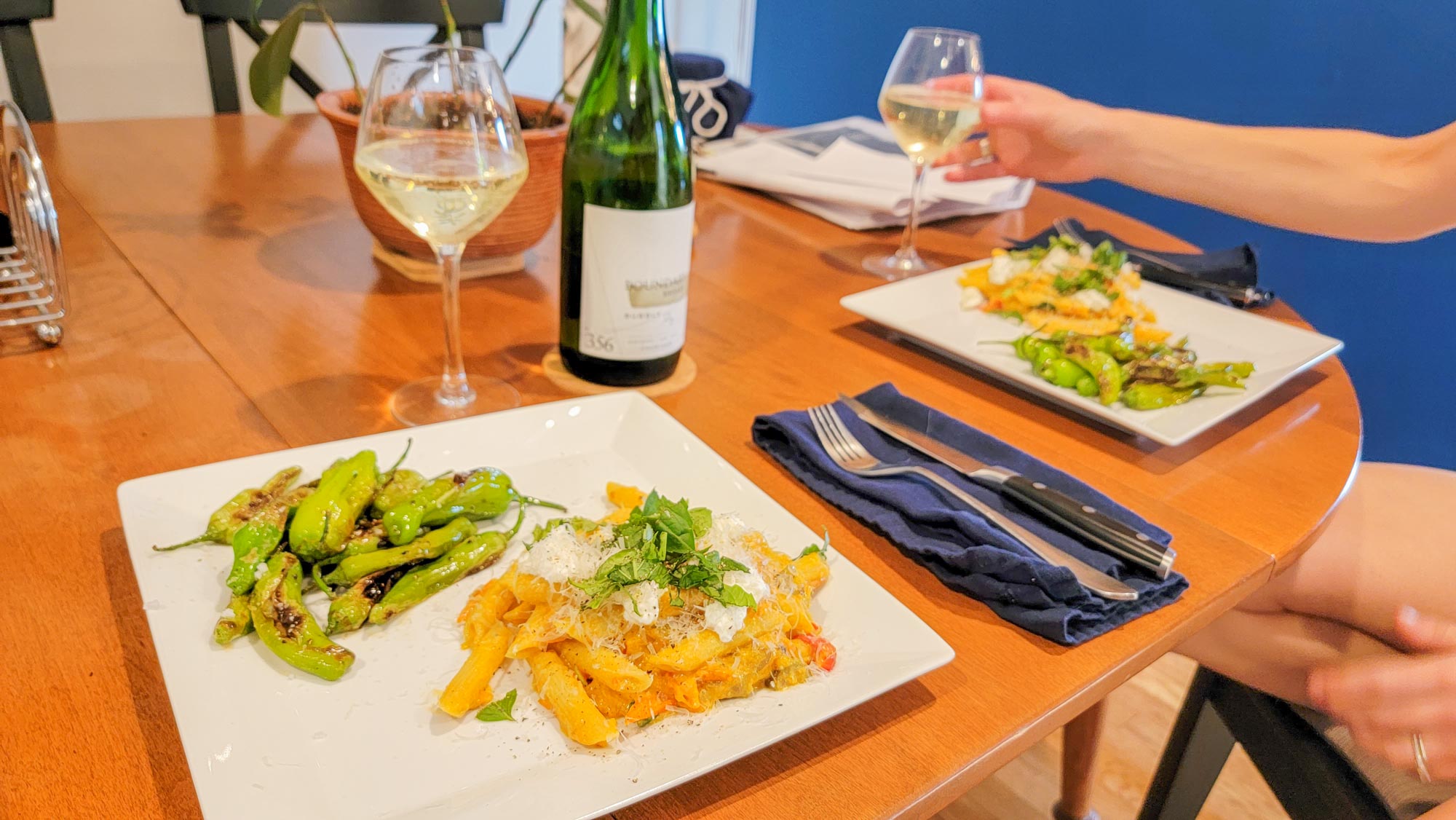 We paired this sparkling Riesling with pasta with a homemade tomato sauce containing ricotta cheese, basil, and a nice bit of heat.
The acidity in the tomato sauce worked well with the higher acidity in the wine (as it so often does), but the basil and tomato flavors themselves masked some of the more complex stone fruits in this bottle such that only simple fruits like lemon, lime, and green apple came in tandem with a bite.
While the pairing didn't do much for this particular wine, we also have to admit you can never go wrong with bubbles.
Score: 4 / 5
We'd drink another bottle of this one.
Overall, Boundary Breaks produces an easy summer sipper sparkling wine out of Riesling that we quite enjoy. While the bubbles are not terribly complex due to the CO2 injection process, it is one of those bottles that will go down quickly and, to us at least, has flavors up our alley over comparable sparkling wines like a Prosecco.
Boundary Breaks is located at 1568 Porter Covert Rd in Lodi, NY near Seneca Lake. We have visited this winery many times over the years and enjoyed this bottle in 2022.