Published Jeremy. Last Updated on June 4, 2021.
Disclaimers: This review uses WSET Level 3 terminology and our own rating scale. Read more here. We use demographic data, email opt-ins, display advertising, and affiliate links to operate this site. Please review our Terms and Conditions for more information. This website is intended for those of legal drinking age in your jurisdiction.
The more I drink wines from the Rhone region of France, the more I start to realize how much I love the area and the grapes that are grown there.
This is especially true of the Syrah from the Northern Rhone as places like Hermitage, Cote Rotie, and others make some of the finest styles of this wine you can ever have.
Cave de Tain's Hermitage 2014 was no different and was a delightful bottle all around that we enjoyed with a burger of all things!
Cave de Tain Hermitage Offers All We Love About Syrah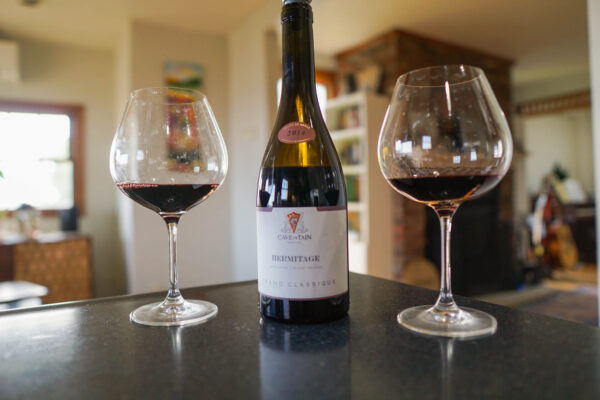 This Hermitage was medium garnet in color with medium+ aromas of allspice, clove, black pepper, cranberry, black cherry, leather, tobacco, vanilla, sandalwood, and faint violet that is developing. In fact, give this one a few more years and odds are good it'd be pushing into the fully developed territory as the fruit notes were, at times, quite hard to come by.
On the palate, this wine was dry with medium alcohol, medium+ acidity, tannin, body, and flavor intensity, and notes of red cherry, cranberry, cedar, clove, plum, blackberry, sandalwood, and earth-forward notes plus violet that comes out after a long decant and a long finish.
A bit fruitier on the palate over the nose, but checking all the right notes for us with a perfect balance of spices and earthy/wood notes all the same.
Hermitage Food Pairing – Burgers with Mushroom and Caramelized Onion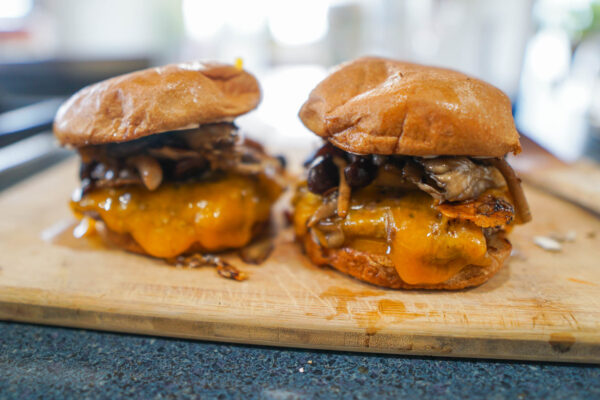 Normally for something like and Hermitage, I'd probably consider going the route of an incredibly fancy meal considering these are generally not cheap wines. However, we really wanted to do burgers one night and kicked them up a bit with sauteed mushrooms and caramelized onions. So, we thought since we were going all out with a mix of foraged mushrooms we'd pour the Hermitage all the same.
It was a wonderful idea.
The rich and fattiness of the burger helped bring out more dark fruit flavors in the wine, and surprisingly our side of steamed broccoli served on a cream cheese miso spread helped bring out more earthy notes too. In a way, it was a lot of fun to go back and forth between these two to have flavor bursts in the wine. Always the hallmark of a great pairing to us!
Score: 4 / 5
We'd buy another bottle of this one.
Overall, while Hermitage tends to be pretty expensive no matter where you find it, there is a reason for it- it is often an excellent example of Syrah not only for France but anywhere in the world. We'd gladly buy another bottle of this one and may even consider holding onto it for a few more years to let it age a bit more.
Cave de Tain is located in Hermitage, France. We bought this bottle locally and enjoyed it in 2021.