Last Updated on May 24, 2021 by Jeremy
Disclaimers: This review uses WSET Level 3 terminology and our own rating scale. Read more here. We use demographic data, email opt-ins, display advertising, and affiliate links to operate this site. Please review our Terms and Conditions for more information. This website is intended for those of legal drinking age in your jurisdiction.
It is easy to get stuck in the habit of only drinking Chianti when it comes to the Sangiovese grape, if only because wine from this region is plentiful all over the world.
But there are other regions in Italy that are known for this particular grape, and if you find that you love the flavors of Chianti then you may want to look for Brunello di Montalcino as another delicious region to explore.
Just be prepared for a bit of a higher price as these come with a  minimum of five years' aging before release!
A Solid Sangiovese All-Around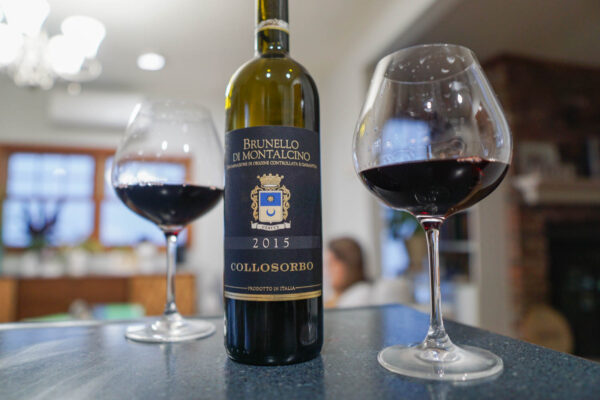 Collosorbo's Brunello di Montalcino was pale ruby in color with medium aromas of vegetal notes, red cherry, strawberry, cranberry, eucalyptus, oregano, leather, black cherry, sandalwood, clove, and allspice that was developing. The nose most certainly showed a great balance between fruit elements but also barrel and aged characteristics as well (thanks, in part, to it being six years old at the time of drinking).
On the palate, this wine was dry with high acidity and alcohol, medium+ tannin and flavor intensity, and full body with notes of red cherry, cranberry, allspice, clove, pomegranate, red plum, vanilla, and cedar, and a medium finish.
Our only regret was that we sipped this one on its own and didn't make a harder attempt at a food pairing. A grilled meat dish or even pasta with tomato sauce (and, hopefully, some meat in it as well) would really make this one sing!
Score: 3 /5
We'd buy a glass of this one.
I was torn on whether or not I'd say I would buy a full bottle of this one and opted to go with our "we'd have a glass" route if only because Brunello di Montalcino's are, due to their age, fairly expensive compared to many of their Chianti counterparts (we would be aging another bottle if one wound up in our cellar for sure). But if you are ever in the mood for a Sangiovese where a standard Chianti just won't do, Brunello di Montalcino is right there for you.
Collosorbo is located in the Brunello di Montalcino region of Italy. We purchased this wine locally and enjoyed it in 2021. A younger vintage was available on Wine.com at the time of publishing.