Last Updated on January 25, 2022 by Jeremy
Disclaimers: This review uses WSET Level 3 terminology and our own rating scale. Read more here. We use demographic data, email opt-ins, display advertising, and affiliate links to operate this site. Please review our Terms and Conditions for more information. This website is intended for those of legal drinking age in your jurisdiction.
When you think of the Furmint grape, your first thoughts make go to the Hungarian dessert wine Tokaji (5 or 6 puttonyos). This sweet, botrytized dessert wine is known the world over for its residual sugar content and intense flavors.
But, like most grapes made into dessert wine, Furmint is also used to make dry wines as well that are sometimes much harder to come by. When we found a dry Furmint from The Oddity, we knew we had to try it.
A Nice, Youthful White Wine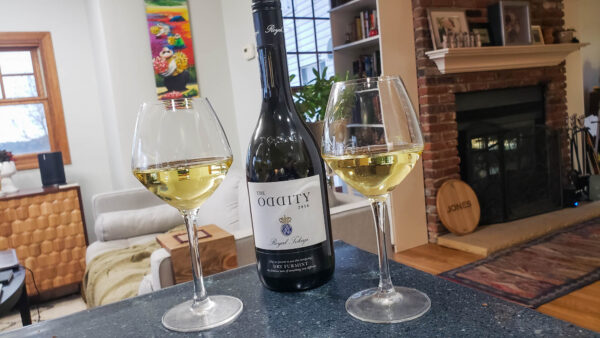 This Furmint was pale gold in color with medium aromas of lemon, lime, wet stone, peach, honeysuckle, blossom, grapefruit, yellow apple, pear, and a slight petrol note that was youthful (although the petrol does suggest a slightly aged note which is to be expected at five years old).
On the palate, the wine was dry with high acidity, medium alcohol, and medium+ body and flavor intensity with notes of lime, peach, nectarine, lemon, and yellow apple plus a long finish. A nice white wine flavor profile all around.
Furmint Food Pairing – Pierogi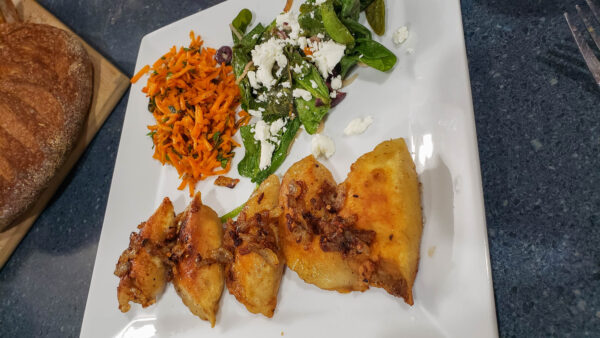 We decided to stick around in Eastern Europe for our food pairing and went with the ubiquitous pierogi. These potato and cheese pierogi were topped with fried onions and served with a side of salad topped with goat cheese and carrots.
The pierogi themselves were rich and hearty and brought out a decent note of yellow apple in the wine, but the hot sauce brought out a minerality that we didn't note on the palate when drinking this one on its own. Perhaps the most intriguing flavor change was with the goat cheese on the salad which brought out a strong pear note that we also didn't pick up when drinking on its own. Delightful food pairing all around!
Score: 3 / 5
We'd buy a glass of this one.
On its own, we probably would've called this wine just fine as it had a fairly straightforward flavor profile for a semi-young white wine. But when paired with food, especially pierogi (perhaps sans hot sauce) and goat cheese topped salad we got to appreciate the nuance of this one better than drinking on its own. For that, we'd be happy to have a glass of this one with a good pairing!
The Oddity is from the Mád region of Hungary. We purchased this wine on Wine.com and enjoyed it in 2021.