Last Updated on May 19, 2021 by Jeremy
Disclaimers: This review uses WSET Level 3 terminology and our own rating scale. Read more here. We use demographic data, email opt-ins, display advertising, and affiliate links to operate this site. Please review our Terms and Conditions for more information. This website is intended for those of legal drinking age in your jurisdiction.
When studying for my WSET Level 3 exam, we knew we had to buy some Greek wine in order to learn more about this new region (which was not featured in Level 2). So we picked up a bottle of Xinomavro from Kir-Yianni and opened it shortly after covering this country in the book.
While we definitely think this bottle is still quite intense in the tannin department (and could age well beyond its five years at the time of opening), it was an interesting one all the same!
Tannic on the Palate and Earthy on the Nose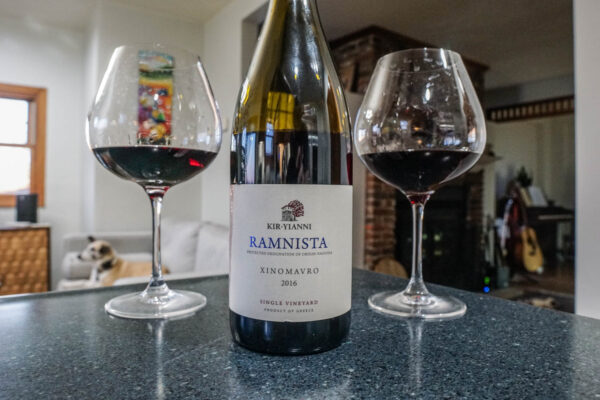 This Xinomavro was pale ruby in color with a medium- aroma that consisted of red cherry, black cherry, cranberry, leather, sage, allspice, vegetal notes, violet, and vanilla that was developing. While it was somewhat difficult to call out aromas, ignoring a few fruits we got primarily herbs and vegetal notes on this one.
The wine was dry with high acidity, tannin, and alcohol, medium+ body, medium flavor intensity with notes of red cherry, cranberry, raspberry, cedar, vanilla, and a long finish.
When it comes down to the tannin was what we talked about more than the flavors and we really wish this one packed more of a punch in the intensity department to offset the other characteristics (although we did appreciate the long finish all the same).
Food Pairing – Pasta with Meatballs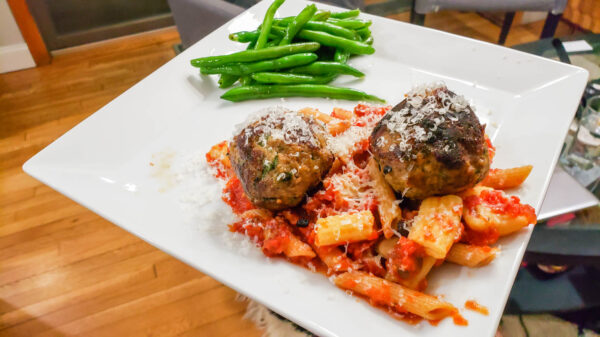 Since we knew that this Greek red would be intense, we went with a pasta and meatball combo to hit it with an acidity and high-fat pairing. Admittedly, while these components did work well with the high acid and tannin in the wine (and brought out more fruit flavors), we have to admit that even with this we still thought the tannin was quite high. As such, we'd probably even lean something a bit more meat-forward to utilize a rich and fatty element to offset the tannins.
Score: 2 / 5
We're okay on this one.
Overall, the combination of the vegetal notes on the nose and the high tannin on the palate played against us a bit for this particular bottle. We'd be persuaded on another if it was a few years older or possibly with a different food pairing, but for drinking it at just five years old we're okay on it.
Kir-Yianni is located at Yianakohori in Naoussa, Greece. We purchased this bottle from Wine.com and enjoyed it in 2021.