Last Updated on July 24, 2023 by Jeremy
Disclaimers: This review uses WSET Diploma terminology and our own rating scale. Read more here. We use demographic data, email opt-ins, display advertising, and affiliate links to operate this site. Please review our Terms and Conditions for more information. This website is intended for those of legal drinking age in your jurisdiction.
Although I generally found my WSET Diploma D3 tasting exam to be, in a word, brutal, there were some silver linings to be found. In particular, the 12 wine lineup included some fantastic examples of wines found all over the world.
One such bottle we were fortunate enough to taste blind was an aged Pomerol- a Merlot heavy red blend from the right bank of Bordeaux known for making some of the finest wines in the world.
Not only was that the first Pomerol I had ever tried, it was also exceptional. So much so that the day after the wines were announced, I stopped at a wine store, purchased a bottle of Chateau La Rose du Temple Pomerol, and brought it home to enjoy- hoping it'd be anywhere as delightful as the bottle I enjoyed on my exam.
It absolutely was.
An Aged Pomerol is a Delight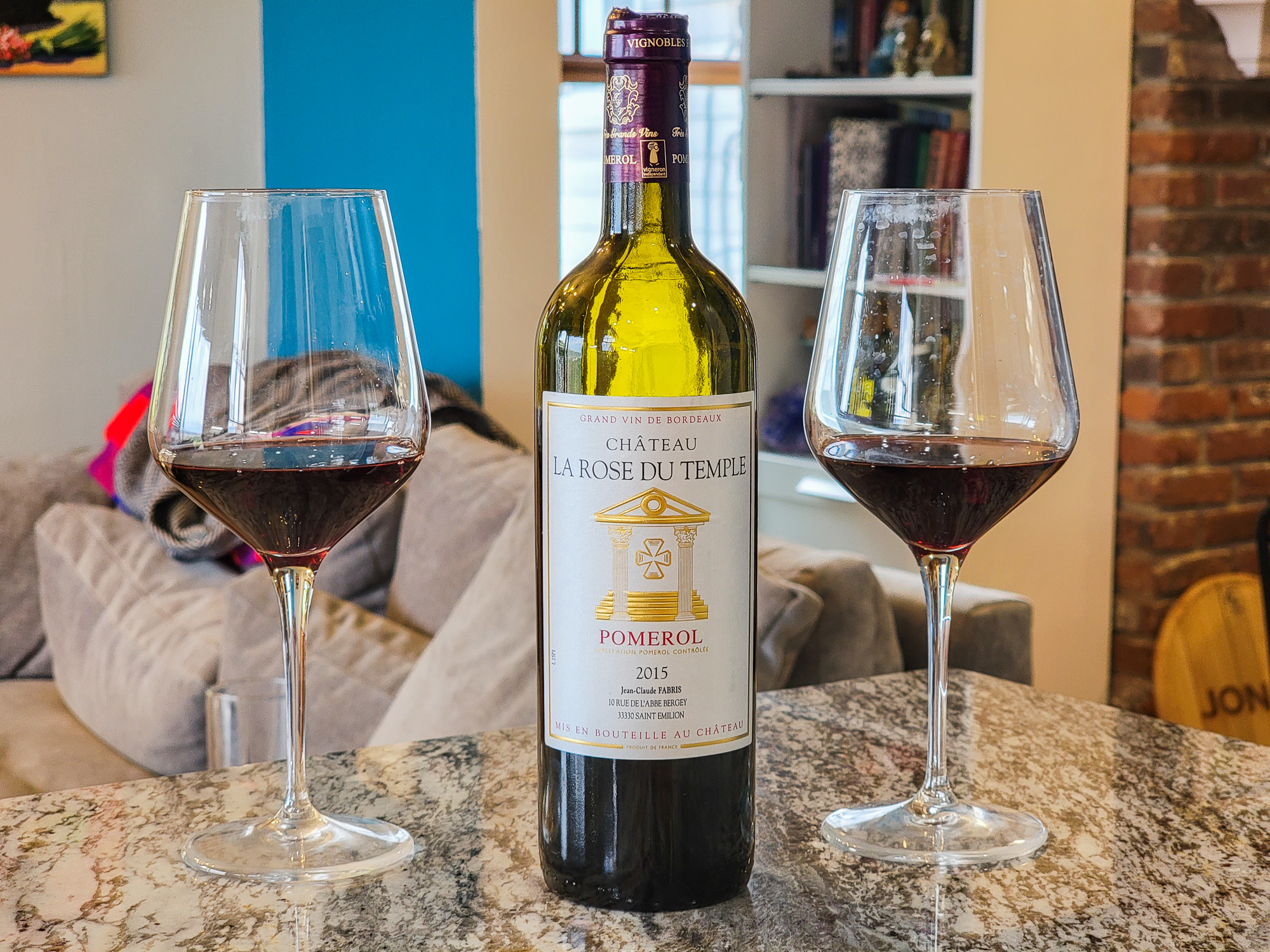 This Merlot-dominant red from Pomerol was medium garnet in color with medium(+) aromas of dried black cherry, rose, sage, tobacco, leather, dried plum, cedar, vanilla, kirsch, blueberry, cassis, and blackberry.
On the palate it was dry with medium(+) acidity and flavor intensity, medium smooth tannin and alcohol, full body, and a long finish. We had flavors of red cherry, clove, tobacco, leather, tar, cedar, raspberry, blueberry, vanilla, sage, rose, and cassis to name a few.
This one simply had a lot going on. A great balance of primary fruit plus aged character like tobacco and leather, a nice punch of floral notes without being too intense (albeit, borderline for Angie), and a finish that simply hung around for a long time.
Pomerol Food Pairing – Koji Cured Steak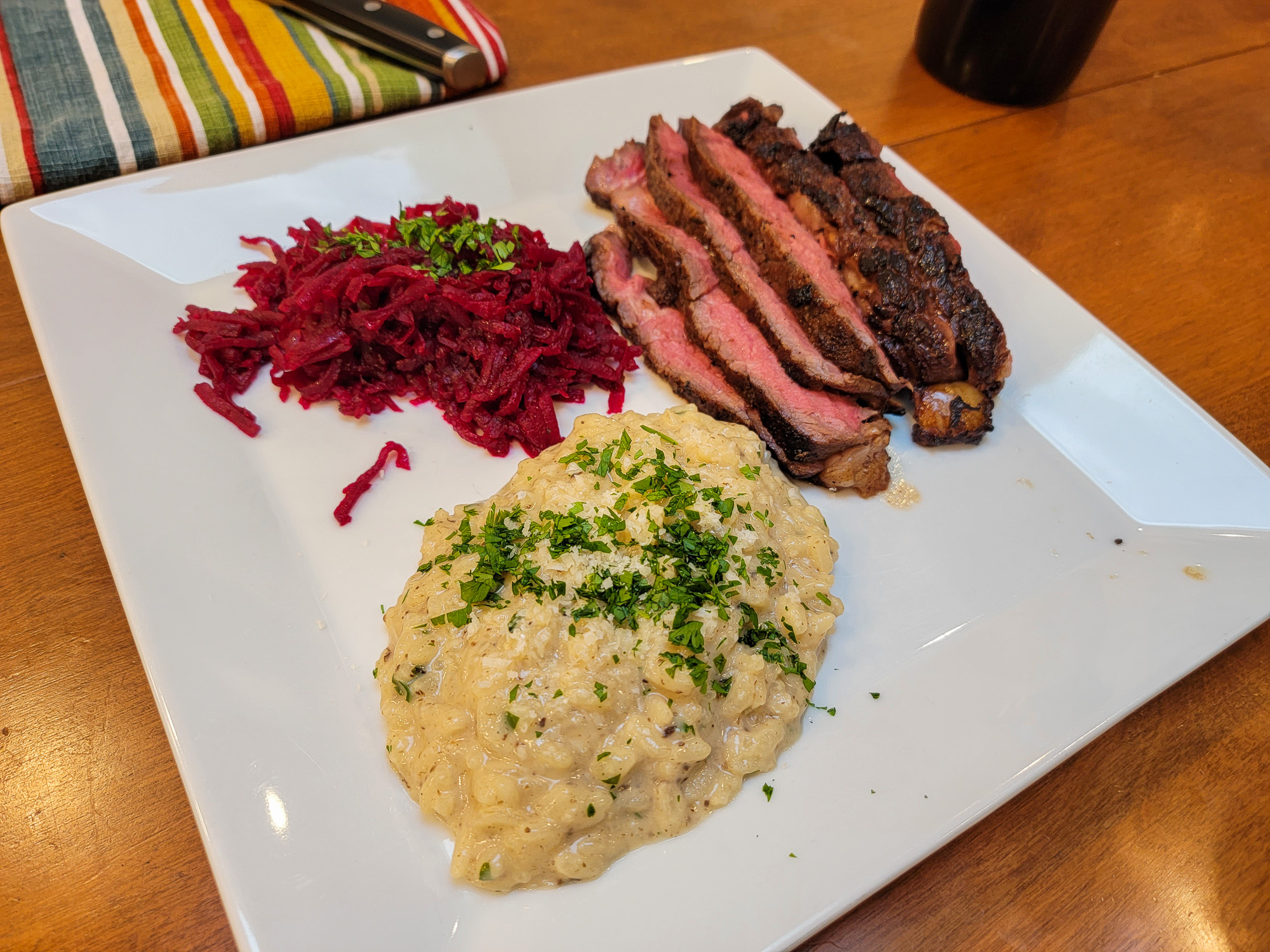 We went a bit all out in our food pairing for this meal with a 50-hour koji-cured steak cooked in sous vide, truffle risotto, and glazed beets.
The earthy richness of a koji cured steak is something that is unrivaled in the umami department, and worked beautifully with the rich and deep wine. The flavors complemented themselves quite well, allowing the wine to hold most of its original character, and some dark cacao and caramel notes came out here.
The truffle-heavy risotto cut a lot of the floral character we were detecting and elevated the fruit, whereas the beets did the opposite and rose the floral while cutting through the fruit character.
A fun trio of pairings all around!
Score: 4.5 / 5
We would take several bottles of this one.
Overall, this is the kind of wine we dream of having, and is the kind of bottle we could drink again and again and again. At eight years old this one was already showing some excellent tertiary character, but we wouldn't be upset having a few bottles on hand to let this one age even longer to see where it goes in the future!
Chateau La Rose Du Temple is located in Pomerol. We purchased this bottle locally and enjoyed it in 2023.