Last Updated on July 24, 2023 by Jeremy
Disclaimers: This review uses WSET Diploma terminology and our own rating scale. Read more here. We use demographic data, email opt-ins, display advertising, and affiliate links to operate this site. Please review our Terms and Conditions for more information. This website is intended for those of legal drinking age in your jurisdiction.
As far as grape varietals are concerned, I have to admit that Pinot Gris / Pinot Grigio is not one I typically seek out. This relatively mild grape has a reputation for being somewhat simple as far as character is concerned.
I had always known that Alsace was said to produce the most intense and robust Pinot Gris, and when I stumbled upon a bottle of Domaine Weinbach's Clos des Capucins Pinot Gris, I knew I had to pick it up to try.
Arguably my favorite winery in Alsace that has only ever had wines of the highest quality? I can get behind that and didn't look back.
As it turns out, Domaine Weinbach's Pinot Gris is just as spectacular as all of their other bottles, and is helping change my mind on this oft-overlooked grape.
Domaine Weinbach Pinot Gris is Stellar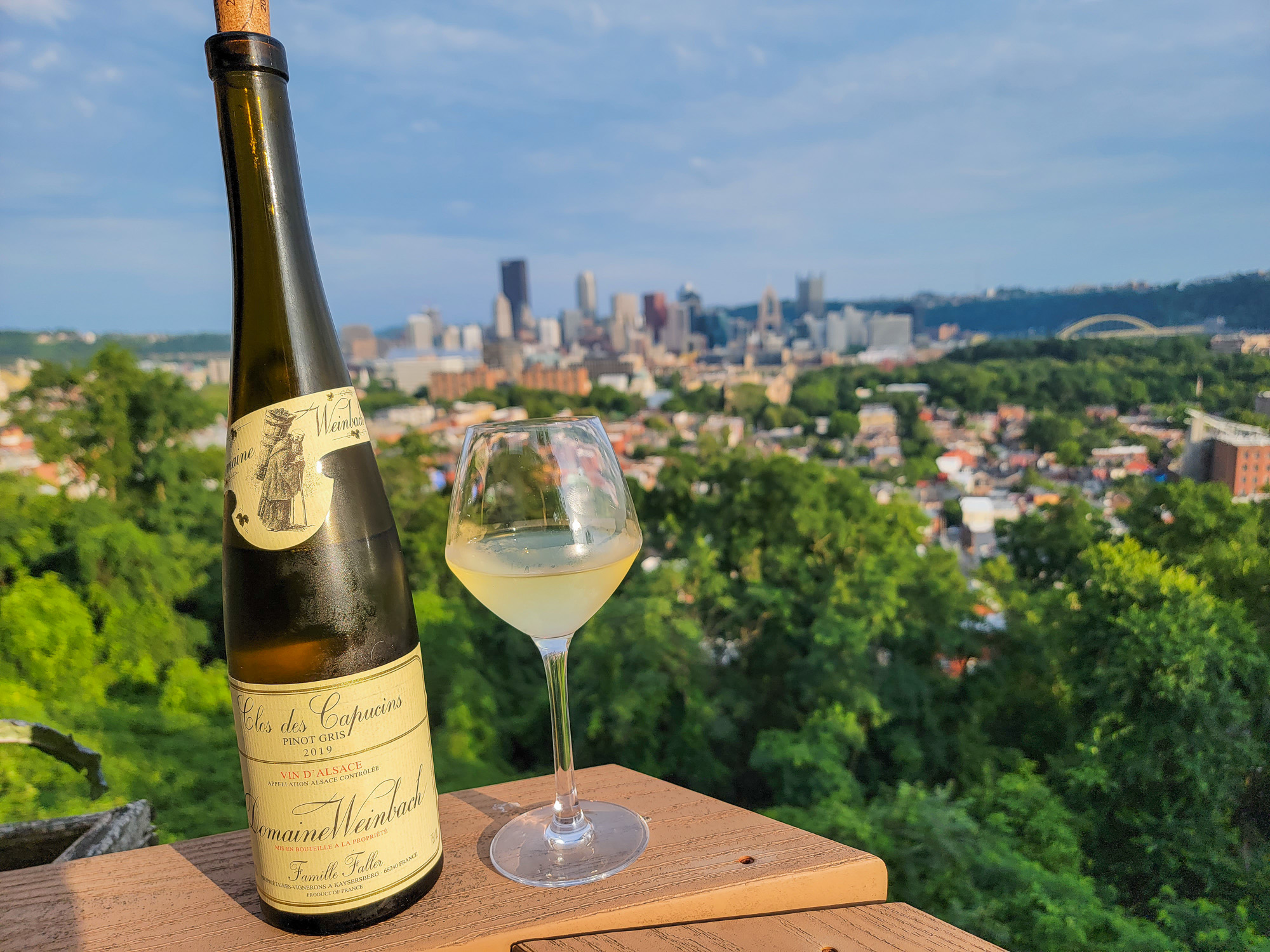 This Pinot Gris from Alsace was medium lemon in color with medium aromas of lemon, lime, pear, nectarine, white flower, elderflower, and pineapple.
On the palate it was off-dry with high acidity and alcohol, medium(+) body and flavor intensity, and a long finish. We detected flavors of lemon, lime, pear, peach, lychee, pineapple, nectarine, white blossom, elderflower, rose, wet stone, and slate plus a waxy texture.
Not only did this wine have an impressive flavor intensity, the fact that this wine was both high alcohol (14%+) and had some residual sugar is nothing short of impressive for this particular varietal. Was it a bit too hot in the alcohol department? We could argue that, but we still enjoyed this one all the same.
Pinot Gris Food Pairing – Miso Broiled Salmon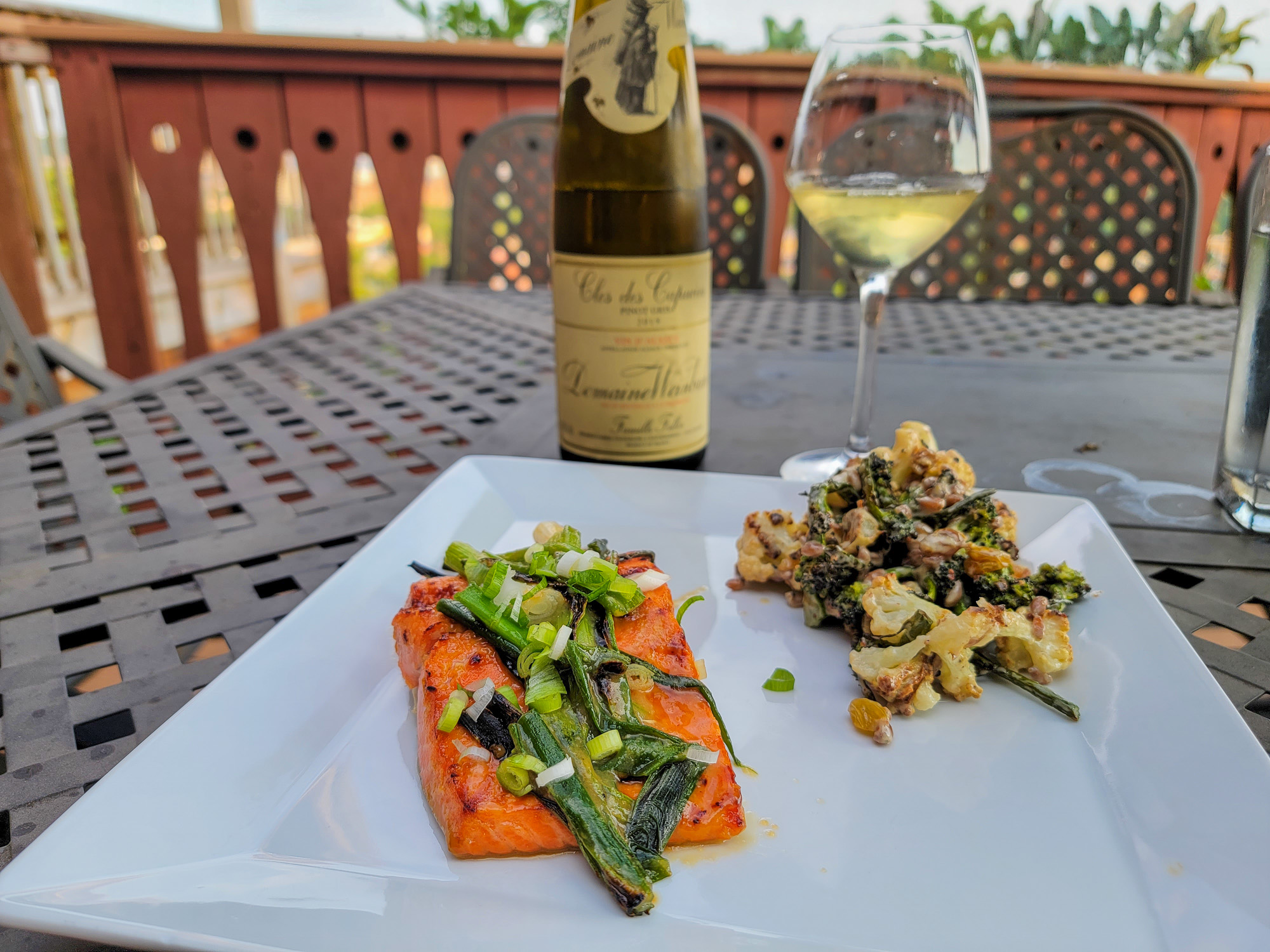 We paired this beautiful Pinot Gris with salmon filets that were marinated in a miso mix and broiled. Our intention was to match a slight sweetness in the miso glaze with the acidic and floral-forward nature of the wine.
As expected, this was a lovely pairing. The acidity of the wine worked nicely with the fatty fish and we noted pops of lemon, lime, and the floral notes when pairing with the dish. The slight sugar concentration in the wine and sweetness in the fish played off each other nicely and is a pairing we'd certainly try again- insofar as other Alsatian Pinot Gris bottles are anywhere comparable to this one.
Score: 4 / 5
We'd buy another bottle of this one.
If there is any kind of producer that would change your opinion of a grape that you view unfavorably, it would be Domaine Weinbach. This one has a track record of making some of the finest wines we've ever had, French or otherwise, and truly blew us away with this gem of a Pinot Gris. As such, we would never say no to having another bottle on hand for future enjoyment.
Domaine Weinbach is located at 25 Rte du Vin, 68240 in Kaysersberg, France. We purchased this bottle locally and enjoyed it in 2023. At the time of publishing, this bottle was available for purchase on Wine.com.