Last Updated on July 28, 2023 by Jeremy
Disclaimers: This review uses WSET Diploma terminology and our own rating scale. Read more here. We use demographic data, email opt-ins, display advertising, and affiliate links to operate this site. Please review our Terms and Conditions for more information. This website is intended for those of legal drinking age in your jurisdiction.
When we visited California to check out Napa and Sonoma wineries, one of the more interesting spots we stopped at was Anarchist Wine Co.
As its name suggests, this winery is doing some rather unique things with popular California grapes as well as unique blends of lesser-grown varietals for the region.
The Skeptic is one such bottle which is an orange, skin-fermented wine of Pinot Blanc, Gewurztraminer, and Viognier. Unusual for the region to begin with, with the extra depth and complexity that an orange wine provides.
We had picked up a bottle of the 2018 vintage when visiting the winery and promptly forgot about it until it was five years old, when it tasted absolutely beautiful.
Note: The makeup of The Skeptic has seemed to change in recent bottlings. At the time of this review, the 2022 vintage was 100% Gewurztraminer. As such, future bottles may have different characteristics than what is included in this review.
Balanced Orange Wine from Anarchist Wine Co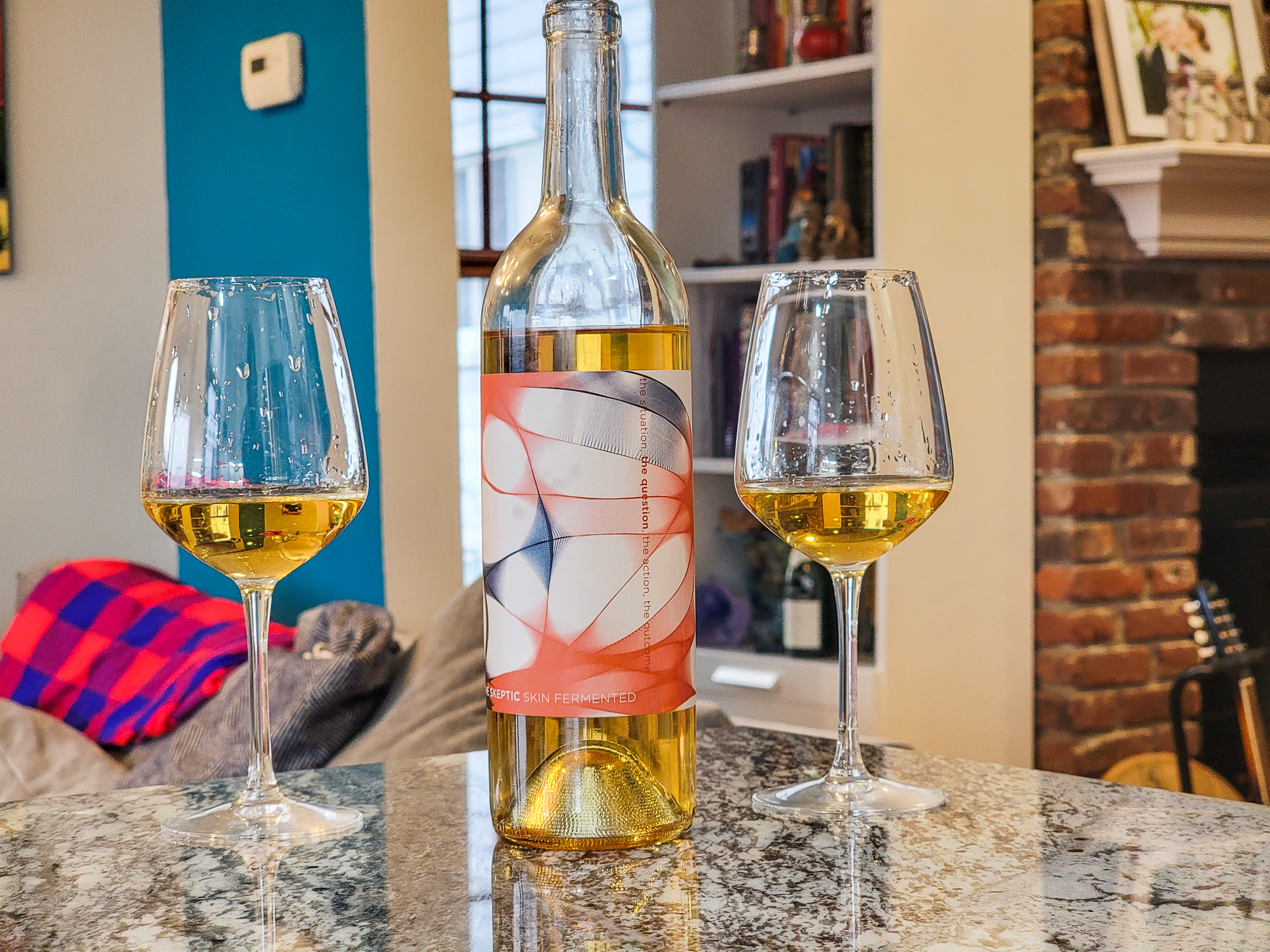 This orange blend was medium gold in color with medium aromas of yellow apple, pear, peach, nectarine, almond, orange marmalade, grapefruit, golden raisin, peach skin, and honey.
On the palate it was dry with high acidity, medium alcohol, medium(+) body and flavor intensity, and a long finish. We had flavors of orange marmalade, nectarine, lemon, lime, pear, yellow apple, golden raisin, dried apricot, honey, almond, and mint.
Although orange wines can have some intense flavors at times, this one was perfectly balanced in almost every respect. The characteristics the skins provide were present, but not overbearing, and slight tertiary components were starting to show themselves while still having a wealth of primary fruit. A joy to drink all around.
Orange Wine Food Pairing – Thai Basil Chicken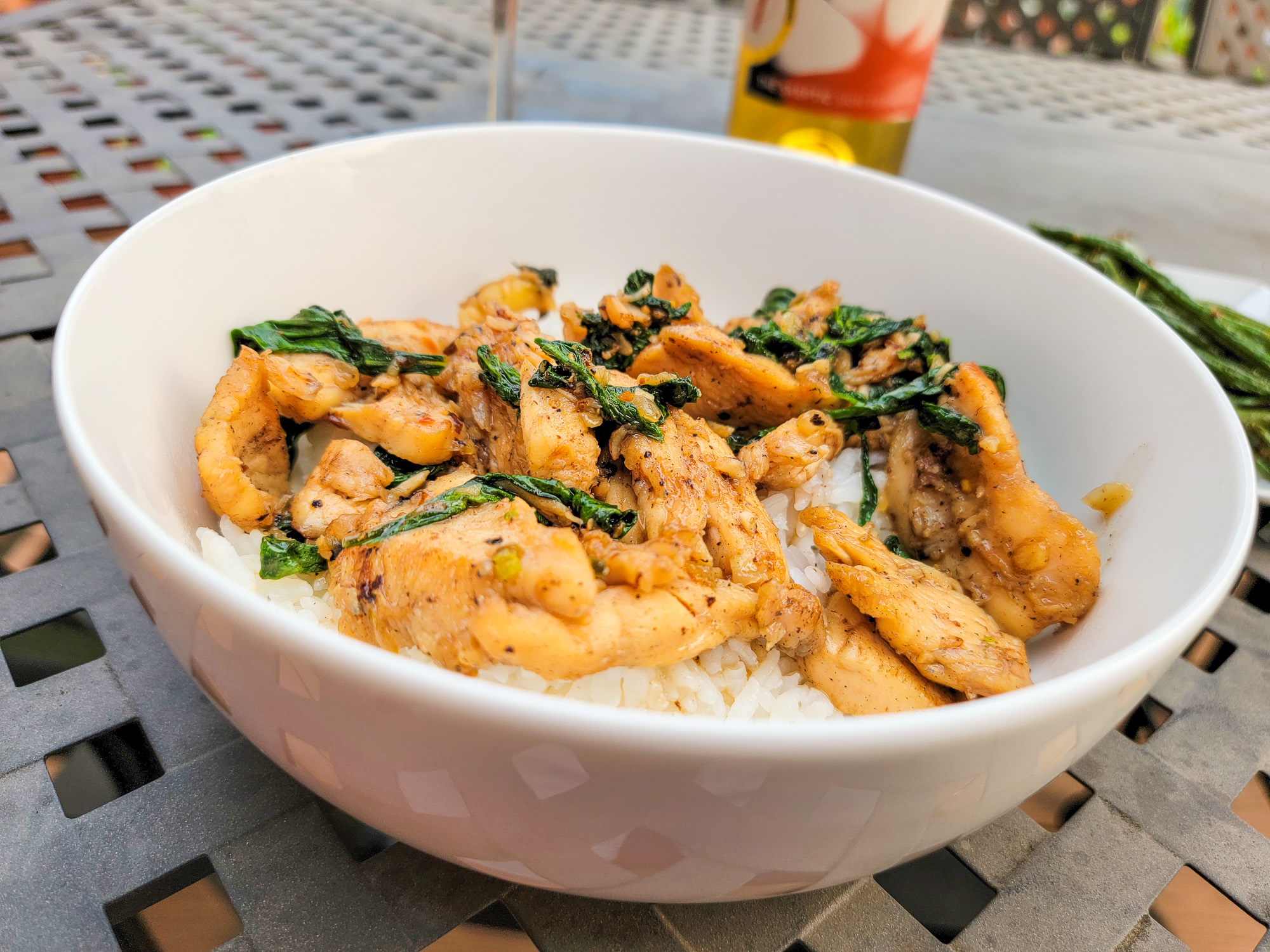 We paired this wine with homemade Thai basil chicken as we thought the vibrant citrus flavors in the orange wine would go nicely with the sweet/spicy balance in Thai basil chicken.
If there were any "funky" components of the wine (i.e. wild notes), it came out a bit more with this pairing. The citrus notes became much stronger with a bite to it that is a bit hard to put into words- part of it was a jump in perceived acidity but another via straight flavor.
Although it is likely we could have made a stronger pairing for this delightful wine, we still enjoyed the balance all the same. The flavors of the Thai dish lend themselves quite nicely for orange wine in many scenarios, and this was one of them.
Score: 4 / 5
We want another bottle of this one.
Overall, Anarchist Wine Co's The Skeptic is a rather interesting white blend that we absolutely adored- especially with some years on it. We would gladly have another bottle in our cellar to forget about for even longer to see what kind of lovely flavors and aroma develop. This bottle will be missed!
Anarchist Wine Co. is located at 850 Bordeaux Way STE 9 in Napa, California. We purchased this bottle directly from the winery and enjoyed it in 2023.