Last Updated on July 28, 2023 by Jeremy
Disclaimers: This review uses WSET Diploma terminology and our own rating scale. Read more here. We use demographic data, email opt-ins, display advertising, and affiliate links to operate this site. Please review our Terms and Conditions for more information. This website is intended for those of legal drinking age in your jurisdiction.
When we went on our wine tour of Piedmont, we knew we were going to be drinking a lot of Barolo. But at the same time, we were also excited to try lesser produced grapes in the region as well.
Arneis was one such grape, and we came to fall in love with this gem for its beautiful complexity, texture, and approachability.
Cordero di Montezemolo's Arneis is one bottle we got the chance to bring home with us, and we opened it shortly thereafter.
A Lovely Arneis from Cordero di Montezemolo
This Arneise was pale lemon in color with medium aromas of lemon, lime, nectarine, peach, saline, grapefruit, with minor hints of green herbs.
On the palate it was dry with high acidity, medium alcohol, flavor intensity, and finish, and medium(+) body. We had flavors of lemon, lime, nectarine, grapefruit, peach, and wet stone with a slight oily texture as well for complexity.
The textural component of Arneis is something we've seen time and time again when trying this grape, and is one of the elements we've really come to love about this wine in particular.
Arneis Food Pairing – Halibut and Fried Squash Blossoms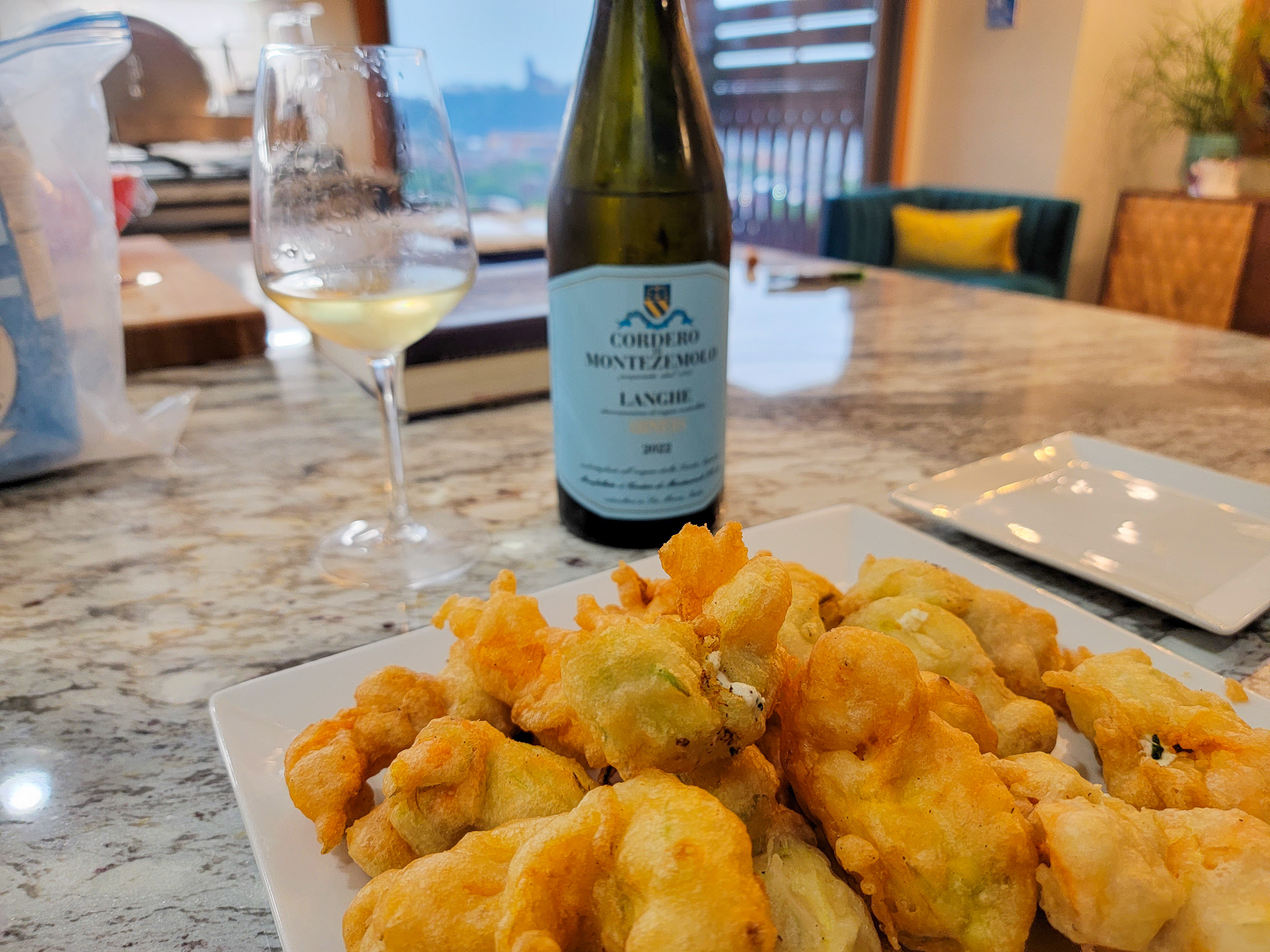 We paired this high acid white with a filet of halibut topped with pesto and ricotta filled, deep fried squash blossoms.
The fried squash blossoms were quite nice with this wine as the oily texture in the wine and the fried flowers balanced well with the high acidity. The herbs in the ricotta filling were heightened as well with each sip. The pesto on the fish also helped the wine showcase stronger peach notes as well which were pleasing.
Score: 3.5 / 5
We would buy a glass of this one and a bottle in the right circumstance.
Overall, Cordero di Montezemolo's Arneis is a lovely expression of this particular grape. While having a modest intensity, we did enjoy bottles in Italy that were even more robust and complex. Still, we have never met an Arneis we would truly pass on, and as such we'd get a glass or even bottle in the right circumstance in the future.
Cordero di Montezemolo is located at Regione Annunziata, 67, 12064 in La Morra CN, Italy. We purchased this bottle directly from the winery and enjoyed it in 2023.