Last Updated on August 4, 2023 by Jeremy
Disclaimers: This review uses WSET Diploma terminology and our own rating scale. Read more here. We use demographic data, email opt-ins, display advertising, and affiliate links to operate this site. Please review our Terms and Conditions for more information. This website is intended for those of legal drinking age in your jurisdiction.
We are big fans of Champagne Dumenil, and in the past have tried gems like their Dumenil 1999 and Dumenil Les Pecherines Cuvee which we adore.
Another bottle from this producer we finally got the chance to enjoy is their Reserve NV wine, Dumenil Reserve 22 edition, and while perhaps not as intense as the previous two bottles (which are on the higher end of their portfolio), it is still a gem for those looking for a bottle at a slightly lower price point!
Champagne Dumenil Reserve 22 Hits The Right Notes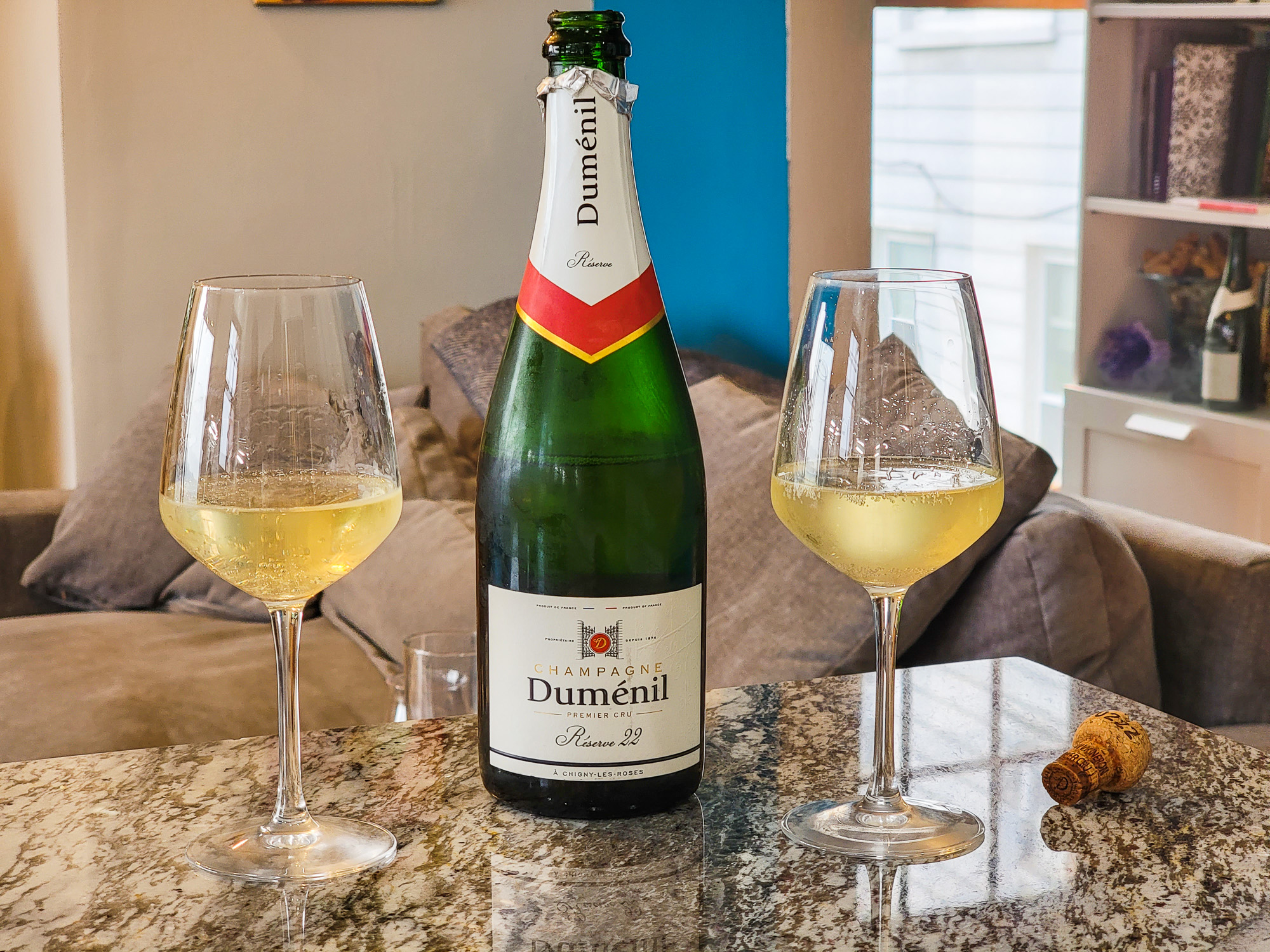 This Champagne was medium lemon in color with medium aromas of pear, yellow apple, toast, yogurt, cream, brioche, nectarine, grapefruit, lemon, and almond.
On the palate it was dry with high acidity, medium alcohol and body, a creamy mousse, medium(+) flavor intensity, and a long finish. We detected notes of lemon, lime, pear, yellow apple, nectarine, saline, wet stone, toast, brioche, cream, and a faint almond.
This reserve Champagne hit on some lovely lees notes without being too overpowering and subtle notes of almond illustrate a very faint tertiary development for the young wine. All that said, this was a well balanced Champagne all around.
Champagne Food Pairing – Red Curry Tofu and Green Beans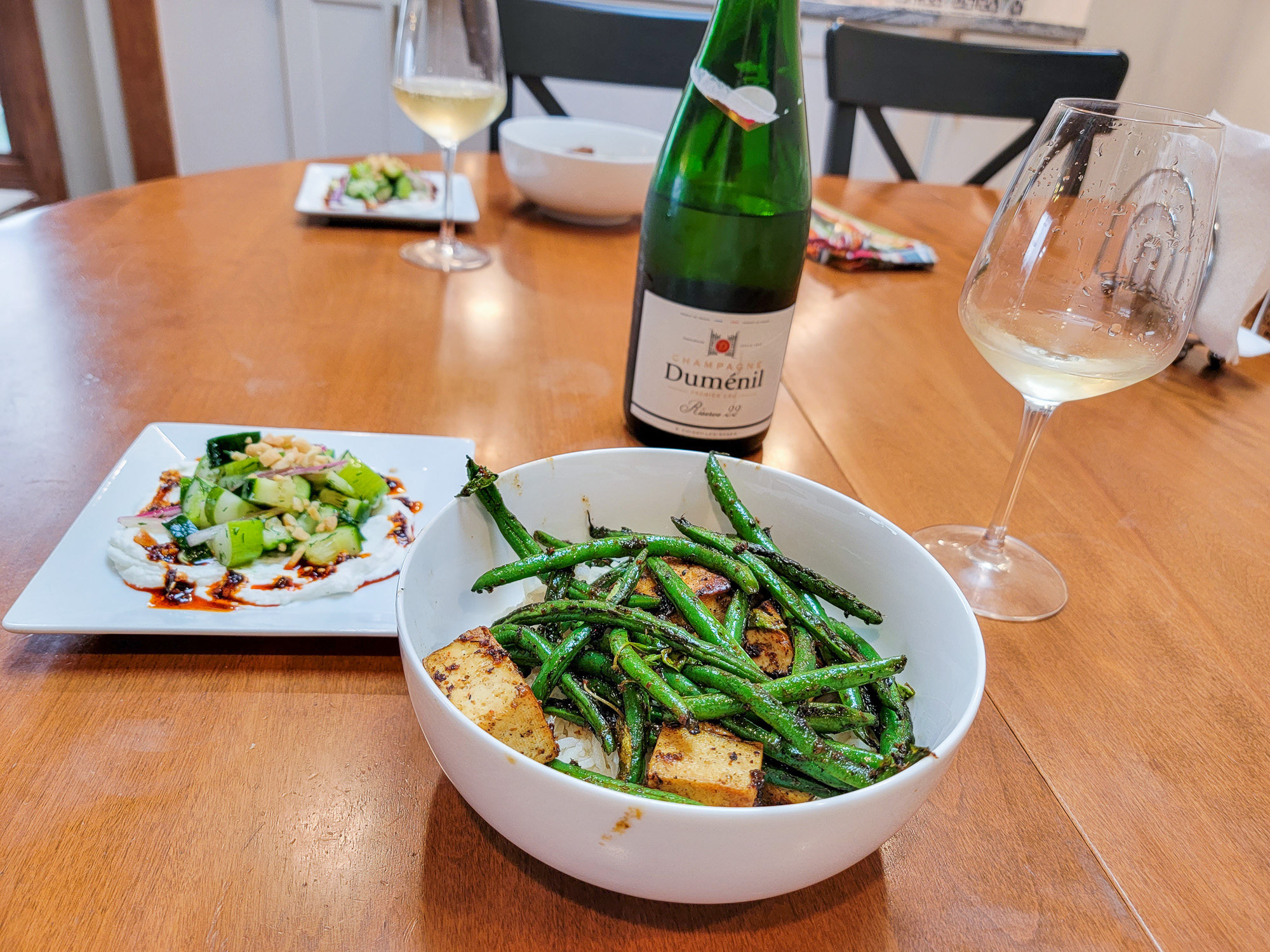 We paired this Champagne with a spicy Thai dish made of red curry paste, tofu, and green beans. Unlike a more traditional curry, which would contain coconut milk and other ingredients, this one was limited to a simple mix of curry paste, soy sauce, sugar, and oil for a spicy punch.
While I wish we could say that the food pairing brought out a new flavor in the Champagne, this is simply one of those pairings that illustrates the point that Champagne goes with anything. The high acidity and intense flavors of this one powered through even this spicy dish, and the medium alcohol did not feel too harsh with the heat in the food. All in all, a good pairing.
Score: 4 / 5
We'd buy another bottle of this one.
We have a trend where we seem to love just about every bottle we've had from Champagne Dumenil, and the Reserve 22 is no different. But as this one comes at a bit lower price point than some of the more premium bottles we've had to date, this is one we could see having for any reason as opposed to holding for a special occasion.
Champagne Dumenil is located at 38 Rue du Puits, 51500 in Sacy, France. We purchased this bottle locally and enjoyed it in 2023.