Published Jeremy. Last Updated on October 20, 2022.
Disclaimers: This review uses WSET Diploma terminology and our own rating scale. Read more here. We use demographic data, email opt-ins, display advertising, and affiliate links to operate this site. Please review our Terms and Conditions for more information. This website is intended for those of legal drinking age in your jurisdiction.
Whenever it comes to fine Champagne, you generally have many categories of bottles to choose from. These can include non-vintage, vintage, and more exclusive blends that feature the best of the best the producer has to offer.
Prestige-branded Champagne often is the top of the top for any given producer, and we knew we were in for a treat when we opened Champagne Dumenil's Cuvee Prestige Vieilles Vignes Brut.
But it wasn't until we sampled this astoundingly delicious bottle that we truly understood how special it was. This one is quite the gem!
Champagne Dumenil Prestige is Stellar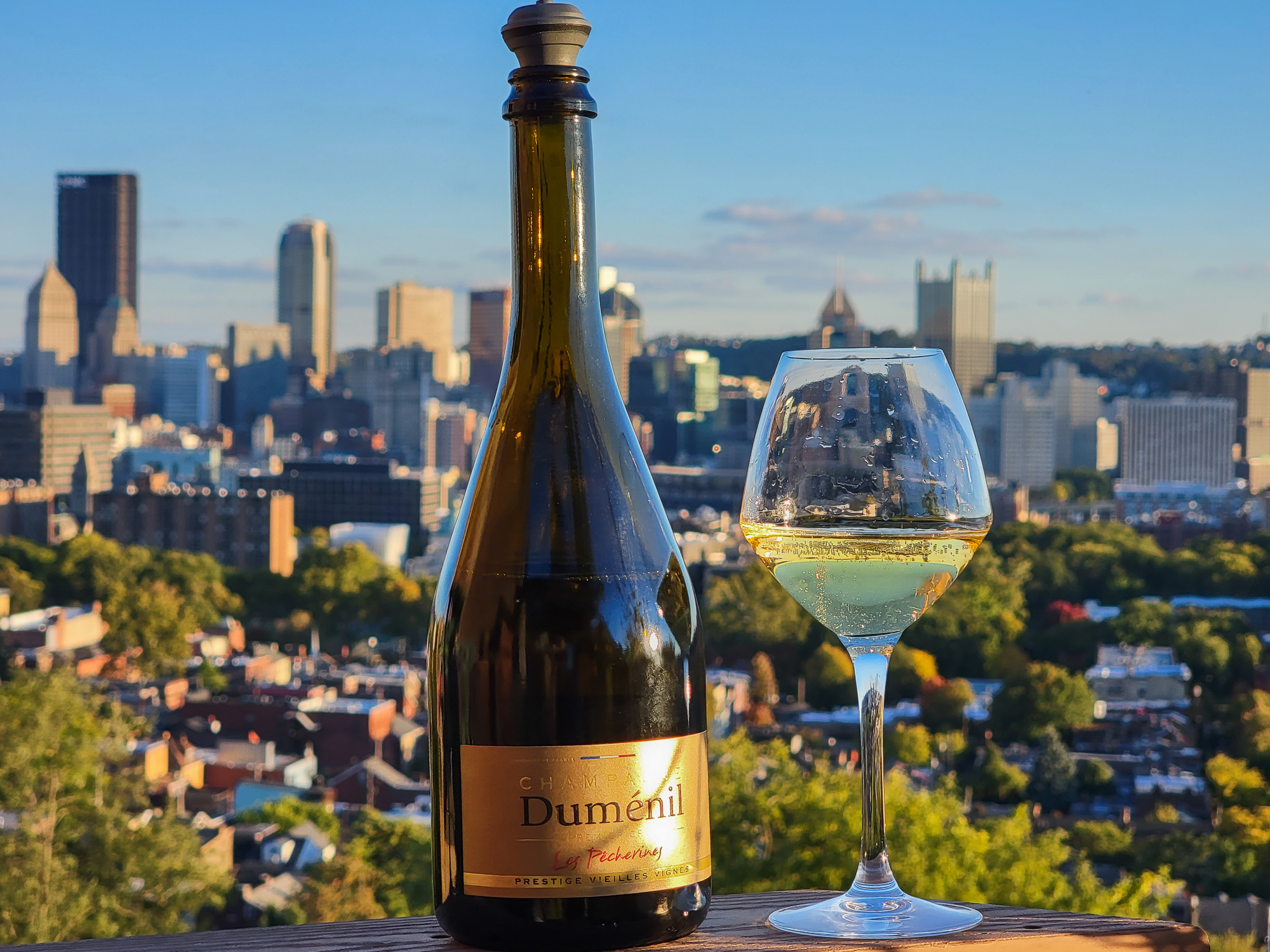 This Champagne was deep gold in color with medium(+) aromas of pear, lemon, lime, grapefruit, yellow apple, pineapple, brioche, toast, honey, and almond.
On the palate it was dry with medium(+) acidity, body, and finish, medium alcohol, a creamy mousse, and pronounced flavor intensity. We got notes quite similar to the nose with stronger lemon and lime notes and perhaps with a hint of quince as well.
Had the acidity and/or autolytic notes been just a bit more intense we would've said this bottle was simply perfect. That being said, it is really hard to fault this one as the bottle had just about everything we want in a fine Champagne!
Champagne Food Pairing – Seafood Bisque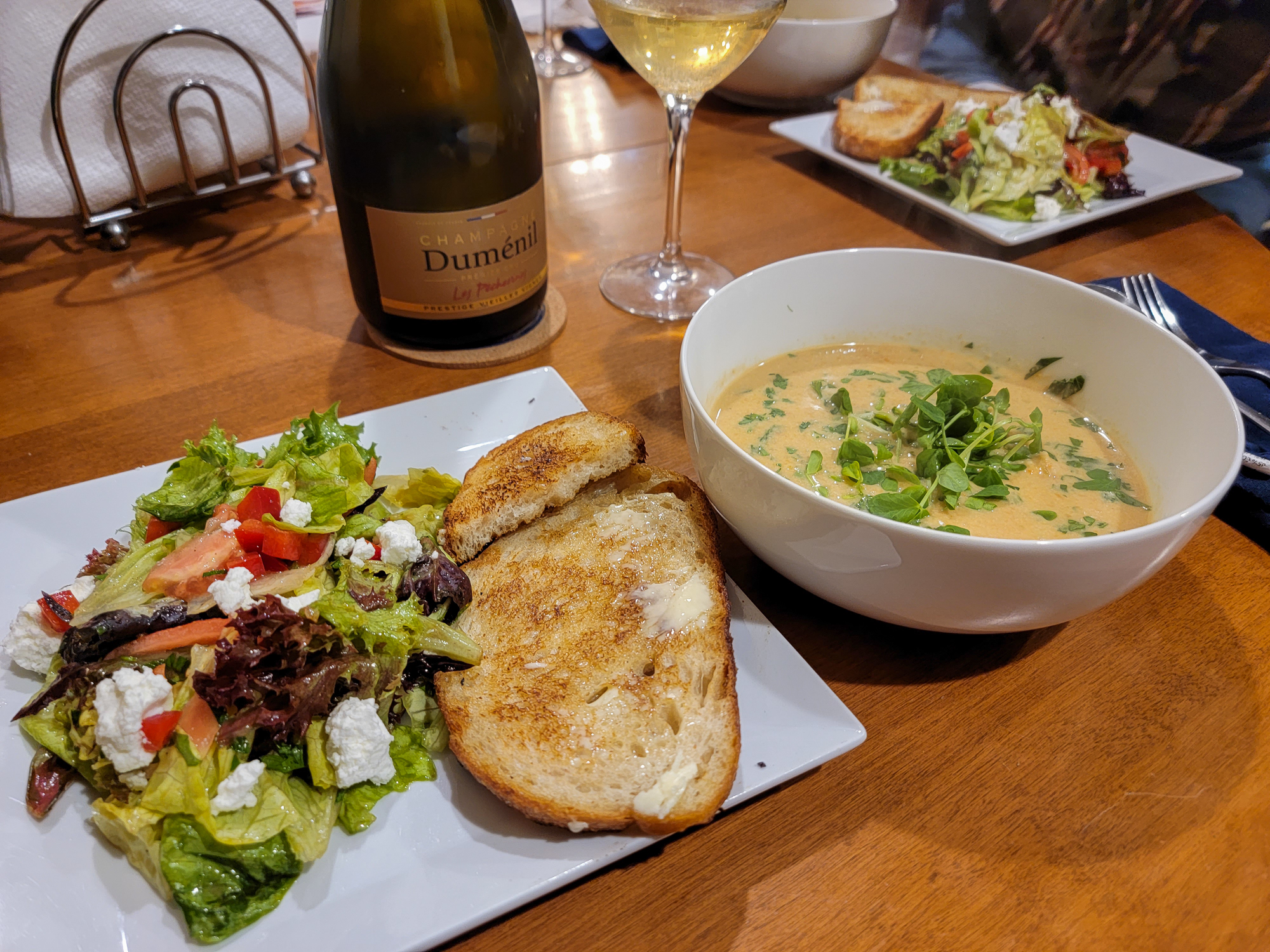 We paired this Champagne with a seafood bisque we made from scratch. That is to say, using homemade stock made from leftover lobster shells and other seafood bits, turned into a creamy soup, with the addition of rockfish, prawns, and prawn roe for good measure.
We will admit that while the bisque was as intensely flavorful as the wine, it didn't do much to alter the palate of the Champagne. The autolytic notes, which often get diminished in a food pairing, still sang, and the only real noticeable difference was that the wine had perhaps a slight increase in lemon and lime intensity.
All things being equal, that certainly speaks volumes to the intensity of this particular wine as things like seafood, cream, and more likely would alter our perception a lot in other bottles!
Score: 4.5 / 5
We want several bottles of this one.
Overall, this nearly perfect bottle of Champagne was the kind of bottle we talked about many days after we drank it. We are thankful to have a few more bottles of this one in our cellar, and we want to add several more for good measure, too. If you can get your hands on this one at a reasonable price, don't skip it!
Champagne Dumenil is located at 38 Rue du Puits, 51500 in Sacy, France. We purchased this bottle locally and enjoyed it in 2022.