Last Updated on August 4, 2023 by Jeremy
Disclaimers: This review uses WSET Diploma terminology and our own rating scale. Read more here. We use demographic data, email opt-ins, display advertising, and affiliate links to operate this site. Please review our Terms and Conditions for more information. This website is intended for those of legal drinking age in your jurisdiction.
Quinta do Portal was one of our favorite Douro Valley wineries that we got to visit during our trip to Portugal, and naturally many of their bottles made its way home to us when the trip ended.
One such bottle was Quinta do Portal's 20 year tawny port, a lovely bottle that hit all the notes we love in a tawny with strong chocolate covered cherry flavors.
We really do love this one!
Quinta do Portal's 20 Year Tawny is Perfection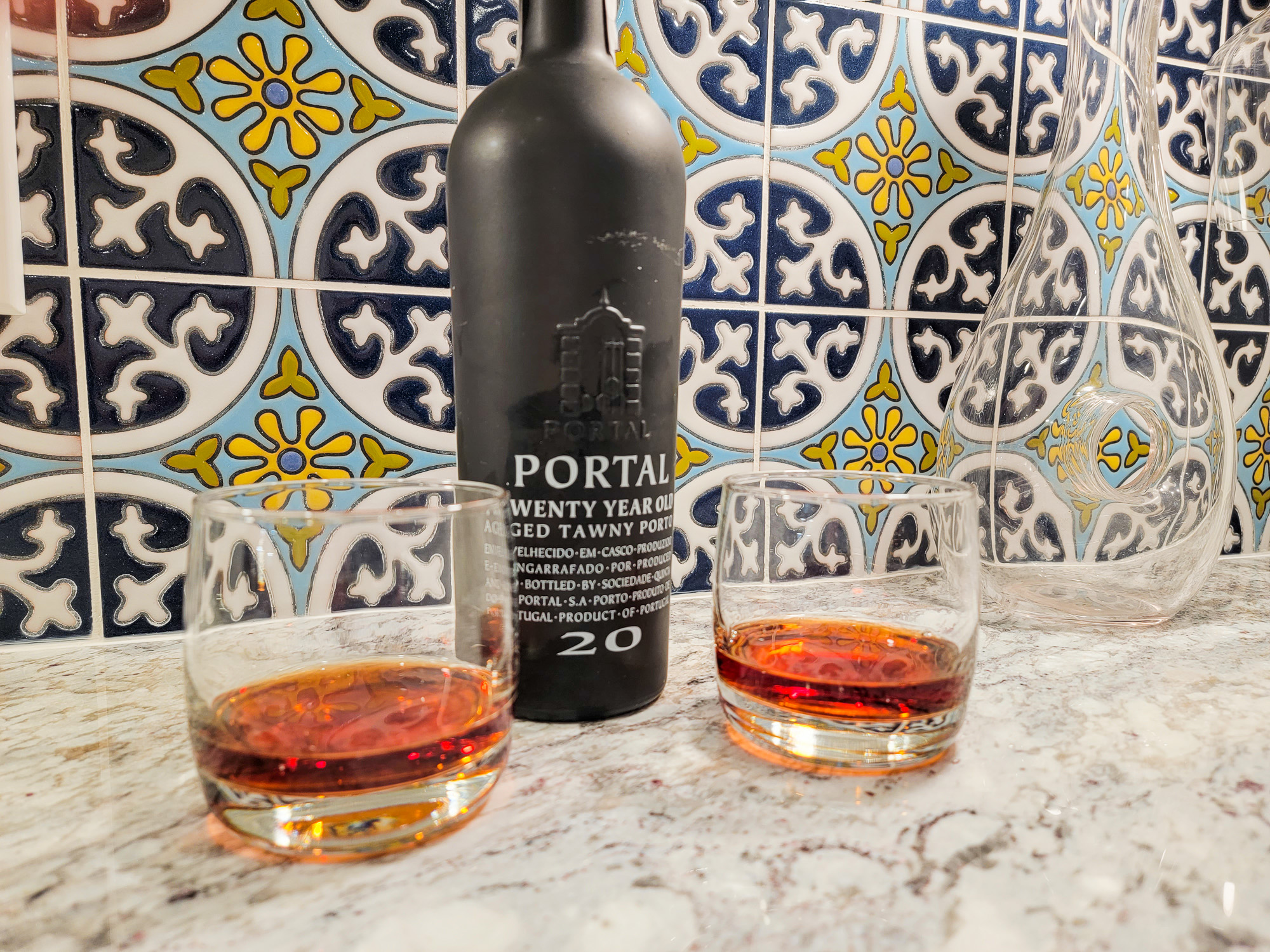 This 20 year tawny Port from Quinta do Portal is pale tawny in color with medium aromas of dried figs, dates, caramel, vanilla, chocolate, peanuts, macadamia nuts, dried red cherries, dried cranberry, cedar, clove, and nutmeg.
On the palate it was medium sweet with medium(+) acidity, high alcohol, full body, medium(+) flavor intensity and finish. We had notes of red cherry, chocolate, caramel, dried cranberry, almond, macadamia nut, vanilla, and cream.
Although there are numerous flavors in this fortified wine, the predominant notes were resounding flavors of chocolate covered cherries with vanilla and cream. As we prefer tawny ports that are more on the fruit and chocolate side over the richer, nuttier side (which you typically get in 30 to 40 year old tawnies), this one was simply perfect for us!
Food Pairing – None
We have to admit, we are quite content drinking this Port on its own, and that is exactly what we did!
However, as this one has strong chocolate and cherry notes, we think pairing it with a decadent dessert that hits strongly on one of these two flavors could play complementary notes well. If we have any left by the time we make our next dessert, we may give it a go with something like a black forest cake or perhaps even raspberry chocolate brownies for a bit of acid offsetting chocolate!
Score: 4 / 5
We'd buy another bottle of this one.
Overall, it is hard to say anything less than high praise for Quinta do Portal's 20 year tawny Port. This one is a gem and hits all the right flavor notes that we personally enjoy in a tawny. As such, we would love to have a bottle on hand at all times for when the mood strikes us for a fortified wine.
Quinta do Portal is located at EN 323 – 5060-020 Celeirós in the Douro Valley, Portugal. We purchased this bottle directly from the winery and enjoyed it in 2023. This bottle, and others, were available on Wine.com at the time of publication.