Last Updated on August 4, 2023 by Jeremy
Disclaimers: This review uses WSET Diploma terminology and our own rating scale. Read more here. We use demographic data, email opt-ins, display advertising, and affiliate links to operate this site. Please review our Terms and Conditions for more information. This website is intended for those of legal drinking age in your jurisdiction.
When we visited Piedmont wineries, our primary goal was to try as many Barolos as we could. But because Piedmont is home to so many wonderful grapes, we were fortunate enough to try several other varieties that we fell in love with.
One such grape was the more approachable Barbera, and E. Pira & Fligli's Barbera d'Alba Superiore is one we just had to bring home with us.
The intensity of this one is hard to beat!
A Robust and Intense Barbera from E. Pira & Figli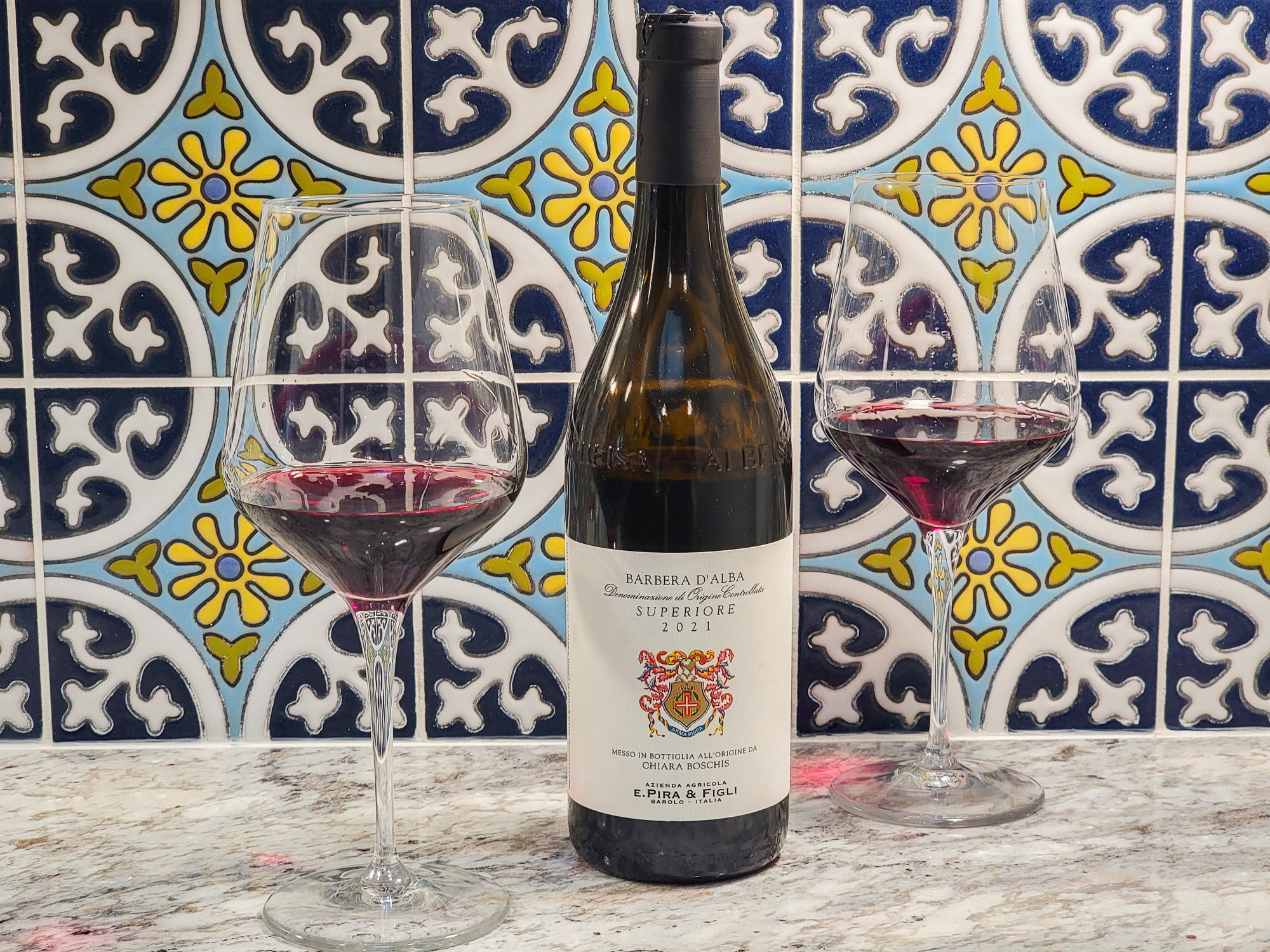 This Barbera d'Alba was medium ruby in color with medium(+) aromas of dark cherry, chocolate, black raspberry, blueberry, black tea, black currant jam, violet, cedar, clove, and, after opening up a bit, forest floor and dried leaves.
On the palate it was dry with medium(+) acidity, body, flavor intensity, and finish, high alcohol, and medium, smooth tannin. We detected dark fruit flavors like black cherry, black raspberry, darkp lum, cedar, clove, black currant, violet, and black pepper.
Strong dark fruits with a hint of floral notes and earthiness? We're in for this one.
Barbera d'Alba Food Pairing – Polenta with Mushrooms and Truffle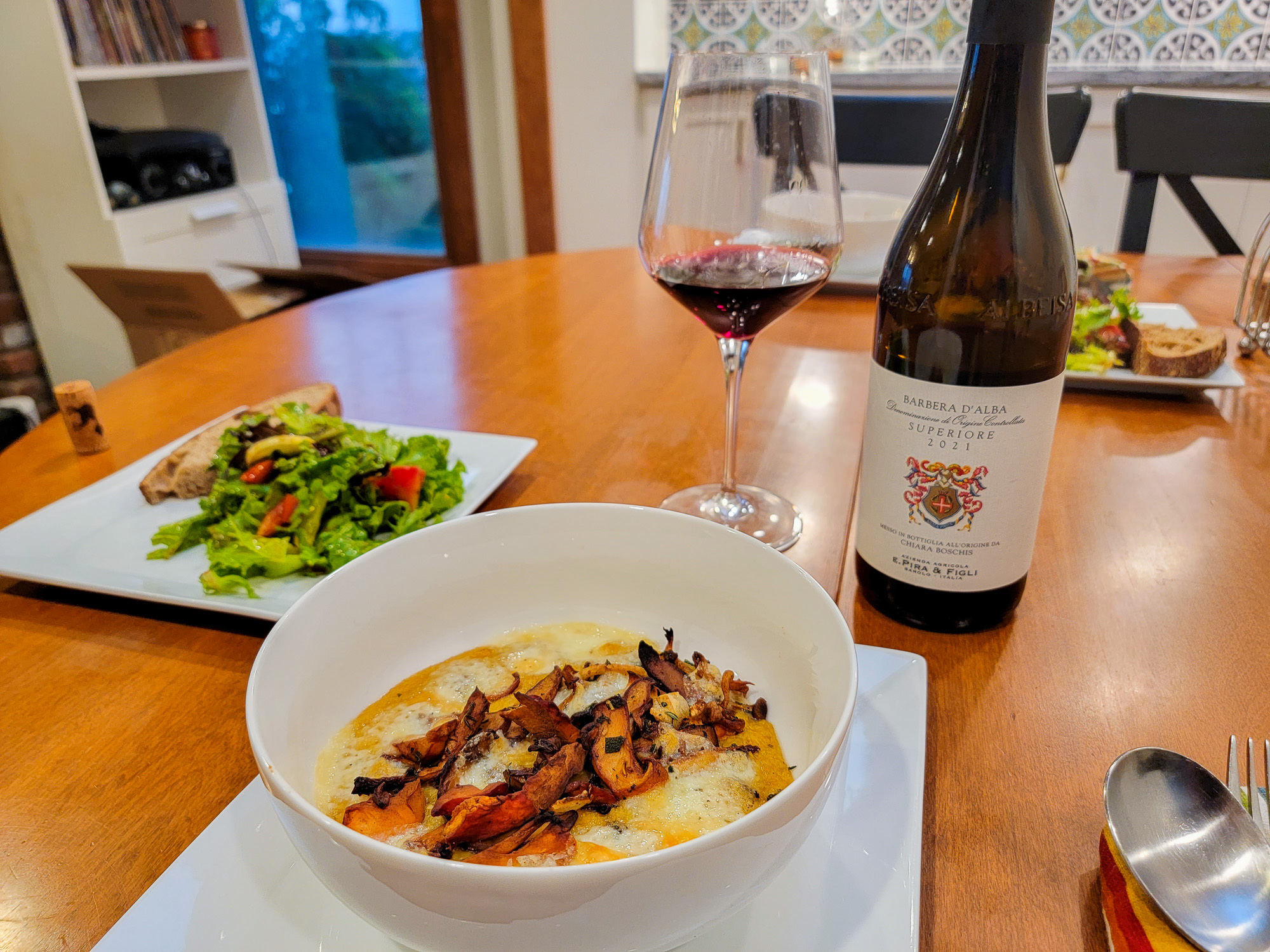 We paired this Barbera with a polenta dish topped with sauteed mushrooms tossed in truffle oil and topped with truffle cheese as well as a light salad.
The earthiness of the polenta due to the truffles helped accentuate some of these mild notes in the wine and a more intense acidic plum note jumped out with each sip. Conversely, the salad's bitterness helped accentuate some of the more bright and tart cherry notes as well, making for a fun one to enjoy back-and-forth sips of with how the flavor expression changed.
Score: 4.5 / 5
We'd like a few bottles of this one on hand at all times if possible.
This Barbera hit all the right notes for us for several reasons. While the fruit flavor had a strong intensity, the complexity of the earthiness and other components played nicely within the wine. The tannins were not overwhelming, which is something you may see with Piedmont's more famous grape, Nebbiolo, and made for a wine that was easy drinking and can pair with many dishes. Suffice it to say, we'd drink this one again and again!
E. Pira & Figli is located at Via Vittorio Veneto, 1, 12060 Barolo CN, Italy in Barolo, Italy. We visited the winery, purchased the bottle at an independent shop in Barolo town, and enjoyed it in 2023. At the time of publication, Wine.com had another vintage of this bottle available.