Published Jeremy. Last Updated on March 2, 2021.
Disclaimers: We use demographic data, email opt-ins, display advertising, and affiliate links to operate this site. Please review our Terms and Conditions for more information. This website is intended for those of legal drinking age in your jurisdiction.
Although the term Super Tuscan is more or less a marketing word used to describe high-quality wines outside of the traditional Italian designation classification when we hear the name used our ears perk up all the same if only because, on the whole, we've had some pretty stellar Super Tuscans when traveling around the region.
Fattoria di Bagnolo's Capro Rosso was one such Super Tuscan, and after visiting the vineyard on a trip to Tuscany in 2019, I was more than happy to pick up some bottles (including the delicious Fattoria di Bagnolo Chianti Riserva). In this review, we popped open a bottle of the 2016 vintage to see what the Cabernet Sauvignon and Merlot blend was like four years in.
Strong Fruit Notes But Worth Aging More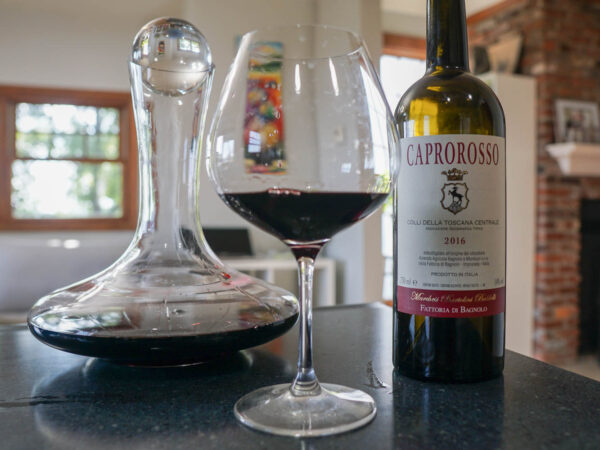 The color on this one was a medium ruby, trending to a deeper hue. On the nose we had a pretty mellow aroma with barrel notes like leather and tobacco plus cooking herbs like thyme and maybe a bit of oregano. Dried red fruit and raisin came out as the wine opened up, as did a hint of vanilla.
This one had a mild acidity and medium tannins that hit hard and lingered. It took a few sips to start getting fruit notes including cranberry and cherry plus a nice, nuanced vanilla that came out after decanting for an hour or two.
We purchased two bottles of this one and recognize that it is still fairly young. We look forward to revisiting in a few years to see how this one develops.
Capro Rosso Food Pairing – Focaccia with Potato and Pecorino plus Bean Salad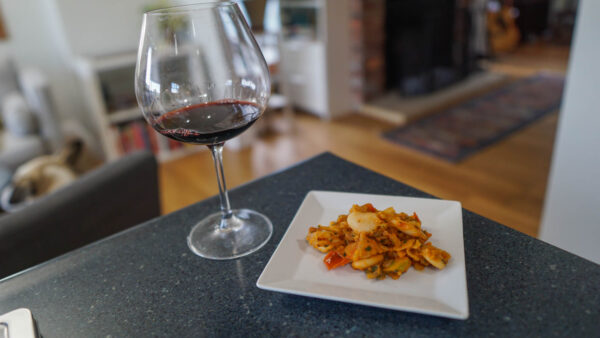 The pairing with focaccia was mostly done for the Italian connection, but we have to admit that the tomato-based bean salad worked best with this wine thanks to the acidity of the (admittedly small amount) of tomatoes bringing out fruit notes in the wine. Likewise, the hint of cinnamon we put in the salad brought out some nice herbal notes in the bottle as well.
As such, we would perhaps recommend topping the focaccia with a red sauce over a richer potato as we did.
Score: 4 / 5
We'd love to have a bottle on hand for aging.
We are pretty pleased by the balance that this bottle brings, but admit that we also have a memory associated with this one from visiting the vineyard in 2019. We're quite looking forward to seeing how our second bottle opens up with about 7 or 10 years of age on it.
Fattoria di Bagnolo is located at Via Imprunetana per Tavarnuzze in Tuscany, Italy. I purchased this bottle when visiting the estate and we enjoyed this one in 2020.