Published Jeremy. Last Updated on January 1, 2021.
Disclaimers: We use demographic data, email opt-ins, display advertising, and affiliate links to operate this site. Please review our Terms and Conditions for more information. This website is intended for those of legal drinking age in your jurisdiction.
Biancolella was a new grape for us when starting this project, and we first sampled it with the bottle of Antonio Mazzella Biancolella 2018.
This one comes from the small island of Ischia just off the coast of Italy and brings a modest acidity with an array of subtle fruit flavors.
Apple at the Start Turning into More Fruit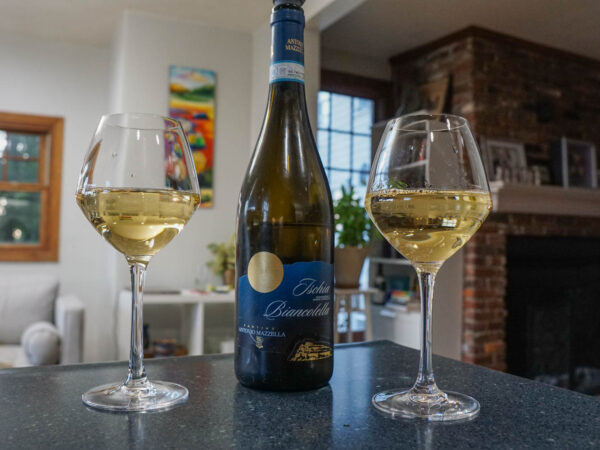 This medium yellow wine had a wonderful aroma full of fruit notes like peach, kiwi, and nectarine as well as some subtle floral undertones.
On the tongue, we got a medium acidity and an evolving flavor profile that started off with light apple notes that gave way to underripe pear, peach, melon, and a final hit of acidity at the end. We got a hint of some fresh vegetal notes at the end as well but as faint undertones, and despite the spread of fruit listed have to admit that none were a dominant flavor overall.
Light and subtle, but a lot of undertones going on all the same.
Antonio Mazzella Biancolella Food Pairing – Panzanella and Tomato Bean Salad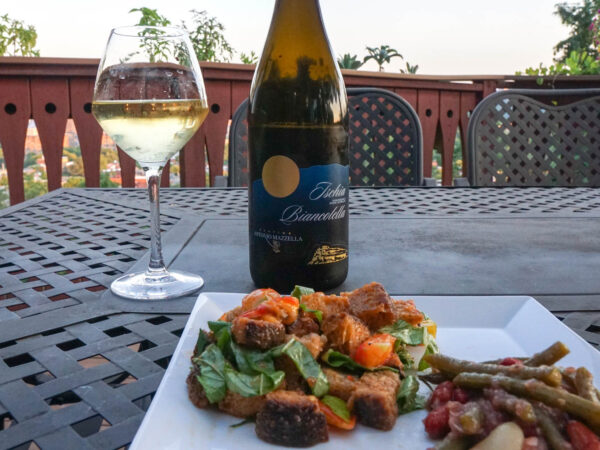 As we always love pairing a medium acidity, fruit-forward white with tomato-based dishes, we thought we'd double it up here with a tomato panzanella salad as well as a bean salad with a slight tomato sauce on top.
The reason we often do this is because the acidity in the tomatos often pairs well with a fairly acidic wine and lets the fruit flavors come out a bit more- and that is just what this subtle bottle of wine needed. I still don't think any one flavor came out as a strong predominant overtone, but the fruit was highlighted quite well with the meal all the same.
Score: 2 /5
We are happy we tried this but do not need to try more.
Overall, we thought that the body of this one was fairly light and we wished there would've been a bit of a stronger kick with a flavor pop compared to what we got. Decent, but we're not sure we'd go for this one again.
Antonio Mazzella is located on the island of Ischia just off of Naples in Italy.