Published Jeremy. Last Updated on January 1, 2021.
Disclaimers: We use demographic data, email opt-ins, display advertising, and affiliate links to operate this site. Please review our Terms and Conditions for more information. This website is intended for those of legal drinking age in your jurisdiction.
Nicolas Feuillatte's Reserve Exclusive Champagne is an alluring bottle with a wonderful aroma, a slight funkiness, and strong flavors of lime and tropical notes on the palate.
Consider us pleased.
Strong Lime Notes and a Funkiness on the Nose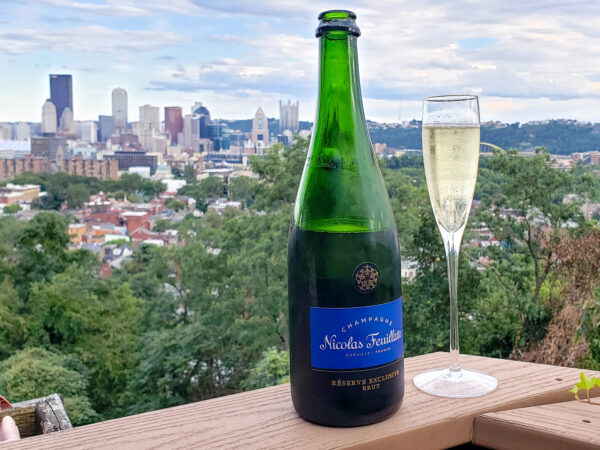 This medium yellow champagne has all of the wonderful aromas we love in sparkling wine- namely young white peaches, lychee, and in this particular case a hint of wild fermentation (read: funkiness) and subtle yeast notes as well.
When sipping this one you'll immediately notice it is quite dry and with crisp, refreshing acidity. This gives way to a strong flavor of lime and undertones of tart, tropical fruit like pineapple. As these flavors subside we noted a slight residual sweetness that coincided with a hint of fresh, ripe peach.
Although some may look at the upfront lime as being a bit too intense, we liked how this one evolved in the glass throughout each sip.
Nicolas Feuillatte Champagne Food Pairing – Mushroom and Truffle Pasta with Cream Sauce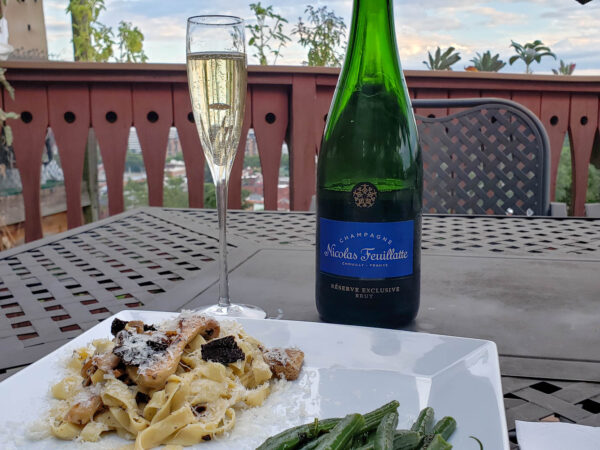 For this Champagne, we went for a classic pairing of mushroom pasta with cream sauce and summer truffle added.
The truffle accentuated the nice funkiness of the wine really well, and the effervescence of the champagne helped accentuate the creaminess of the pasta too. However, if we were to make this dish over again we probably would've opted either for mushrooms or the truffles exclusively (not mixed) as the pasta itself ended up being quite rich and the flavors melded together a bit too much for our liking.
Score: 4 / 5
We'd buy another bottle of this.
I have to admit, we found this bottle quite refreshing. Some people may find the lime flavors in this bottle a bit too intense, but we quite enjoyed the flavor with its more tropical undertones. And, as lovers of wild beer, the hints we got on the nose were quite reminiscent of the brews we love and made for an intriguing glass all around.
Nicolas Feuillatte is located in the Cotes de Blanc within Champagne, France.