Last Updated on January 1, 2021 by Jeremy
Disclaimers: This review uses WSET Level 2 terminology and our own rating scale. Read more here. We use demographic data, email opt-ins, display advertising, and affiliate links to operate this site. Please review our Terms and Conditions for more information. This website is intended for those of legal drinking age in your jurisdiction.
On my 2019 visit to Italy, my family and I went out on a day tour to check out several vineyards in Chianti. One such vineyard was Fattoria di Bagnolo where we were able to sample some of their delicious Chianti Riserva.
We bought several bottles to bring home (this and other styles like their Super Tuscan Capro Rosso) and opened up a bottle in late 2020 to enjoy just after ordering more bottles directly from the winery.
A Stellar and Mellow Chianti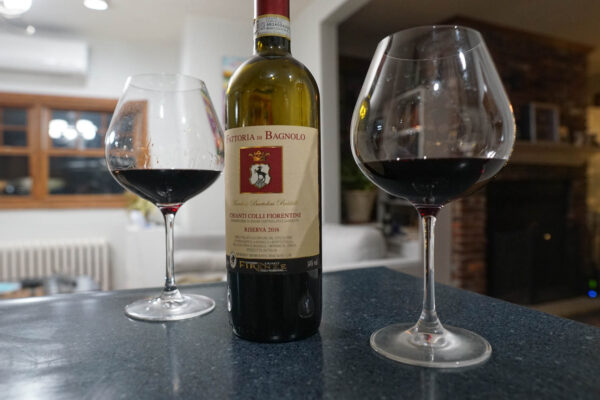 This medium ruby wine had a medium aroma of strawberry, black cherry, cooking herbs, pepper, and a very faint hint of vanilla. If there was an aroma that was distinctively Sangiovese, this one is pretty darn close to what we'd consider ideal. It was quite well balanced between fruit and herbs which was something we quite appreciated as some Chianti wines we've had can be out of balance in this regard.
On the palate, the wine was dry with high acid, medium tannin, high alcohol, and medium flavor intensity. Notes of red cherry, green herbs, white pepper, and a woody almost cedar-like finish were noted. We really cannot understate how well the flavors melded together as they were a lot smoother than some other Sangiovese bottles we've had- so much so that it really made all the difference in this one.
Chianti Riserva Food Pairing – Homemade Pasta with Vodka Sauce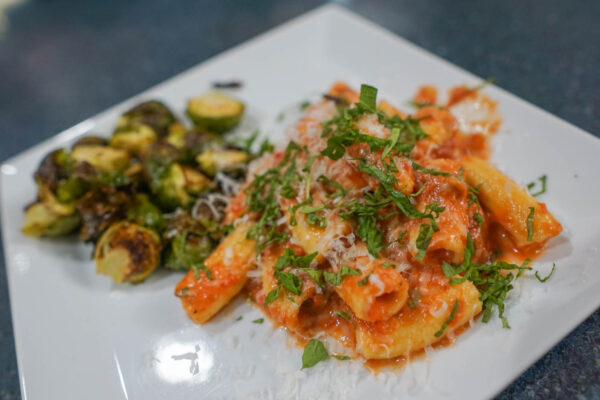 We picked this wine specifically to pair with one of our favorite Italian dishes- homemade pasta. The sauce on this one was a tomato sauce made with vodka, cream, garlic, and herbs and the high acidity of the sauce matched the high acid of the wine quite well such that more of the fruit flavors came out.
If there isn't a more classic pairing with Chianti, we don't know what is. While we may let our remaining bottles age just a bit longer, we also have to admit that when we do open them, odds are good it'll be with pasta.
Score: 4 / 5
We'd buy another bottle of this one.
This was a pretty delicious bottle of Chianti and is the kind of bottle we'd like to have one or more to age in our cellar. In fact, we opened this one in particular part due to the fact that I had more bottles being shipped from the winery to help replace it!
Fattoria di Bagnolo is located at Via Imprunetana per Tavarnuzze, 48, 50023 Impruneta FI, Italy. We purchased this bottle directly from the vineyard when visiting and enjoyed it in 2020.