Last Updated on May 16, 2022 by Jeremy
Disclaimers: This review uses WSET Diploma terminology and our own rating scale. Read more here. We use demographic data, email opt-ins, display advertising, and affiliate links to operate this site. Please review our Terms and Conditions for more information. This website is intended for those of legal drinking age in your jurisdiction.
Pedro Ximenez is an interesting dessert wine from Spain (although it is sometimes made into a dry wine as well). Typically, the grapes are allowed to dry out to effectively become raisins prior to fermentation, and the result is an intensely sweet wine that is subsequently fortified into a sherry.
A sweet, sweet, almost syrupy-like sherry.
Naturally, it is hard not to like this one if you have a sweet tooth, and Pedro Rodriguez e Hijos Mil Pesetas Pedro Ximenez NV was no different for us!
Maple Syrup Flavors in This Pedro Ximenez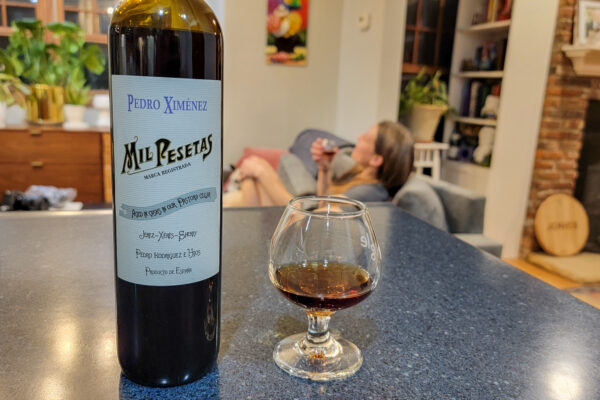 This medium brown sherry had medium aromas of raisin (both dark and golden), date, fig, almond, walnut, and light citrus peel that was developed.
On the palate it was sweet with medium acidity, low tannin, high alcohol, full body, pronounced flavor intensity, and a medium+ finish. We got notes of chocolate, caramel, fig, date, maple syrup, cinnamon, clove, and orange rind.
While the nose on this one was perhaps a bit more complex than the palate, we cannot overstate how much maple we got on this one. If this was magically served without alcohol, we would've thought it was an infused maple syrup- it was that mapley.
Pedro Ximenez Food Pairing – Pasteis de Nata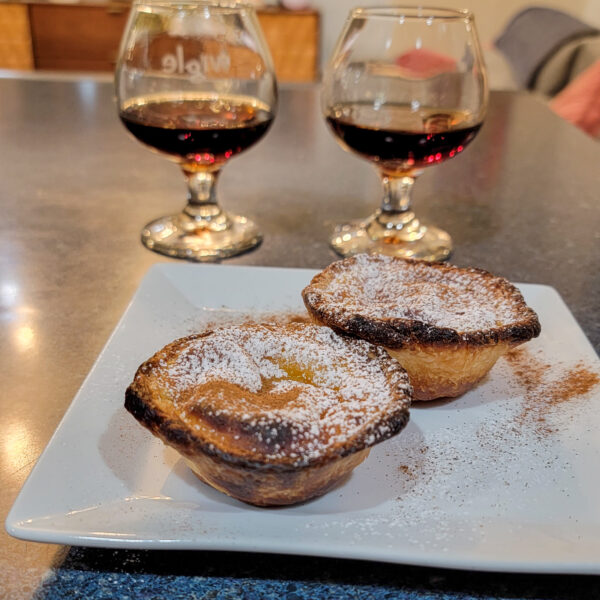 We pop over to Portugal for our food pairing on this one, the classic pasteis de nata. These egg tarts are slightly sweet with a caramelized layer on the top of the egg and are often covered with cinnamon and powdered sugar.
The traditional pairing for this one is a tawny port, but we figured to try it with some Pedro Ximenez to see what would happen.
Much like with tawny port, some of the rich chocolate and caramel (and maple) flavors were masked slightly to allow notes like orange rind and other citrus notes to come out more. Still, it is hard to shake the maple in this one all the same.
Score: 3 / 5
We'd buy a glass of this one and a bottle in the right context.
Although this one is heavy on the maple flavors for Angie's liking, we quite enjoyed it as a Pedro Ximenez all the same. We could see cooking with this one as much as we could drinking it; however, without cooking it we could also be happy just having a glass.
Pedro Rodriguez e Hijos Mil Pesetas is located in Andalucia, Spain. We purchased this bottle locally and enjoyed it in 2022.