Published Jeremy. Last Updated on April 8, 2022.
Disclaimers: This review uses WSET Diploma terminology and our own rating scale. Read more here. We use demographic data, email opt-ins, display advertising, and affiliate links to operate this site. Please review our Terms and Conditions for more information. This website is intended for those of legal drinking age in your jurisdiction.
I have to admit that Cabernet Franc isn't my favorite varietal out there. But there is one winery I'll buy bottles from again and again, and that is Heron Hill in the Finger Lakes.
This one has everything I look for in this grape, and even though I open every bottle with a bit of apprehension, I always walk away pleased.
Heron Hill Makes Some Seriously Delicious Cab Franc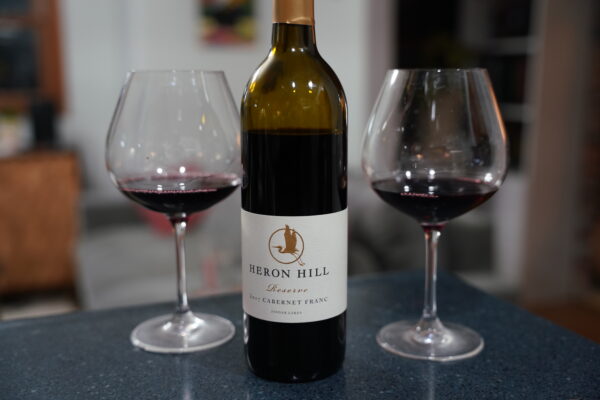 This Cab Franc from the Finger Lakes was pale ruby in color with medium aromas of black cherry, vanilla, cola, dried herbs, pomegranate, cranberry, nutmeg, clove, cedar, eucalyptus, tomato leaf, and leather and tobacco that came out if you let it sit a while. The aromas were developing.
On the palate, the wine was dry with medium acidity, chalky tannin, alcohol, and finish with medium+ body and flavor intensity. We detected notes of dried red cherry, black cherry, cranberry, vanilla, sage, pomegranate, and tomato leaf and little, if any, of the aged characteristics detected in the aroma.
Cabernet Franc Food Pairing – Meatloaf
Ah, meatloaf. One of the world's least exciting dishes. We made this purely because of the absurd amount of ground beef we have in our deep freezer and picked the Cabernet Franc to pair with it specifically to liven up the meal.
That it did.
This was likely all having to do with the acid and fat pairing as the fruit notes really sang here. Some of the herbal notes in the wine helped compliment our heavily seasoned loaf as well.
Score: 4 / 5
We'd buy another bottle of this one.
Overall, while I am normally not a fan of Cabernet Franc as a varietal, I make an exception for Heron Hill's Reserve. This one is truly delicious, and I'd always love to have a bottle on hand. Would I pair it with meatloaf again? Yes. Would I make meatloaf again? Eh, not entirely sure on that one- but that is no fault of this wine because it was delicious.
Heron Hill is located at 9301 Co Rd 76 in Hammondsport, NY. We visited in 2020 and enjoyed this bottle in 2021.