Published Jeremy. Last Updated on October 25, 2023.
Disclaimers: This review uses WSET Diploma terminology and our own rating scale. Read more here. We use demographic data, email opt-ins, display advertising, and affiliate links to operate this site. Please review our Terms and Conditions for more information. This website is intended for those of legal drinking age in your jurisdiction.
When we visited Douro Valley wineries on our trip around Portugal, we knew we had to taste, and subsequently purchase, many vintage Ports.
Our goal for these wines are to age them to their absolute best, which likely means holding on to many until they're 30, 40, or 50+ years old.
But a few years after we got back, we decided to open a bottle to help a friend taking the WSET Diploma D5 exam (fortified wines). As we had two bottles of Quinta Nova's 2000 Vintage Port, we thought it'd be a good opportunity to see how this one was faring at 23 years old.
It was still incredibly youthful!
A Youthful, 23-Year Old Vintage Port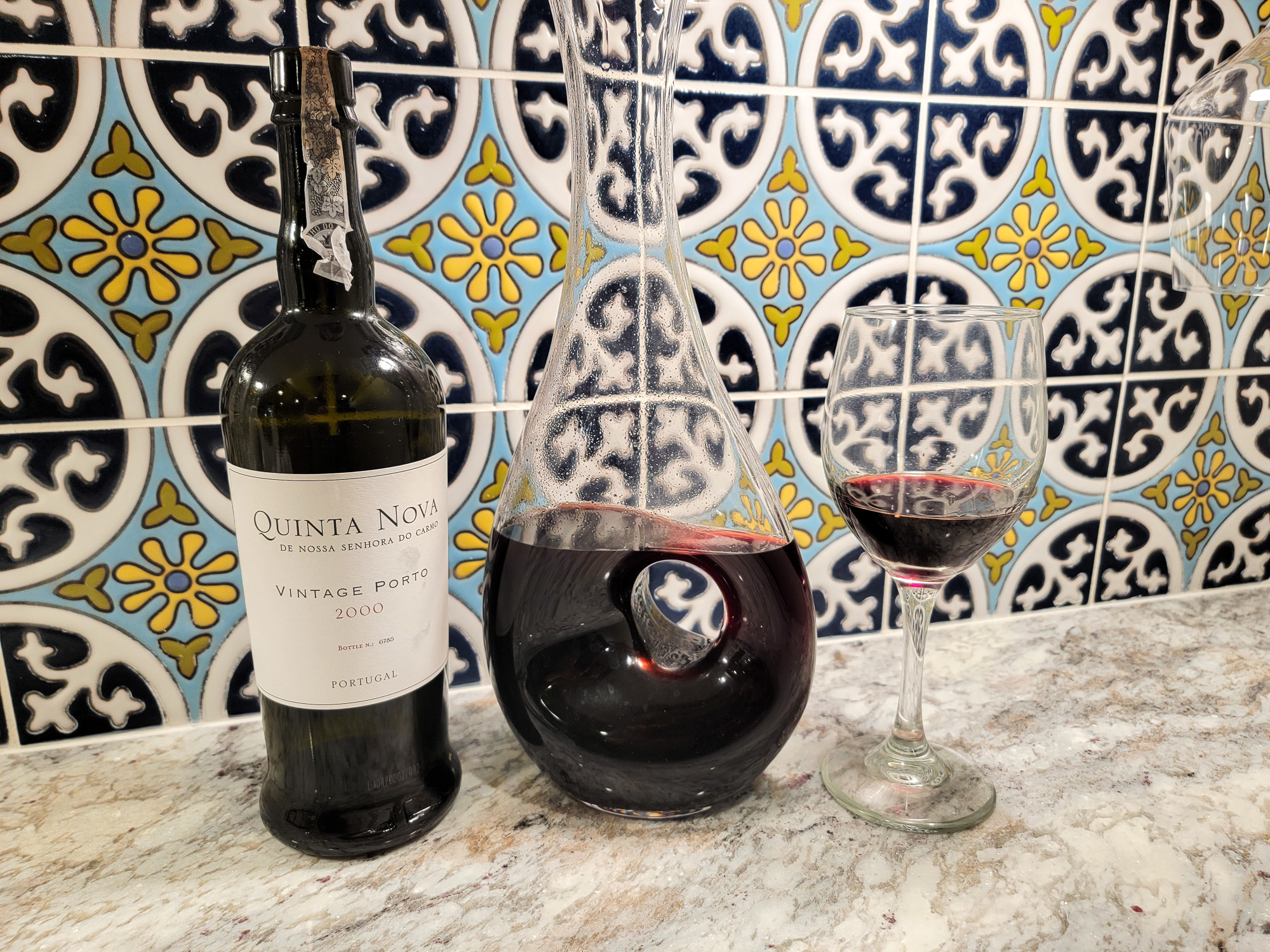 This Vintage Port was medium garnet in color with medium(+) aromas of red plum, dried black cherry, fig, vanilla, clove, butterscotch, caramel, chocolate, and peanut.
On the palate it was sweet with high acidity and alcohol, full body, pronounced flavor intensity, medium(+) chalky tannin, and a long finish. We had flavors of dried figs, red plum, dried cranberry, chocolate, cedar, vanilla, caramel, peanut, and a slight almond note.
This was a wonderful vintage wine to open if only because at 23 years old it is still drinking remarkably fresh and young. The fruit notes are starting to move into the dried territory, chocolate and faint nut aromas are developing, but the tannins and acid structure are holding up nicely to show that this one could likely age for 10, 20, or even 30 more years.
The only downside to this particular bottle was the alcohol was extremely high, labeled 20% but likely higher, and you definitely can tell by the burn here!
Vintage Port Pairing – Dessert Night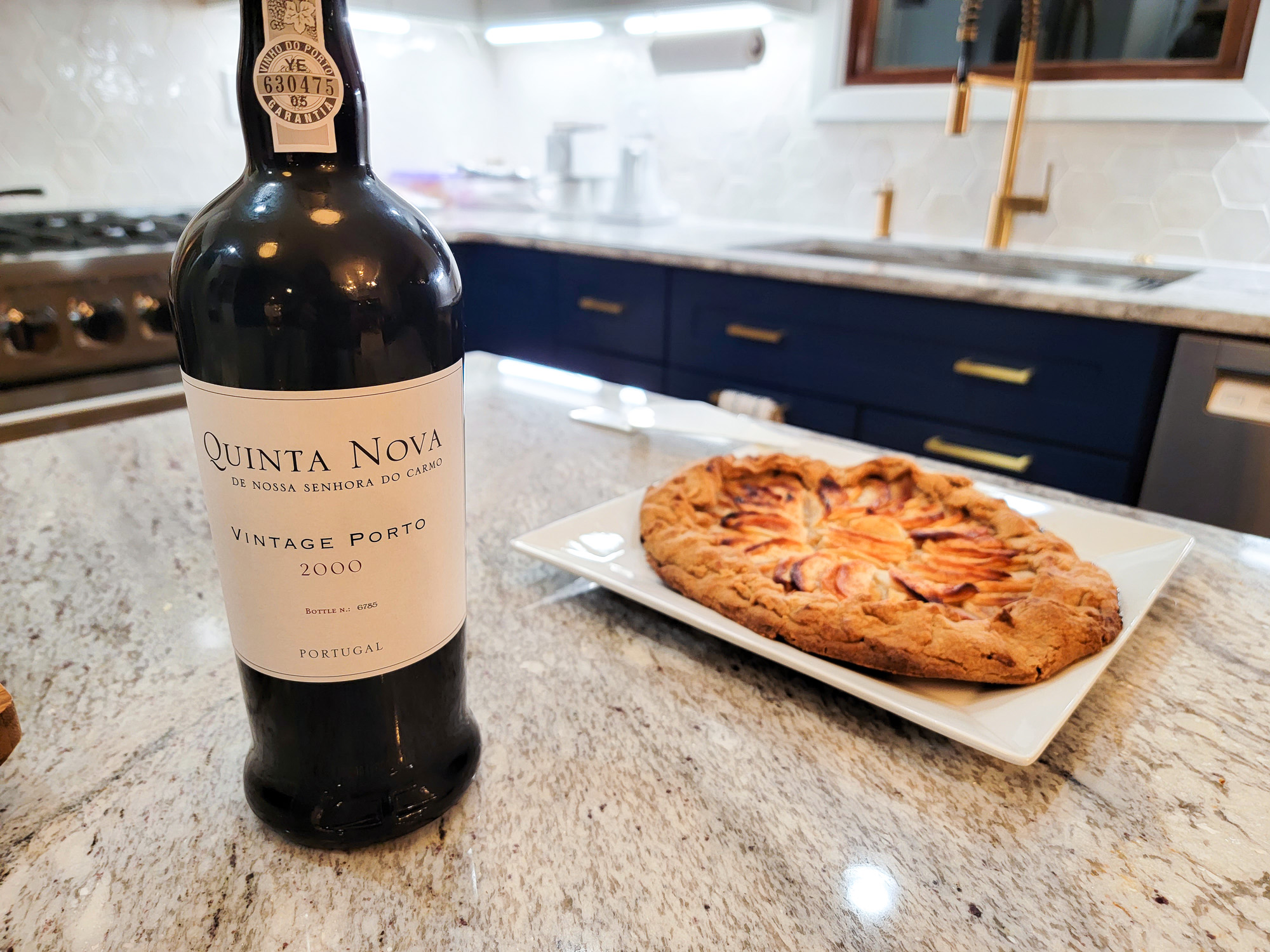 We paired this Vintage Port with a number of desserts within a larger dessert night with other fortified pairings. We tried dishes like an apple galette, flavored chocolate truffles, cheeses, tiramisu, and more.
In this particular instance, it was the apple galette that was the winning pairing. This was likely the case because the contrasting flavors in the galette did not have any overlapping notes with the wine that masked a flavor (say, the dried fruit or chocolate notes). Here, the tertiary notes really popped a whole lot more and was quite the compliment and a dominant fig flavor shined above all others.
On the truffle side, we were shocked with how much the chocolate muted the prized flavors in this wine. Still a good pairing, but it definitely hid some of the characteristics we liked. Tiramisu did something similar as well because the overt coffee and liqueur flavors were too powerful for some of the more delicate characteristics in the wine.
Coincidentally, the cheese was also a fun pairing with the Vintage Port too for similar reasons to the galette above- nuttiness in the aged cheese and funkiness of the blue cheese really brought out unique characteristics in the wine. Admittedly, we liked the cheese pairings with other fortified wines more (madeira, for example), but it was still fun to try since we have the Vintage open.
Score: 3.5 / 5
We'd buy a glass of this one and a bottle in the right circumstances.
This was a nice Vintage Port all around, and we have to admit we still think it could go quite some time for aging purposes. As such, if I had the opportunity to buy a glass, I wouldn't say no, but to pick up another bottle I would plan to age it for quite some time. Thankfully, I have a second in my cellar that I will forget about for another few decades.
Quinta Nova is located in the Douro Valley in Portugal. We purchased this bottle directly at the winery and enjoyed it in 2023.