Last Updated on December 2, 2022 by Jeremy
Disclaimers: This review uses WSET Diploma terminology and our own rating scale. Read more here. We use demographic data, email opt-ins, display advertising, and affiliate links to operate this site. Please review our Terms and Conditions for more information. This website is intended for those of legal drinking age in your jurisdiction.
As I am slowly falling in love with the Northern Rhone for its Syrah, I've always been curious about trying the region's notable white grape- Viognier.
If Cote-Rotie is the champion of all things Syrah, then Condrieu nearby is all about this floral and fragrant grape. But there was always one problem- it is really hard to find a reasonable bottle of Condrieu. $80-$100+ is the norm with these, and it wasn't until I stumbled upon a $60 bottle of E. Guigal Condrieu at a Total Wine in Virginia that I finally threw reason out the door and snatched one up.
While this one was a bit out of the conventional balance we like, we have to admit, the flavor was a winner.
Lower Acidity, High Alcohol, and Quite Flavorful Condrieu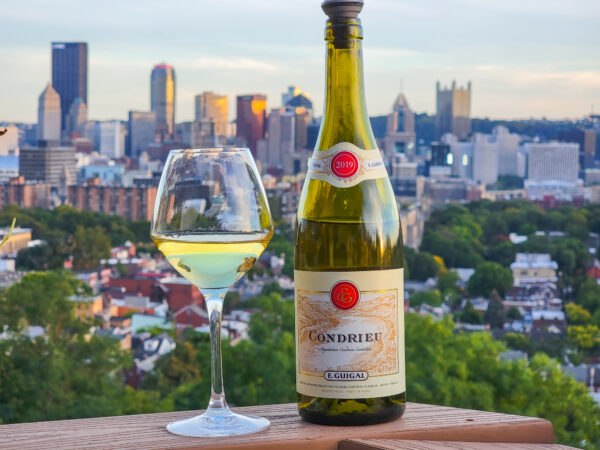 This medium lemon Viognier had a light effervescence as well as medium- aromas of yellow apple, blossom, geranium, honeysuckle, pear, grapefruit, peach yogurt, wet stone, and was youthful.
On the palate, we'd go as far as saying this one was perhaps off-dry (ever-so-slightly), medium- acidity, high alcohol (15%!), medium+ body and flavor intensity, and a long finish. We got notes of grapefruit, peach rings, yellow apple, pear, pineapple, passionfruit, wet stone, blossom, and almond.
We were really torn on this wine. Generally speaking, we like higher acidity in our wines as lower acid just doesn't have a mouthfeel that we enjoy. The wines feel wide instead of poignant, and the high alcohol here felt quite out of balance compared to the rest. If you ignore this, however, the flavors were pretty delicious either way.
Condrieu Food Pairing – Green Curry with Salmon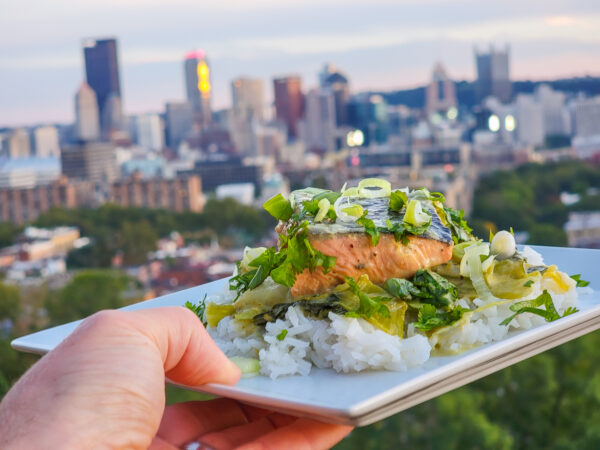 We opted to pair this wine with a spicy Thai green curry topped with a pan-seared salmon filet as we generally like floral and citrusy whites with fragrant Thai dishes overall. The fact that this one had some perceivable sugars helped with the heat as well; although we did hope for a bit stronger floral characteristics in the flavor department for this pairing all the same.
For what it is worth, we would 100% pair a Condrieu with Thai curry again, but are not entirely sure if it would be this particular bottle.
Score: 2.5 / 5
We are okay on this one, but could buy a glass in the right context.
We would consider a glass of this Condrieu in the right context- namely with Thai curry like this pairing and if the price was right. All things being equal, for the price of Condrieu we would want to try another producer over this one in the future to seek out one that was a bit more balanced to our tastes. This one really is on us!
Guigal is located in the Condrieu region of the Northern Rhone. We bought this bottle at Total Wine in Virginia and enjoyed it in 2021. It was also available on Wine.com at the time of publishing.