Last Updated on March 17, 2021 by Jeremy
Disclaimers: This review uses WSET Level 3 terminology and our own rating scale. Read more here. We use demographic data, email opt-ins, display advertising, and affiliate links to operate this site. Please review our Terms and Conditions for more information. This website is intended for those of legal drinking age in your jurisdiction.
Strekov's Fred wine blends from Slovakia consist of Alibernet and Dunaj grapes. But what is interesting in this one is that the series consists of several bottles in numeric sequence (e.g. Fred #2, Fred #3, etc.) where, as far as we can tell at least, the only discernable difference is the blend percentage of the two grapes (what they are, well, we can't tell).
From there, the wines are produced with minimal intervention at all and the result is an incredibly juicy, fruit-forward wine.
Like Juice Bombs? Fred #2 is For You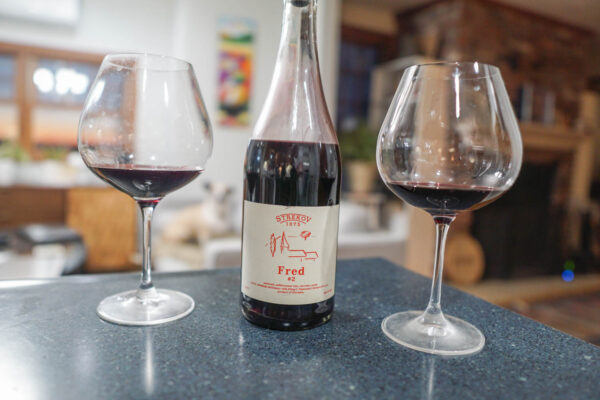 This red blend was deep purple in color with a medium+ aroma of black currant, tobacco, smoke, dried herbs, had a mustiness about it, maybe barnyard, and was developing.
On the palate, the wine was dry with high acidity, medium tannins, alcohol, and body, and medium+ flavor intensity. We got notes of tart black raspberry, black currant, pomegranate, and a wild brett undertone with a long finish. An interesting flavor profile but we have to say was quite juicy overall with few, if any, secondary or tertiary characters to speak of.
I'd maybe go as far as saying the juicy fruit profile was a bit too much for me, as I'm personally not a fan of strong black currant or pomegranate flavors in wine, but if you like juice bombs this one is for you.
Fred #2 Food Pairing – Chicken Cacciatore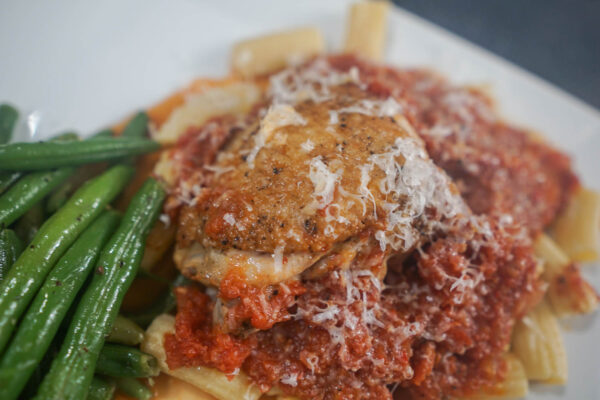 We paired this blend with chicken cacciatore and have to say that the high acidity worked well with the tomato-based sauce of the dish; however, as there were little secondary characters it was the intense fruit that popped out even more. In this respect, it didn't fit all that well with the chicken as it could've used some secondary or tertiary notes to play off the flavors in the food.
To be quite honest, I would probably enjoy this one on its own as opposed to with food if I were to have it again!
Score: 2 / 5
We're ok on this one.
Overall, I enjoyed this wine but not so much in its food pairing. The black currant and pomegranate flavors were a bit too intense for my personal tastes, but if you like a juicy red this one should be on your radar.
Strekov Winery is located in Snežatno, Slovakia. We purchased this bottle locally and enjoyed it in 2021.