Published Jeremy. Last Updated on January 19, 2021.
Disclaimers: This review uses WSET Level 2 terminology and our own rating scale. Read more here. We use demographic data, email opt-ins, display advertising, and affiliate links to operate this site. Please review our Terms and Conditions for more information. This website is intended for those of legal drinking age in your jurisdiction.
Anthony Road is a popular winery located towards the northwest end of Seneca Lake in the Finger Lakes. With a beautiful tasting room, a wealth of wines available to taste, and a visitor's garden featuring grape vines, herbs, and more, this is really the kind of winery we love to visit.
Naturally, we also left with a number of bottles.
One such bottle was their off-dry Vignoles, and we recently paired it with a spicy chicken tikka masala which made for a wonderful pairing!
A Delicious Off-Dry White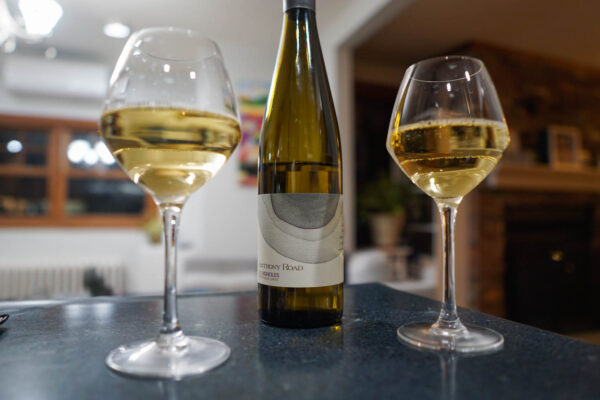 Anthony Road's Vignoles was pale gold in color with a medium aroma of peach, overripe pineapple, passion fruit, jasmine, and almost a bubble gum-like sweetness.
On the palate, it was off-dry but high in acid, alcohol, and body. We'd say the flavor profile of this one was pronounced with characteristics of grapefruit, peach, lemon, honey, and slight grapefruit pith on the finish that lingered.
If you want a glass with a lot going on, this one is for you.
Anthony Road Vignoles Food Pairing – Chicken Tikka Masala
We selected this wine to pair with an Indian classic, chicken tikka masala, purely because it was off-dry (and I uncharacteristically forgot to take a photo of the meal- oops!). A bit of sweetness in wine goes a long way to offset spice in dishes, and our homemade chicken tikka masala is not wanting for spice. The flavors of the wine truly sang in this pairing.
It is also worth noting that spiciness in food can also increase the burning sensation of high alcohol in wines, and we do have to admit we did not realize that this bottle was higher in ABV until after we opened it (in being a cooler climate, we typically forget that the Finger Lakes produces high ABV wine). So one downside you may note with this one with a spicy food pairing is that the burn of the alcohol is that much more noticeable.
For us, not a bad problem at all.
Score: 4 / 5
We'd buy another bottle of this one.
Overall, the flavor profile of this one was quite well balanced, and the slight residual sugar really helped highlight the flavors and make it pair well with a spicy dish like chicken tikka masala. We'd go for another easily!
Anthony Road Winery is located at 1020 Anthony Rd in Penn Yan, NY. We purchased this bottle directly from the winery and enjoyed it in 2021. Wine.com appears to have a large inventory of Anthony Road wines listed but were out of stock at the time of publishing.