Published Jeremy. Last Updated on May 22, 2023.
Disclaimers: This review uses WSET Diploma terminology and our own rating scale. Read more here. We use demographic data, email opt-ins, display advertising, and affiliate links to operate this site. Please review our Terms and Conditions for more information. This website is intended for those of legal drinking age in your jurisdiction.
We always love trying Champagne house's premium production lines as they are always worth savoring and talking about. Bollinger's Special Cuvee NV Champagne is no different.
What makes Bollinger's Special Cuvee unique is that this wine is not a vintage Champagne. It has all the characteristics of being an intense, vintage bottle of bubbly but is instead made up of reserve wines that have been aging anywhere from five to 15 years made with grapes from grand and premier cru sites from all over Champagne.
So what you end up is an incredibly intense, powerful wine that can be enjoyed again, and again, and again- assuming you can find a bottle for sale, at least.
Bollinger's Special Cuvee Delivers a Powerful Champagne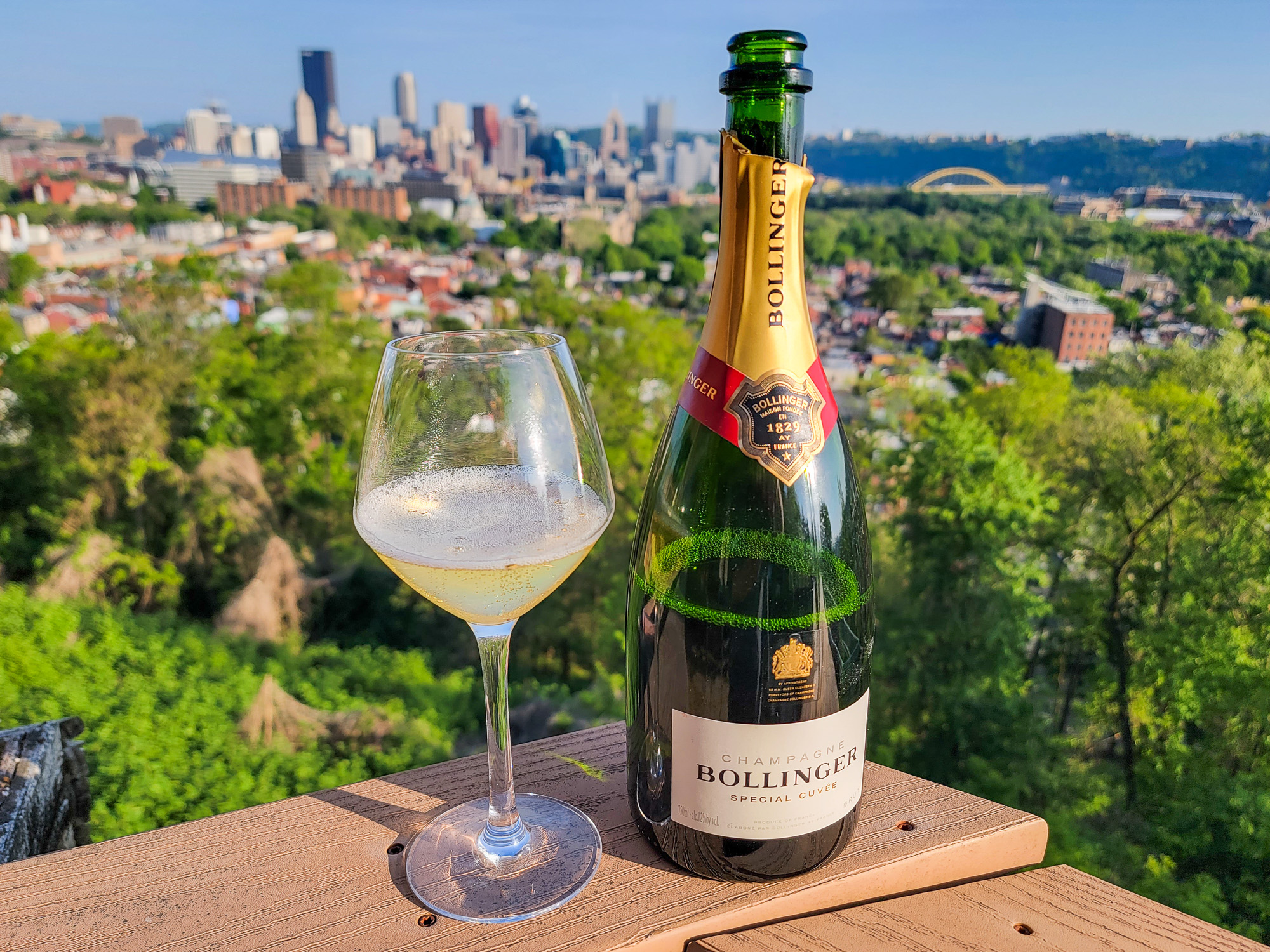 This medium gold champagne had pronounced aromas of yellow apple, nectarine, peach, cream, brioche, bread dough, almond, and golden raisin to name a few. The intensity of the lees rounded out with a strong fruit note and mild almond was the kind of balance we always are excited to find in a premium bottle of Champagne- fruity but with a ton of character!
On the palate, it was dry with high acidity, medium alcohol, full body, pronounced flavor intensity, and a long finish. We had notes of peach, pear, golden raisin, nectarine, wet stone, saline, toast, cream, biscuit, and almond. Take all of the good things of the nose and add in a hit of salinity and a faint creaminess (both in mouthfeel and flavor) and the wine became even more impactful.
Honestly, as this one maxed out on all the flavor categories, we really couldn't ask for more here!
Bollinger Special Cuvee Food Pairing – Mushroom Ragu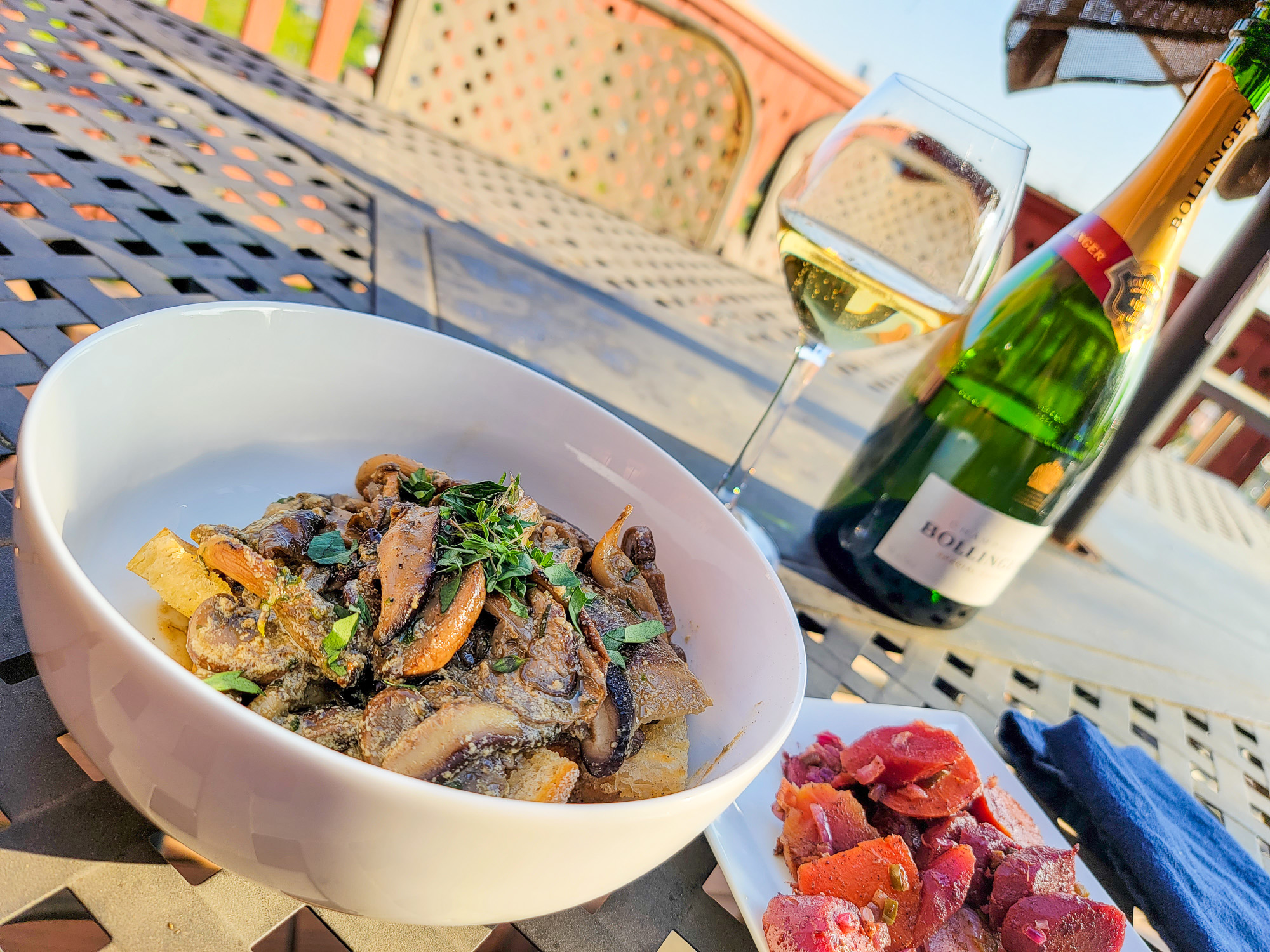 We paired this glorious Champagne with a mushroom ragu to see how the rich, earthiness of mushrooms would offset the intense wine.
As we expected, a fair bit of the complex lees notes were masked by the richness of the dish (perhaps to a detriment), but brought out a lovely intensity of the cream, almond, and citrus notes that were amplified slightly over enjoying it in the bottle alone.
While a good effect overall, we'd almost go as far as saying the mushrooms masked the lees a bit too much, and would probably pair this one with a slightly less rich/earthy dish in a future pairing. But in a pinch and if we wanted another delightful bottle of Champagne, we really couldn't say no to doing this over again, either.
Score: 4.5 / 5
We want several bottles of this one.
We really have no faults point out with Bollinger's Special Cuvee Champagne. It gave us everything we hoped for and more and we honestly would not be upset with having a few of these in our cellar at any given time- to age or just to enjoy. That said, as these are non-vintage wines, aging may be a bit more difficult than others and we may only cap ourselves at a couple just to be safe for tracking purposes.
Bollinger's Special Cuvee is made up of grapes from several plots throughout Champagne, France. We purchased this bottle locally and enjoyed it in 2023. At the time of publishing, this bottle was available on Wine.com.